Kristen Stewart On The Adorable Red Carpet Style Moment That Still Makes Her Cringe
EXCLUSIVE: Kristen Stewart talks to Marie Claire about fashion, beauty, and style statements as she launches her latest fragrance for Balenciaga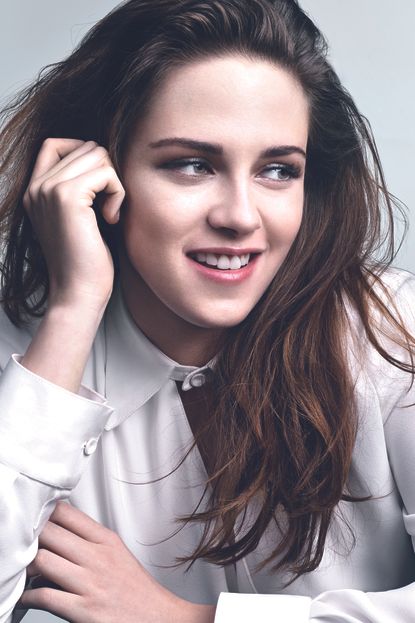 (Image credit: Balenciaga)
EXCLUSIVE: Kristen Stewart talks to Marie Claire about fashion, beauty, and style statements as she launches her latest fragrance for Balenciaga
Kristen Stewart is a red carpet natural, gracing the press pens with such elegance and ease – but the star admits that she hasn't always been so comfortable with her style choices. While talking to the A-list actress in New York last week, we grilled her on style, beauty, and whether she has any wardrobe regrets (surely not) as she prepares to launch her latest partnership with Balenciaga, Rosabotanica.
'Yeah, totally. Let's see. Defnitely, I mean I've been doing it for a while so I've definitely seen fashions and been like "woah",' she said.
'It shouldn't be embarrassing because I was so young, but it doesn't even matter how young you are, you're just so, so embarrassed.'
We can't imagine Kristen has anything to be embarrassed about when it comes to her sartorial choices. But she said: 'I think the pictures that they took at the premiere of Panic Room. It's like a popular image to show from when I was younger, you know, like "she was a kid!". And I look at that and I'm like "Oh... my... gosh".
'I had like these baby hairs and I was being weird about them, so I was like, "I'm just gonna cut them off". And I had like these little things like poking out from under my hair and behind my ears, and a ridiculous outfit. I did not know how to get dressed up at that age at all, I didn't even know what I liked. I was just like completely… a goofy kid.
'But it's just funny to see like that goofy kid version – [because] when I should really be looking at old school photos, I'm looking at a red carpet photo.'
Kristen walked the red carpet alongside her co-star and life-long friend Jodie Foster back in 2002 when she was just 12 years old. A blonde, timid actress with the world – and plenty of exciting fashion collaborations – at her feet. As well as her Balenciaga deal, the star last month landed a contract as the latest face of Chanel. And we doubt it'll be her last.
She told us: 'I definitely look back and think, "Oh that wasn't my best choice", or that it was so obvious that I wasn't comfortable in that. But at the same time, you know, I liked it then – you can't really have too many regrets.
'It is a good feeling though, when you get it right and you can walk tall. It shows, everyone can see that."
Wise words indeed, Kristen Stewart.
Balenciaga's Rosabotanica fragrance is released tomorrow, 29 January.
Got a tablet? You can now download Marie Claire magazine straight to your iPad, Kindle (just search the store for 'marie claire magazine'), Nook or Google Nexus.
Celebrity news, beauty, fashion advice, and fascinating features, delivered straight to your inbox!