Does Olaplex cause infertility? Here's the truth behind the TikToks
Olaplex lovers, take a deep breath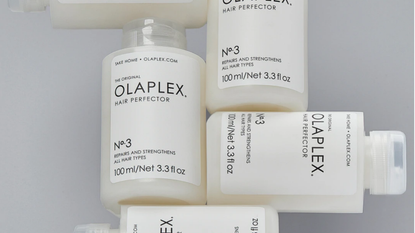 Olaplex lovers, take a deep breath
Since its launch back in 2014, Olaplex has been the apple of the hair care industry's eye. The product is based on a patented bonding technology that solves practically every hair concern.
Not 100% sure what the hair hero is? We've covered it all here.
However, the brand's cult status is being tarnished by viral TikToks. The videos, that first circulated at the end of February, claim that there is an ingredient in the No.3 Hair Protector which is toxic and linked to infertility.
Other videos sent those with untameable manes into a frenzy saying that the product is to be banned in the UK this month. We're here to soothe your stress and get to the bottom of the controversy.
So, does Olaplex cause infertility?
The bottom line is no - if you are using the new formula.
Before January 2022, Olaplex No.3 contained the ingredient butylphenyl methylpropional, or lilial. This is the chemical causing concern.
The European Commission published a report last year that listed the compound as Repr. 1B. This code refers to substances that are potentially toxic for reproduction. Since this finding, the ingredient is banned from all cosmetics in the EU and UK from March 1st, 2022.
Is lilial in other things?
Before it was prohibited, the ingredient was in almost anything that has a floral scent. From perfumes to powders, there's no doubt you've been exposed to it before.
Don't worry, research shows that the ingredient is only harmful in large amounts. Considering that it made up 0.0119% of Olaplex's old formula, you shouldn't fret if you haven't bought a new bottle this year.
Things like paint, detergent, and shoe polish also contain the ingredient. If you are using loads of household products that contain lilial on a daily basis, you should err on the side of caution.
Relax, Olaplex isn't banned
In fact, the brand is going above and beyond to ensure that the ingredient is removed from all of its products. Not only have the team phased it out in the UK and EU, but they have also actively removed it from their entire global supply chain.
Phew.
Celebrity news, beauty, fashion advice, and fascinating features, delivered straight to your inbox!
Grace Warn is the at Commercial Producer & Writer Marie Claire UK. From organising cover shoots and uncovering the latest news to creating social content, she loves the fact that no one day is the same!
Growing up just outside of London, Grace made the leap at 16 and started to intern. Juggling education, earning money, styling, producing and organising numerous fashion cupboards was as intoxicating as it was challenging and it's what's brought her here today.
After graduating in the pandemic, the only option was to take on as many freelance roles as possible. From demystifying health jargon to keeping up with the latest footwear drops, a strange concoction of health and footwear journalism became Grace's bread and butter but she always wanted a break in lifestyle journalism and production. Then she landed her dream role!
When she's not racing to deadlines, Grace can be found on anything that could pass as a dancefloor dancing to Diana Ross or scouting out vintage sales on the outskirts out South London - believe it or not, Beckenham is the place to go!