What makes a couture makeup look, by Dior's Peter Philips
Couture makeup really is the best makeup, isn't it?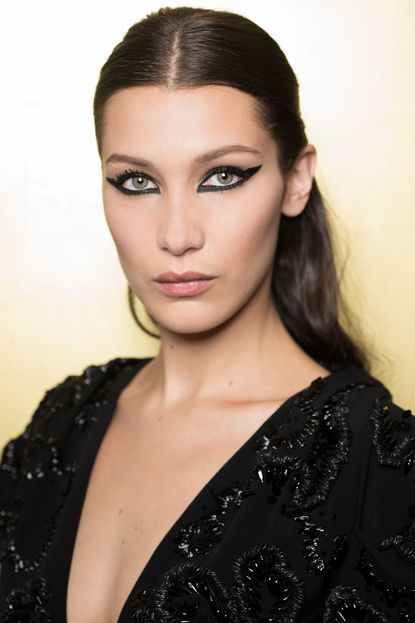 (Image credit: Nyima Marin)
Couture makeup really is the best makeup, isn't it?
It's couture week in Paris and while our attention might draw first to the frothy dresses and the blitz of hand embellishments on show, there's another, equally beautiful matter that we need to pay time to - the exquisite makeup looks.
'Makeup really defines and frames the vision of a collection,' explains Peter Philips, creative and image director for Dior Makeup. And he's right. For AW16 couture, his bespoke eyeliner graphics punctuated every model's look, drawing together the clothes, the accessories, the Di-orchesta, and all the other elements of the show in one cohesive statement.
Here, Peter tells us what couture beauty means to him…
'This beauty look really is haute couture as every model has her own personalised eyeliner shape. I did every girl's makeup myself - I've done 46 different styles of eyeliner! Eyeliner is very classic and very Dior, but it can make a real statement and I thought there was something special about it being uniform but also customised.' Below, Peter does Bella Hadid's makeup before the AW16 couture show, image by Vincent Lappartient for Christian Dior Parfums
'I had an idea that I would do the right eye for each girl and my assistants would copy for the left. Because after drawing, say, five girls' eyes, your own eyes can start to go cross-eyed so I had to take breaks. I looked regularly at this little piece of paper [Peter shows us a grid of hundreds of different line shapes] to recharge my batteries – it was a marathon.'
'Eyes are sisters, not twins, even when they're on the same face. The point of eyeliner is to bring balance back. I used Dior's Overcurl mascara on the top lashes and then played with the Diorshow eyeliner and the Art Pen when I wanted to create more of a dramatic flick.'
'Couture can be a fantasy, but so can prêt-a-porter - it depends on the story behind the collection. It's seldom that you get the chance to, in one morning, do almost 50 different types of eyeliner. I enjoyed that the process was very mathematical, not a romantic story this time. That's the fun of my job.'
'If the story fits, I'll push it with the beauty look. The theme that Serge [Ruffieux] and Lucie [Meier, Dior's couture designers for AW17] did for this collection is very graphic - black and white with gold embroideries. And they're doing a contemporary take on the iconic Dior shapes - bar jacket, the embroideries and the new look silhouette – so I chose to do a couture version of the classic black eyeliner to work with that.'
'Four girls in the middle of the show have gold eyeliner. It's a very deliberate thing that Mr Dior would do – a sudden surprise in the middle of the couture show, usually he would do a red dress out of the blue. So we have this flash of gold eyes, before back to black.'
'It is interesting when people share my beauty looks on social media. Sometimes I see pictures on the internet and think 'oh god I wish we could retouch that,' because when you finish the girl's makeup it looks perfect, but then they go away and eat for an hour and you get the half-eaten lipstick picture on Instagram. But it makes me laugh, it's a part of life now, it's a challenge. It's a two way street, too, I couldn't say 'don't look at mine' because I'm always looking at everyone else's pages.'
Below image by Vincent Lappartient for Christian Dior Parfums
'Catwalk makeup enhances what you want to express as a design team. It's almost like an accessory. Imagine if I had done this collection with all red lipsticks or all gold eyes, it would have had a totally different impact on the whole show, wouldn't it? That's the power of the look.'
Celebrity news, beauty, fashion advice, and fascinating features, delivered straight to your inbox!