Edinburgh has been named the best city in the world
It is pretty beautiful.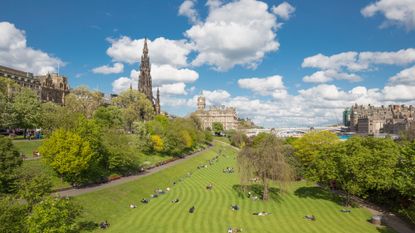 It is pretty beautiful.
Edinburgh with its winding cobbled streets, beautiful views and exciting food scene has been named the best city in the world by Time Out.
In the publication's annual Time Out Index, which ranks cities across the world on a mixture of measures (such as nightlife, art, culture, food, drink, cost, safety, public transport and sustainability), the Scottish capital takes the top spot, followed by Chicago in the US.
The Scottish city's beauty, walkability and welcoming (and progressive) nature ranked highly with the city-dwellers who were asked about life in their hometown right now (Time Out took in the views of 20,000 across the world).
There was also a big focus on the city's "forward-thinking bars and eateries", with special mentions for the new Leith restaurant and wine bar Eleanore and Bonnie & Wild's Scottish Marketplace at the St James Quarter. Excitingly, Edinburgh is also due to open Scotland's first 'vertical distillery', Port of Leith Distillery on its waterfront.
Edinburgh Fringe Festival is also back - this August, the popular arts and culture event that takes over the city is celebrating its 75th anniversary.
In second place, the US city of Chicago is named as the "funnest city" where "there's never a dull moment to be had." It's "popping" food scene also gets a mention.
In third place, the Colombian city of Medellín earned its spot thanks to a mixture of a buzzing nightlife scene and great bars and eateries. Also, the city has been dubbed the 'City of Eternal Spring', thanks to its year round good weather.
The top ten cities in the world, according to Time Out's Index are:
Edinburgh, Scotland
Chicago, USA
Medellín, Colombia
Glasgow, Scotland
Amsterdam, The Netherlands
Prague, Czechia
Marrakech, Morocco
Berlin, Germany
Montreal, Canada
Copenhagen, Denmark
If you're wondering where the likes of London, Paris and New York are...well, they're on the list, albeit it further down. London takes 17th place, while New York is ranked 20th. Paris was ranked 32nd. South Africa's Cape Town is just outside the top ten (at 11th), as are Madrid (12th), Manchester (13th), Mumbai (14th), Melbourne (15th), Taipei (16th), Porto (18th) and Lyon (19th).
Top ten or not, there's a few cities there we'd certainly love to visit. We'll pop them on the list.
Celebrity news, beauty, fashion advice, and fascinating features, delivered straight to your inbox!
Amy Sedghi is a freelance journalist, specialising in health and fitness, travel, beauty, sustainability and cycling.
Having started her career in The Guardian newsroom working with an award-winning team, Amy's proud to have reported on a variety of topics, speaking to a range of voices and travelling far and wide to do so. From interviews on ski lifts to writing up breaking stories outside courtrooms, Amy is used to reporting from a range of locations (she's even been known to type up a story in a tent).
She also loves being active, spending time outdoors and travelling - with some of her favourite features she's worked on combining all three. Cycling and eating her way round the Isle of Man, learning to sail on the Côte d'Azur and traversing the Caminito del Rey path in Spain are just some of her highlights.
Covering a diverse range of subjects appeals to Amy. One minute she may be writing about her online styling session with Katie Holmes' stylist and the next she's transporting readers to the basketball courts of Haringey where she joined a group trying to lower knife crime in the capital.
While at university, Amy was awarded The Media Society bursary. Following her stint at the Guardian, Amy worked at Google and as well as writing for Marie Claire, she regularly contributes interviews, features and articles to National Geographic Traveller, The Guardian, The Independent, The Telegraph, Stylist, Refinery29, Glorious Sport, Cycling Weekly and Rouleur.
When she's not writing, Amy can be found trying to get through her towering stack of books-to-read, cycling down at Herne Hill Velodrome or looking for the next place to eat and drink with friends.