This UK airport has introduced therapy dogs to calm nervous fliers
Beats slugging down a mini of Jack Daniels on the plane, anyway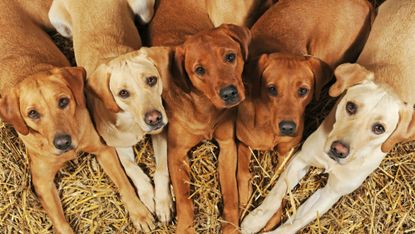 (Image credit: Rex Features)
Beats slugging down a mini of Jack Daniels on the plane, anyway
Travelling can be a stressful time for everyone, but for those of us with an actual phobia of flying, finding the ability to calm down can be lot easier said than done.
From sleeping pills, to meditation apps or a wee touch of scotch (Kirsten Wiig we're looking at you), everyone has their own way of dealing with their fear of being up in the big blue unknown.
If you've grown tired of these methods, however, or found they were never that effective in the first place, we have some seriously good news for you: airport therapy dogs are coming to the UK!
That's right, a Scottish airport has just announced that it is getting the UK's very first therapy dog team to help nervous fliers by cuddling them into a state of calm.
From this weekend, a group of cute canines will be on hand to help soothe anyone who feels anxious before catching a flight at Aberdeen International Airport.
The dogs will be easily identified in high-vis jackets and matching bandanas (we know!), and will be free to roam around passengers and staff throughout the airport terminal.
Although it's already a well-established practice for therapy dogs to visit schools, prisons, universities and nursing homes, this will be the first time that a group of this scale are being introduced into an airport environment.
In other words, we are witnessing a pretty monumental event in history.
According to Aberdeen airport, there will be 14 different dogs in total including golden retrievers, collies, red labradors, Scottish deerhounds and German shepherds.
Aberdeen airport duty manager Fraser Bain spoke of the exciting new announcement, saying: 'We're excited to be the first airport in the UK to offer this service to passengers.'
'As well as benefiting our visitors, we also recognise the benefit to the mental health and wellbeing of our staff.'
He added: 'The Canine Crew is made up of a variety of dogs, with a mixture of brilliant traits and personalities and we cannot wait to see the reaction of our passengers.'
Anyone need a lift up to Aberdeen this weekend?
Celebrity news, beauty, fashion advice, and fascinating features, delivered straight to your inbox!
Niamh McCollum is Features Assistant at Marie Claire UK, and specialises in entertainment, female empowerment, mental health, social development and careers. Tackling both news and features, she's covered everything from the rise of feminist audio porn platforms to the latest campaigns protecting human rights.
Niamh has also contributed to our Women Who Win series by interviewing ridiculously inspiring females, including forensic scientist Ruth Morgan, Labour MP Stella Creasy and ITV's former Home Affairs Editor Jennifer Nadel.
Niamh studied Law in Trinity College Dublin. It was after enrolling in a Law & Literature class on her year abroad in Toronto that her love of writing was reignited. In no particular order, her big likes are Caleb Followill, hoops, red wine, sea swimming, shakshuka and long train journeys.