This woman managed to forgive, do a Ted Talk AND write a book with her rapist
This must-watch will surprise you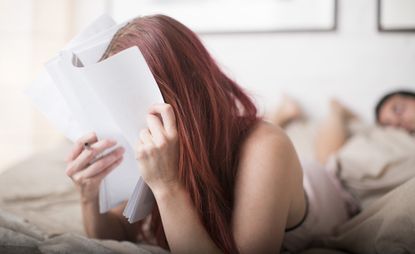 (Image credit: REX/Shutterstock)
This must-watch will surprise you
She was 16 and in love for the first time. He was 18, on a school exchange from Australia to Iceland and enjoying a holiday romance.
It was 1996 when Thordis Elva and Tom Stranger met at a school drama club and got together, making their puppy love public when they attended the Christmas ball as a pair a month into dating.
But, that night saw Thordis try rum for the first time. Cue convulsing vomiting and drifting in-and-out of consciousness and the organisers insisting on getting Thordis an ambulance. Instead, Tom reassured them that he'd make sure she got home safe.
But, as Thordis got into bed, she noticed Tom undressing her and climbing on top of her. She was conscious but physically unable to stop him.
Listening to her recount the event on stage in front of her assailant in this unique Ted Talk is heart-wrenching.
She admits counting the seconds on her alarm clock to help her get through the ordeal, knowing now that there are 7200 seconds in two hours.
But after it happened, despite the injuries she sustained the next day, she didn't associate her experience with rape. Tom wasn't 'an armed lunatic,' he was her boyfriend, and it didn't happen in a seedy alleyway, it happened in her own bed.
By the time she realised what it really was, Tom had broken up with her and returned to his native Australia. And, back in 1996, someone being unable to consent or resist sex within a relationship was not considered rape in Iceland.
Next, comes Tom's account of how he felt the day after the incident. As much as you want to hate him, and your stomach burns with anger towards him, you find yourself listening.
'I didn't see my deed for what it was,' he admits. 'The word rape wasn't going through my mind as it should have. To be honest, I repudiated the entire act in the days afterwards and while I was committing it. I convinced myself it was sex and not rape.'
'What followed was a nine-year-period described as denial and running.'
A surfer, a social science student, a friend, a loved brother and son, an outdoor recreation guide and a youth worker, Tom tried to convince himself he wasn't a bad person.
Nine years after the incident, Thordis found herself having a nervous breakdown and decided to write Tom a letter about what happened.
'Whether or not he deserved my forgiveness, I deserved peace,' she said. 'My era of shame was over.'
She wasn't expecting him to reply, or to find out that he had been imprisoned by what had happened that night, too.
What followed was a further eight-year correspondence and a physical meeting to face their past.
Laboured by revenge, hatred and anger, Thordis was surprised with what she was met with during that week in Cape Town. The pair have now co-authored a book, South of Forgiveness, together which is out next month. Now, watch the inspiring Ted Talk for yourself - it'll surprise you.
And, Thordis' concluding line, 'it's time we stop treating sexual violence as a women's issue,' will stay with you.
Celebrity news, beauty, fashion advice, and fascinating features, delivered straight to your inbox!