STK, London
The American steakhouse has arrived in London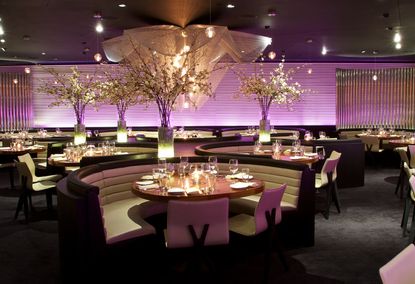 The American steakhouse has arrived in London
As a journalist, who primarily writes about celebrities and their comings and goings, I have long wanted to try out haunt-of-the-stars STK. The trouble was, a flight to Las Vegas, New York or Miami to visit said restaurant seemed a bit decadent.
What great news, then, that the American steakhouse has finally opened a branch in London.
The USP of STK is female-friendly dining, and makes sure to drive home the point with the strapline 'not your daddy's steakhouse.' My friend and I went to STK on a wintry Tuesday night and found the place rammed with men. Big groups of men, small groups of men. Men were in abundance.
With the leather booths, purple nightclub-esque lighting and sparkling chandeliers, we could see the sort of anti-testorone effect they were going for - the decor couldn't have been further from the manly wood panelling and green leather of the Hawksmoor.
With music pumping (an odd playlist had been selected that night, think old school Britpop) we settled in to feast on a starter of brioche with blue cheese butter followed by steak as soft as butter with sides of mac & cheese (I could practically feel my bingo wings growing as I chowed down on this) and parmesan truffle chips.
We were so full from the delicious starters and main that we had to skip dessert and go straight on to fresh mint tea (how very 'female' of us). It's not a decision I'm proud of, and, to this day, I still wish I'd tried the salted caramel tart.
The food at STK doesn't come cheap, but it's worth it.
Celebrity news, beauty, fashion advice, and fascinating features, delivered straight to your inbox!