The Way We Met: 7 Of The Most Heartwarming Love Stories On Instagram
Two weeks ago, 27-year-old Brooklyn Sherman started an Instagram account called 'The Way We Met' to share couples' love stories. These are our favourites...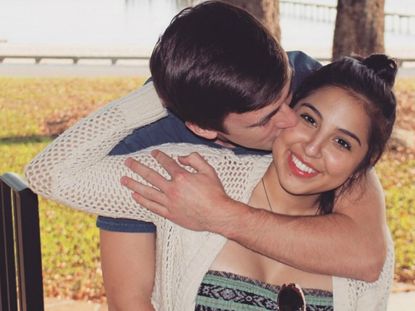 Two weeks ago, 27-year-old Brooklyn Sherman started an Instagram account called 'The Way We Met' to share couples' love stories. These are our favourites...
Grab the tissues and prepare yourself for the web story equivalent of watching the Notebook 18 times in a row. Because 27-year-old Brooklyn Sherman has launched an Instagram account called The Way We Met, telling the stories of how couples from across the world got together. And it's heart-achingly amazing.
In fact, it's so powerful that - despite launching the page less than two weeks ago (and only posting 40 stories to date) - Brooklyn has already amassed 79k followers.
'It's just average everyday couples that have great love stories that I'm putting out in the world,' the Talent Agent explains. 'I started The Way We Met two weeks ago for many reasons but one of the main ones was to put real, genuine, wholesome love back into the world. I'm so sick of social media being all about which celebrity has the most plastic surgery and who's cheating on who... My stories are about average people finding love. It doesn't matter what your race is, skin color, sexual preference; there is someone out there for everyone.'
Here are seven of our favourites...
'My roommates and I were watching TV at nighttime when we smelled gas. We called our landlord, the gas company and all of our dads, but no one was answering, so we dialed 911. When the fire department arrived, we were all giddy around the men in uniform. One fireman in particular, Doug, caught my eye. We ended up connecting on Facebook after he left and went on our first date the next night. Six months later we were engaged, and one and a half years later, married. There wasn't a fire that night, but I definitely ended up with my smokeshow.'
'My ex-boyfriend dumped me out of the blue in 2008. I was heartbroken. My friend invited me to his soccer game to try and help me get my mind off of it. I was one of the few people sitting in the stands, and it was cold, so all I wanted to do was go back to my dorm room. Then Mark caught my eyes. He was sitting in the bleachers a few rows ahead of me cheering on a friend. We hit it off immediately. He ended up proposing to me in that exact spot in 2012. Oh, and the best part? My grandfather who passed away always told me to look for pennies with my birth year on them for good luck, it was our little thing together. I never found one until the night I was getting ready for my first date with Mark.'
'We met at an open club meeting. This was during a time when girls had clubs and opened their homes on Friday nights to guys who came by for recorded music, dancing, and cokes. All very different from today. We just celebrated our 63rd anniversary.'
'We met in high school. I'm a year older than him but we both played on the soccer team. One day his toe fell off. No literally, mid-soccer game he broke his big toe and it was hanging on by a thin piece of skin. He was cringing and screaming. Stuff like that doesn't bother me so I sat by his side until his family came and took him to the hospital. For the next 4 years we were best friends. Last year, I got into a horrible car accident and became paralyzed from the waist down. I was in the hospital for 7 months and he drove 6 hours every weekend to sit next to me and hold my hand as I slept. That was it. I loved him, and I think he always loved me too. The minute I was out of the hospital he officially asked me to be his girlfriend, wheelchair and all. It's been a year now, and I know I found my soulmate.'
'I never imagined that serving coffee was how I'd find true love. We were both working at different Starbucks when I first met him. I was grabbing coffee with friends at his store and introduced myself. Sparks were definitely flying but the relationship didn't unfold until a couple months later when I was transferred to work at his Starbucks location. Coffee is the way to many people's hearts, and I definitely took a double shot.'
'I met my boyfriend Jake because he somehow showed up on my dad's "people you may know" list on Facebook. My dad claims he accidentally clicked the add friend button (and blames his "fat fingers.") Two days later I get a message from a super hunky Jake that says, "Hey so I don't think we've ever met, but your dad added me on Facebook?" I was just a little embarrassed, but it ended up being a blessing in disguise! Jake asked me on a date shortly after that and now we're in love and have a cute little red-headed son! Happily ever after the end.'
'We worked at the same company. She was in the key punch department (they don't have those anymore) and I was in the blueprint department, so our paths would cross. I took her out to lunch at the cafeteria, and wouldn't you know it, I didn't have any money on me so she had to pay! The rest is history. I've been paying ever since, gladly. We've been married for over 58 years.'
Feeling all warm inside? Check out these real-life proposals - we defy you not to be touched...
Celebrity news, beauty, fashion advice, and fascinating features, delivered straight to your inbox!
The leading destination for fashion, beauty, shopping and finger-on-the-pulse views on the latest issues. Marie Claire's travel content helps you delight in discovering new destinations around the globe, offering a unique – and sometimes unchartered – travel experience. From new hotel openings to the destinations tipped to take over our travel calendars, this iconic name has it covered.