How sexual confidence can transform your life, whatever your age
Yep, you guessed it – a powerful combination of better communication skills, improved self-confidence and realising that life is too short leads to much better sex, says Alix Fox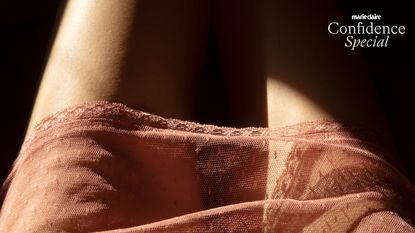 (Image credit: Stocksy)
For anyone lucky enough to experience the privilege of living for multiple decades, ageing shouldn't come as a surprise. It's inevitable. Inescapable. Continual. And yet, when I turned 40 last year, what had been creeping up gradually (cough, the deepening '11s' between my eyebrows) felt like a sudden shock.
I wasn't ready and felt somewhat afraid. One big fear was that I'd become professionally irrelevant, and another – despite having spent most of my career reporting on sex, fetishes and relationships – was that my love life would change for the worse.
Most of what I'd heard about the menopause and beyond suggested that my sex life was about to go downhill – and fast. Sites reported that my genitals were about to become so dry and withering that, were wetness their wit, they could sell out a Live at the Apollo. While "vaginal atrophy" sounded like a great name for a death-metal band, I wasn't so keen on it happening to my body. Forebodingly, despite being intensely attracted to my partner, I'd already noticed that I needed to use lube more in bed when I used to get as moist as a Mary Berry sponge.
Seeking reassurance that it wasn't going to be solely doom and gloom for me and my womb from now on, I began a documentary project researching sex positivity as you age.
So, does sex actually get better as you get older?
Statistics from an exclusive poll conducted by dating app Pure showed that 89% of its users aged 40+ agreed sex is better now that they're older. Meanwhile, 87% declared that they feel more sexually confident now than when they were in their 20s and 30s, 77% felt more able to advocate for their desires when with a partner, and 86% felt they were still on a journey of thrilling sexual discovery. It turns out that your 30s don't mark your sexual peak – far from it.
"Media conversations around menopause and ageing often focus on pathology – what gets harder or stops working – but it can also be a positive, liberating sexual transformation. Midlife can be the start of pleasure, not the end," says Mangala Holland, a 50-year-old women's sexuality coach. "Yes, getting older brings challenges and, as our bodies change, what used to turn us on in our 20s might not be effective anymore, but that's an opportunity for fresh experiences."
A powerful combination of realising that life is too short not to prioritise pleasure, developing the communication skills to ask for what they want in the bedroom, and deciding that being supposedly "over the hill" meant they were finally over the fruitless pursuit of beating themselves up over body image, only served to heighten their sexual experiences.
"I've stopped faking orgasms, which I used to do in my 20s and 30s because I worried it took me too long to come," states queer woman Anna, 49. "Today, I feel much more able to say what I need, like touching myself to orgasm or using a vibrator with my partner "assisting" by talking dirty."
Kathryn married young, to a husband whose sexual tastes were traumatically mismatched with her own. "He was heavily into BDSM: ballgags and chastity belts were uncomfortable when all I wanted was to be tenderly held and made love to," the 62-year-old recalls. But by her 40s, the marriage had faded and she experienced a sexual renaissance while meeting men on dating sites. "Chatting for hours, no strings attached, was stimulating and exciting. I started meeting select men, and it was so freeing. I didn't care about my lumps and bumps, and they didn't either – they just loved that I was loving it. I found out I liked to role play, and I'm good at it too. It was a total release."
"I'm far more experimental now, with none of the inhibitions I used to have – I'm done bothering with taboo," agrees Barbara, 74. "Buying a Rose vibrator has been incredible for me: due to surgery, my new partner has ejaculation problems, but when he watches me use the toy, he can climax. You have to remember that sex is a mind game – it's not just about the physical."
The Rose toy that Barbara loves went viral on social media, where it was aggressively targeted at Gen Z, last year. "So much of the marketing in the sex industry is aimed at younger audiences and totally erases older demographics," observes Holland. Not only does this mean missed profit for businesses, but it gives the mistaken and unnerving impression that post-40, there's no more electrifying tossing and tumbling – just tumbleweed.
Pornography has a similar problem. "Older bodies are largely missing from the adult industry," says feminist porn director Erika Lust. "Female performers can play MILF characters when they're only 30 years old! Clearly, this is not a relatable representation. We rarely see mature people represented because they're considered "past their prime"."
However, attitudes are beginning to change and, slowly but surely, people are realising that sex can still be good – if not better – as you age. Why? Well, for starters, you're more at ease in your body, you know who you are, and you know what you want. Lust can overcome some of life's biggest traumas, too: groundbreaking sex educator and author Joan Price explores this theme further in her book Sex After Grief: Navigating Your Sexuality after Losing Your Beloved, which addresses the verboten fact that desire doesn't always die along with one's spouse.
Meanwhile, Dr Sharron Hinchliff, Professor of Psychology and Health at Sheffield University, centres her work on tackling ageism and defending the sexual rights and agency of older people by developing sex-positive resources. "It's certainly not all downhill when it comes to sex and ageing, despite what we may have been led to believe through negative social messages," she says. "We must make the topic visible, and tackle the silence to avoid maintaining myths and misinformation."
Now, rather than being afraid of growing old, I feel myself becoming sexually wiser and bolder. I'm lustfully leaning in with optimism (and a shame-free tube of lube). As Samira, 56, puts it, "We don't shrink older, we grow – and that goes for our sexual selves, too."
Alix Fox's documentary project, Dirty Old Perverts, is currently in development. She is also writing her first book, The Missing Kink.
---
Celebrity news, beauty, fashion advice, and fascinating features, delivered straight to your inbox!
Writer, broadcaster, and sex educator. Alix is also a Script Consultant for TV show Sex Education.