This is the stark reality of having a partner on the frontline, according to a Ukrainian
Ira Lutsak and her boyfriend Artem Holub were inseparable for four years. Now—like thousands of other Ukrainians whose partners are at war—she doesn't know when she'll see him again.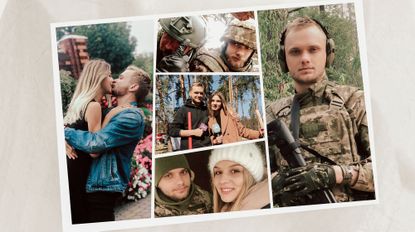 (Image credit: Future)
"Honey, get up. The war has begun." As she awoke on 24 February 2022, Ira Lutsak, 22, didn't believe her boyfriend at first. But then she heard the explosion. "I became hysterical," she says. "I've never heard a sound like that in my life".
Her boyfriend of five years, Artem Holub, 26, helped her calm down. Then he started to run: to collect their things, to open the bomb shelter underneath the building, to get groceries and to withdraw money from the ATM. There were many people on the street, ready to evacuate with their "anxious backpacks", as they'd become known. But the couple, who were both TV journalists at Ukrainian news channels, decided to stay in Kyiv together. "People could only find out what was happening from the news - we had to do our job," says Ira.
She didn't know this would be the last day they went to work together.
The couple had met through work. Ira, 17 at the time, was studying for her journalism degree and got a part-time job at online newspaper Ukrainian Interest in Kyiv. When she first saw Artem, then 21, a fiercely smart and handsome journalist at the publication, she thought he was just her type.
Tall and blonde with what she calls "intelligent eyes", Artem was passionate about Ukraine and the country's future. In 2014, he'd been part of the protests at the Revolution of Dignity on Independence Square, which stopped pro-Russian ex-president Viktor Yanukovych from suspending an agreement with the EU.
Ira claims Artem didn't notice her at first. But then after three months of trying to impress him, he finally asked her out on a date.
Artem had grown up in Kyiv, and introduced Ira to a different side of the city. "When we met, I was not yet at a very conscious age," says Ira. "I did not understand politics or have full knowledge about the history of Ukraine. Artem taught me a lot."
As Artem showed her Kyiv's history, architecture and rave scene to rival Berlin's, Ira fell in love with the man and the city in one. "He instilled a sense of patriotism in me, a love for our country," she says.
Ira and Artem continued to grow together, as a couple and as journalists, spurring each other on to tell stories about the country's progress. "Together, we began to see the picture of our country in its entirety," says Ira. "We saw how much potential our people have, how much they want to live better, and how they will do everything possible to move away from the former Soviet system."
For four years, the duo were inseparable: collaborating on journalism projects, travelling together and celebrating each other's successes.
Now, they are hundreds of miles apart. Often, even virtual communication is impossible. When they can speak, there is usually not enough time for more than "I'm doing fine" and "I love you".
Since Russia launched its full-scale invasion of Ukraine last February, it's thought that eight million Ukrainians have fled the country. Meanwhile, many men of fighting age (between 18 and 60) have been conscripted, and other Ukrainians have joined the army voluntarily. Ukraine had 196,600 active military personnel when the invasion began, and this figure is estimated to have grown to between 500,000 and 700,000 troops. Among these millions of people who have been separated from their loved ones are many couples like Ira and Artem.
On the day the war broke out on 24th February 2022, Artem was so busy at work that he didn't come home that night. Or the next one. Or the one after that. After five days of the same excuse, Ira heard explosions over the phone line. She realised that he wasn't at work after all.
Artem admitted that he'd volunteered to become a soldier—rather than waiting to be called up like he promised. Ira says she almost "went crazy".
"I had to lie that I was going to work," says Artem. "Because I know her well. She wouldn't have let me go to war. I'd said that we would meet in the evening, although I understood that this could be our last conversation."
Ira didn't have the strength to be angry. "Too many emotions overwhelmed me," she says. "Fear from the constant sounds of explosions, worries for my parents who live closer to the border with Russia, a sense of responsibility at work, and on top of that, an incredible fear for Artem. My imagination painted the most horrible pictures of what could happen to him."
In October, Artem's unit was transferred to the frontline. "It tears me to pieces when Artem doesn't get in touch for a long time," says Ira.
The couple last saw each other in person in November. Artem was in Kramatorsk in the Donetsk region, 40 kilometres from the frontline. When Ira found out that the train service to the town was running, she went there immediately without telling him. "He'd refused to let me go because it was so dangerous," she says. "We rented an apartment. And in the evening, after his shifts, he came to me. It was scary there, rockets flew into the city almost every day. There was no electricity and heating, and sometimes no water. But it was the best week ever. I will never forget the sadness when he put me on the train back to Kyiv."
Since Artem joined the frontline, Ira, together with Artem's family and colleagues, has raised more than 20,000 euros for his unit. This has funded a Starlink device, enabling the soldiers to contact their relatives after combat. The money has also bought them thermal imagers, night vision devices, warm clothes and ammunition. Ira is currently raising money for weapons to counteract drone attacks—you can make a donation via PayPal at irina11lutsak@gmail.com, or see the details of the fundraising and how to donate on Ira's Facebook page.
"I realised that at least in this way I could help Artem," says Ira, who moved to Riga, Latvia, last month, and doesn't know when she'll next see her boyfriend. "I am trying to help with all my might, so that my Artem returns to me alive and healthy as soon as possible. This is what I am fighting for now. It gives me strength to help the military."
Knowing he has Ira's support has given Artem strength too. "Separation from Ira is difficult for me, I miss her very much," he says. "But the support of a loved one is what gets me through the most difficult battles, because I know that all these losses are not in vain. We fight for our home, family and loved ones. Such thoughts bring hope when you are sitting in a trench under fire".
Soon after the war began, Czech mental health app VOS started providing Ukranians with free therapy and other mental health support. "Almost every Ukrainian has experienced trauma over the past year," says lead VOS psychologist M.Psych. Adam Taborsky, Ph.D. who is in charge of the company's Ukrainian support line. "In the beginning, we found a lot of people may have been holding things together because of an adrenaline rush. But sooner or later the impact of war started to emerge, increasing anxiety, depression, suicidal thoughts and behaviour. The people who have moved abroad and left their partner or part of their family in Ukraine experience powerlessness, quandary, despair, anger, guilt, and regrets that they left and are safe now. Couples experience enormous stress, unpredictability, insecurity, anger, grief and their trust might be shaken."
Both Ira and Artem feel that the past year has aged them. "After everything I have experienced and seen, the war will leave scars on my soul that I'll have for the rest of my life," says Artem. "But I want to create a family with my Ira, have children, my house and family traditions. When I think about all these things with her, I am happy. But the first priority is victory, which will definitely be ours. The feeling of victory is in the air and everyone knows it. When there is a victory and I return to Ira, we will start building everything that we dreamed about, before all of this."
Celebrity news, beauty, fashion advice, and fascinating features, delivered straight to your inbox!
Kate Hollowood is a freelance journalist and writes about a range of topics for Marie Claire UK, from reports on royal news and current affairs to features on health, careers and relationships. Based in London, Kate has also written for titles like the i paper, Refinery29, Cosmopolitan and It's Nice That.