International Men's Day: 'We're struggling with the chaos of modern masculinity' says Martin Robinson
This International Men's Day seems a good time to ask Martin Robinson, founder and editor of The Book Of Man, to tell us honestly what impact lockdown and a post MeToo world have had on the fractured male identity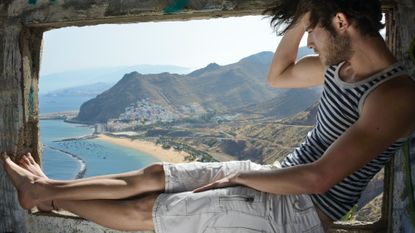 This International Men's Day seems a good time to ask Martin Robinson, founder and editor of The Book Of Man, to tell us honestly what impact lockdown and a post MeToo world have had on the fractured male identity
Has lockdown changed men? It's been such a catastrophic year that 'on the bright side' narratives feel inappropriate. However, with a vaccine coming (unless Boris spills his tea on the formula or something) it feels right to assess long-term changes to our lives. One key area is gender and International Men's Day provides a chance to evaluate what the impact has been on men.
In my new book, 'You Are Not The Man You Are Supposed To Be', I delve into the chaos of modern masculinity: the fractured male identity of the MeToo world, one disintegrating or lashing out, within a further context of future-erasing economic conditions and the vipers' nest of social media.
Men die younger than women but this is not biological, it is due to behaviour: we are more likely to kill ourselves, be killed by other men, and to die from addiction, car crashes or because we don't want to undress in front of a doctor. The book is an attempt to tackle male dysfunction by deconstructing our identities and questioning old ideas of being a 'Real Man': issues brought further into focus this year.
The Gender Schooling Problem
So it's International Men's Day and what have we learned this year? Lockdown has, for heterosexual men of a certain age at least, resulted in an increased involvement at home – domestic chores, childcare, the 'mental load' - and many are enjoying it in a profound way. You may ask, 'Why did it have to take a pandemic for men to start chipping in?' and you'd have a point. But to be fair to us, there's a lot of gender schooling to constrict us. Traditionally the home space has not been seen as a valuable arena for men. Sure, we contribute, we're around, providing a few laughs and eating the food that appears in the fridge, but has not been a place to show our worth.
Domestic space is a woman's space, if only according to our unconscious; informed by embedded tangles of family learnings, peer pressure, movies, advertising, pub 'wisdom', and whatever else is in our environments. Some of it is down to who gives birth. Women have children in beds, and seemingly men take the chance to shove all the other housework onto them while they can't stand. It is the other side to the same biological coin which says 'boys will be boys': women are caring creatures responsible for the home, and men are ruthless creatures responsible for work and only irresponsible behaviour outside of it.
Lockdown & The Male Identity Shift
Of course, this is not all men. Lived experience reveals many different men with different behaviours and concerns, not least non-hetero couples or single parent dads. But these men are rarely celebrated and are often be made to feel ashamed of this part of themselves. One tantalising effect of lockdown is a shift in male identity where being a positive influence at home becomes central. The effect of this could be profound: Promundo [an organisation engaging men and boys in promoting gender equality and preventing violence], reported last year that if men did 50 minutes more care work at home that the scales would tip towards equality: because it frees women up to work and avoids motherhood turning into a career trap. The well-being benefits are there for men, too, in establishing a richer life beyond the workplace, making it doubly desirable. Especially with men facing so many dysfunctional issues that aren't just going to disappear.
Change Starts At Home
We don't yet know the full effect on mental health of coronavirus, but we know from history that times of serious economic strife put men in particular risk of suicide: they are less likely to seek help when something like job loss rids them of self-worth. We do know that violence has been one response, as the 80% increase in calls to domestic abuse hotlines during the first lockdown showed.
Indeed, this is not some vision of a utopia here, where all male issues are solved; rather, it is a chance for men to address issues within and without, looking at a landscape of gender and racial inequality and asking themselves not just 'how can I be better?' but 'how can I help?' And it all starts at home. And, on this International Men's Day, it's important to remember that.
*Martin Robinson is the Editor of thebookofman.com and his book You Are Not the Man You Are Supposed to Be (Bloomsbury Continuum) will be published in hardback on 18 February 2021. Available to pre-order here.
Celebrity news, beauty, fashion advice, and fascinating features, delivered straight to your inbox!
Maria Coole is a contributing editor on Marie Claire.
Hello Marie Claire readers – you have reached your daily destination. I really hope you're enjoying our reads and I'm very interested to know what you shared, liked and didn't like (gah, it happens) by emailing me at: maria.coole@freelance.ti-media.com
But if you fancy finding out who you're venting to then let me tell you I'm the one on the team that remembers the Spice Girls the first time round. I confidently predicted they'd be a one-hit wonder in the pages of Bliss magazine where I was deputy editor through the second half of the 90s. Having soundly killed any career ambitions in music journalism I've managed to keep myself in glow-boosting moisturisers and theatre tickets with a centuries-spanning career in journalism.
Yes, predating t'internet, when 'I'll fax you' was grunted down a phone with a cord attached to it; when Glastonbury was still accessible by casually going under or over a flimsy fence; when gatecrashing a Foo Fighters aftershow party was easy-peasy-lemon-squeezy and tapping Dave Grohl on the shoulder was... oh sorry I like to ramble.
Originally born and bred in that there Welsh seaside town kindly given a new lease of life by Gavin & Stacey, I started out as a junior writer for the Girl Guides and eventually earned enough Brownie points to move on and have a blast as deputy editor of Bliss, New Woman and editor of People newspaper magazine. I was on the launch team of Look in 2007 - where I stuck around as deputy editor and acting editor for almost ten years - shaping a magazine and website at the forefront of body positivity, mental wellbeing and empowering features. More recently, I've been Closer executive editor, assistant editor at the Financial Times's How To Spend It (yes thanks, no probs with that life skill) and now I'm making my inner fangirl's dream come true by working on this agenda-setting brand, the one that inspired me to become a journalist when Marie Claire launched back in 1988.
I'm a theatre addict, lover of Marvel franchises, most hard cheeses, all types of trees, half-price Itsu, cats, Dr Who, cherry tomatoes, Curly-Wurly, cats, blueberries, cats, boiled eggs, cats, maxi dresses, cats, Adidas shelltops, cats and their kittens. I've never knowingly operated any household white goods and once served Ripples as a main course. And finally, always remember what the late great Nora Ephron said, 'Everything is copy.'