22 celebrity quotes about heartbreak to make you feel *slightly* better about your break up
Yes, mere mortals, the A-list can get heartbroken just like us...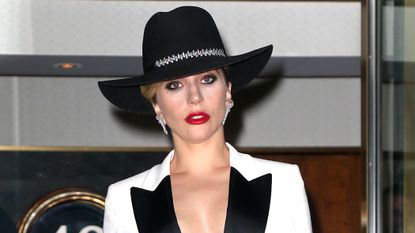 (Image credit: Rex Features (Shutterstock))
Yes, mere mortals, the A-list can get heartbroken just like us...
From the angry revenge-seekers to the tearful survivors, this is what 22 celebrities had to say about their break-ups – the amicable, the resentful and the downright excruciating…
In a recent interview with CBS Sunday Morning: 'I think women love very hard. We love men. We just love with everything we have. And sometimes I don't know that that love is met with the type of dignity that we wish it would be met with. You know, we're not trying to make you less of a man. We just want you to love us as deeply and as wholesomely and as fully as we love you.' Lazy Gaga on her split from fiancé Taylor Kinney
'Any time you have a chance at something again is good, but each combination of people is different. I was a baby when I married Tom, but I don't regret any of it. But out of respect for Keith I tend not to discuss any of that now… Be the best you can be, not the worst, and think of the children.' Nicole Kidman on her divorce from Tom Cruise
'At the time... I just wanted to crawl in my bed and die. But I got out of it the other side, I'm surviving. I kind of saw the light at the end of the tunnel.' Rita Ora on her break-up with Calvin Harris
'My life is so extreme right now. My life basically blew up in my face. And now I'm in this new life, and it's pretty awesome I have to say - I'm so inspired. Everything just feels new. I just feel inspired. I don't know how else to describe it. On the way into the studio the first time, I didn't want to go. I wanted to be in my bed, like, crying. And I did, I cried all the way down to Santa Monica, driving to Santa Monica, and I was like, "What am I doing? Why am I doing this?"' Gwen Stefani on her break-up with Gavin Rossdale
'There are many stages of grief. It's sad, something coming to an end. It cracks you open. When you try to avoid the pain, it creates greater pain. I'm a human being, having a human experience in front of the world. I try really hard to rise above it.' Jennifer Aniston on her break-up with Brad Pitt
'He hasn't spoken to me since he texted me saying he was filing for divorce.' Katy Perry on her break-up with Russell Brand.
'Hair is so linked to how we feel and everyone goes for something radical after a break-up, but my advice is not to touch your hair. It's the first thing women do but you're not in a fit state to make long-term decisions. You'll have to spend four years growing it out. Buy a lipstick instead. Go and kiss loads of other people, but don't f***ing touch your hair.' Alexa Chung
'I felt like I was on a fast roller coaster and couldn't get off when now I know I probably should have. I got caught up with the hoopla and the filming of the TV show that when I probably should have ended my relationship, I didn't know how to and didn't want to disappoint a lot of people. I'm being honest here and I hope you respect my courage because this isn't easy to go through. It just didn't turn out to be the fairy tale I had so badly hoped for.' Kim Kardashian on her break-up with Kris Humphries
'There's nobody that's ever really been able to take care of me. Johnny did for a bit. I believed what he said. Like if I said, 'What do I do?,' he'd tell me. And that's what I missed when I left. I really lost that gauge of somebody I could trust. Nightmare. Years and years of crying. Oh, the tears!' Kate Moss on her break-up with Johnny Depp
'Shit happens, you know? It's just young people… it's normal! And honestly, who gives a shit? The hardest part was talking about it afterwards. Because when you talk about other people, it affects them in ways you can't predict.' Robert Pattinson on his break-up with Kristen Stewart
'It felt like my heart had been torn out of my chest.' Jennifer Lopez on her break up with Ben Affleck
'It ended in a way that was awful. When something ends in a way like that, it's important if you can, go back and revisit it and either shut that door or create a new room. So it was a very healthy, cathartic experience.' Sienna Miller on her break-up with Jude Law
'I desperately want it to work; I desperately love my husband and I wanted to share everything together. And I thought that we were a very good team.' Princess Diana on her break-up with Prince Charles
'A heartbroken person is unlike any other person. Their time moves at a completely different pace than ours. It's this mental, physical, emotional ache and feeling so conflicted. Nothing distracts you from it.' Taylor Swift
'I believe that everything happens for a reason. People change so that you can learn to let go, things go wrong so that you appreciate them when they're right, you believe lies so you eventually learn to trust no one but yourself, and sometimes good things fall apart so better things can fall together.' Marilyn Monroe
'Goodness, it was a bad relationship. It was an embarrassing break-up. I have learned is that a bad love experience is no reason to fear a new love experience.' Anne Hathaway on her break-up with Raffaello Follieri
'I was a jerk and I was careless and reckless with the hearts of women I was with. And I got my karma. I earned it. I got my butt and heart kicked and it hurt me enough that I looked in the mirror and I didn't want it to happen again.' Michael Bublé on his break-up with Emily Blunt
'Am I lonely? Yes. Am I upset? Yes. Am I confused? Yes. Do I have my days when I've thrown a little pity party for myself? Absolutely. But I'm also doing really well. I'd be a robot if I said I didn't feel moments of anger, of hurt, of embarrassment… [but] You joke and say, 'What doesn't kill you makes you stronger'.' Jennifer Aniston
'Only time can heal your broken heart, just as only time can heal his broken arms and legs.' Miss Piggy
'I'm not sure what the future holds but I do know that I'm going to be positive and not wake up feeling desperate. As my dad said 'Nic, it is what it is, it's not what it should have been, not what it could have been, it is what it is'.' Nicole Kidman on her break-up with Tom Cruise
'What can you say? It was a challenging year. I think work saved me, and I'm very grateful that I had work to do. I may have thrown myself off a building. Life is an adjustment. It's different.' Madonna on her break-up with Guy Ritchie
'I remain an eternal optimist about love. I believe in love. It's still my biggest dream. I am positive-determined to move forward with my life, bring up my babies, and do the best job I can as a mother, entertainer, and person. I now look forward to new challenges. I feel strong.' Jennifer Lopez
Celebrity news, beauty, fashion advice, and fascinating features, delivered straight to your inbox!