The top travel trends this year (according to Pinterest)
Better get pinning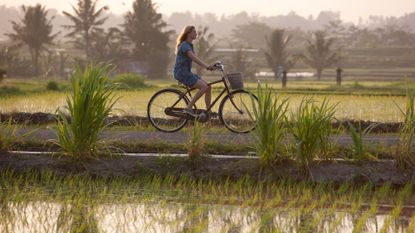 (Image credit: Snap Stills/REX/Shutterstock)
Better get pinning
Whether you're an affluent traveller with a sophisticated palate or a novice setting off on your first backpacking adventure, Pinterest is all about uncovering new experiences. It's not just about discovering the perfect holiday spot, but also finding inspiration for the "do" of every destination. Today, Pinterest unveils its Travel Report 2017 to get help people go beyond the "where" and dive into the "what" of their next trip.
The Pinterest Pinsights team took a look at what people are saving and searching for when it comes to how they'll spend their time on vacation, based on insights from 175+ million monthly global Pinners and more than 3 billion travel Pins.
Here the emerging trends showing how Pinners will be enjoying their next trip - don't forget to check out our holiday booking hacks and Black Friday holiday deals if you're keen on jetting off somewhere too.
For the wellness traveller looking for mental or physical purpose:
Yoga retreats (+77% YoY): While tropical locations like Bali are popular for yoga retreats, people are also creatively DIYing yoga retreats by hosting in their backyard with friends.
Fitness travel (+618% YoY): Pinners are looking to travel to destinations for marathon running and boot camp sessions.
Meditation retreats (+88% YoY): When simple rest and relaxation isn't enough, a meditation retreat is a mindful way to recharge.
Thermal bath (+203%): With thermal springs reducing stress, increasing circulation, and helping to relieve pain, it's easy to see why pinners are searching for natural thermal bath destinations.
Forest bathing (+152%): Pinners are looking for a digital detox (+200 YoY), by spending time outdoors unplugged during their travels.
For the shopaholic traveller choosing their destinations based on shopping inspiration:
French pharmacies (+98% YoY): French girl beauty isn't a secret anymore, as travellers are flocking to pharmacies in France.
Korean skincare (+125% YoY): Korean beauty is proving to be more than just a trend, it's becoming a staple in Pinners' skincare.
Scandinavia (+44% YoY): Scandinavia has been long known as a destination for minimal home inspiration, but people are finding it to also be a source of fashion inspiration.
Embroidery outfits (+43% YoY): Embroidery and tassels inspired by eastern European heritage are trending in style.
Mudcloth textiles (+86% YoY) + Kilim pillows (+163% YoY): People are making their sofas a visual passport by mixing patterns, such as mudcloth textiles and Kilim pillows, from different destinations.
Desert style (+52%YoY): Desert neutrals with pops of natural hues and cactus plants provide a serene environment.
For the foodie traveller planning their destinations based on local cuisine choices:
Nashville hot chicken (+156% YoY): While Southern food is certainly having a moment, Nashville hot chicken is a standalone star.
Third wave coffee shops (+283% YoY): Pinners are planning stops at third wave (artisanal) coffee shops all over the globe.
Cuban food (+83% YoY): The rise of travel to Cuba is spiking Pinner interest in Cuban cuisine.
Borough Market in London (+78% YoY): Street food and markets are often the best way to taste local cuisine on a budget.
Aperol spritzes (+90% YoY): European spritzes are the new frosé.
Shakshuka (+112% YoY): When it comes to brunch, Pinners are looking for global inspiration - not just the standard bacon and eggs.
For the celebration traveller immersing themselves into our global culture:
Group travel (+367% YoY): Traveling with friends is a laid back alternative to romantic couple trips.
Thailand (+67% YoY): Full moon parties are all night beach partners to celebrate lunar activity in Thailand.
Midsummer (+71% YoY): Midsummer is a traditional Swedish holiday to celebrate the summer solstice. Typically celebrated outdoors with a "never ending" lunch party, complete with dancing, florals, schnapps, and pickled herring.
Carnival (+900% YoY): Brazilian Carnival is known for gorgeous costumes, amazing food and an all-around good time.
For the adventure traveller exploring the globe for thrill-seeking activities:
Iceland travel (+54% YoY): Pinners are searching for natural phenomenon's, like lava falls in Iceland.
Ghost towns (+188% YoY): Ghost towns are located throughout the U.S. and create a fun day trip for all ages.
Swimming holes (+183% YoY): Swimming holes are perfect for summer fun, and provide beautiful outdoor views.
Adult summer camp (+43% YoY): Pinners are opting for a community-centred adventure, like adult summer camps.
Van life (+290%): A bohemian travel moment that emphasises the journey over the destination.
Celebrity news, beauty, fashion advice, and fascinating features, delivered straight to your inbox!
Megan is a freelance journalist who covers entertainment and all things lifestyle, with a particular passion for fashion, beauty, travel and Keanu Reeves stories. She has previously worked on staff for titles including Marie Claire UK, CNN Style and The Evening Standard and has written for titles such as Bustle UK, Wallpaper*, Forbes and Hong Kong Tatler. She splits her time between London and her hometown Hong Kong, where she currently lives with the love of her life - an elderly dog named Poppy - and her husband.