Maid of honour 101: How to score major brownie points with the bride
It's a big role but somebody has to do it - or don't they?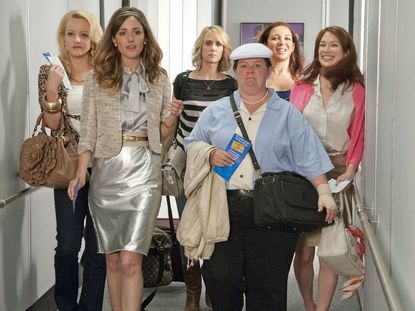 (Image credit: REX)
From maid of honour duties and hen party planning, to the truth around the speeches. Here's everything you need to know...
Words by Maisie Bovingdon
The wedding season is upon us, as Idris Elba, Jude Law and Joe Jonas have all tied the knot within the last week.
With brides and grooms dishing out the honours to friends and families ahead of their big day, a lot of people in the wedding party are left questioning what their roles actually involve.
For the bride a maid of honour - or matron of honour as some refer to it - is considered the chief bridesmaid, so the pressure is on to fulfil all the duties necessary; plan a hen party to impress (not embarrass) the bride, and be at her beck and call for the months running up to the big day. But there's more.
I have never been a bridesmaid, or maid of honour (obvs), but last year my sister said those all important words 'Will you be my maid of honour?' After I squealed, screamed and sobbed (and obviously said yes) a sudden fear enveloped me because I don't know what I'm meant to do, or plan (aside from the hen) or if I'm meant to give a speech on her special day - if I do I'm going to be a blubbery mess and not get a word out, and most importantly I d̶o̶n̶'̶t̶ can't let her down.
I spoke exclusively to wedding guru Sarah Allard - who is the Editor of Hitched - as well as, professional bridesmaid Tiffany Wright, and the Marie Claire team to get the top tips for being the best MOH, and to find out what a maid of honour's duties really involve; from hen party planning to their role on the day, the speeches to their gifts, and whether brides need to have a maid of honour at all...
Maid of honour duties
The panicked question all maid of honour's ask themselves is 'what do I actually need to do?' Answer: to plan the hen party and be the bride's support.
Sarah exclusively told us: 'As the maid of honour, your job is to be the bride's right-hand woman for anything and everything they need throughout their wedding planning journey.
'The maid of honour role has always been an important role in weddings. Helping to choose the dress and then organising the hen are the two biggies. The bride is going to have a lot on her plate, so being there to offer advice on the dress, and taking the pain of another event to organise out of her hands will really help her out.
'Traditionally the maid of honour would spend several days with the bride leading up to the wedding day to make sure she was ready for the wedding. But the rules are a lot more relaxed now.'
Similarly, professional bridesmaid Tiffany Wright insisted communication with the bride is paramount.
She said: 'The thing my advice maid of honour to do is talk to the bride as soon as possible and find out what is important to her when it comes to the duties of the maid of honour. Some brides might just want the emotional support whilst others want practical help, so make sure you know where you stand from the beginning.'
Aside from organising the hen party and bridesmaids, as well as helping the bride on her special day, whether it's holding her dress when she goes to the loo or her bouquet as she signs the wedding certificate, you are also a moral adviser listening to all the bride's woes and dilemmas.
Tiffany added: 'Although the most of the bridesmaids probably want to get involved in the planning too, it's huge job to set up the bridesmaid WhatsApp group, book flights, arrange games. You are the sos girl when things go wrong.
'On the day you have to look after the brides bouquet when the bride and groom go through their vows. If you have your own bouquet hand it to one of the other bridesmaids to hold.
'But, most importantly, make sure the brides eats and drinks (water!) no one wants a brides to pass out from dehydration or lack of food on the day so keep an eye on her and check she is eating and drinking.'
TIPS: Where do we start?
Sarah advised: 'Start by organising a brunch for just the two of you, bring a notebook and start brainstorming some ideas with her – what kind of hen do she might like? When is the wedding? What is the colour scheme?
'By the time the big day comes around, all the planning will be done, so on the day it's all about being there to support the bride. One job that is paramount on the day, but often forgotten about, is to straighten the train of the bride's dress when you get to the front so try to remember that – it'll bug her in all the photos if you don't!'
Tiffany added: 'Make sure you have a list of all of the wedding vendors and contact numbers of anyone important incase anything goes wrong.'
Noted!
Maid of honour gifts
Maid of honour gifts are subject to each bride, and will depend on their budget. Some may gift their bridal party when they dish out the maid of honour title, others may give their MOH a token present on the day or on the eve of the wedding day, while others may gift something post-wedding to show their appreciation, but there are some brides who may wish to do all three - if they are feeling generous.
Sarah said: 'It's tradition for the bride to give her maid of honour and bridesmaids gifts too.'
Marie Claire's Beauty Editor, Katie Thomas, shared her bridal party gifts advice. She said: 'Buying your bridesmaids gifts is really lovely. I bought them each a pair of earrings to wear on the day and some pyjamas to wear the night before.'
But does the maid of honour give a gift? Again, this is down to each individual.
Sarah said: 'If the bride has asked you to pay for your dress you don't have to. But if you still want to give her gift, then focus on something more sentimental and a small token rather than splashing the cash, such as a framed photo from your favourite holiday or a bag full of goodies for the morning after the wedding.'
Maid of honour speeches
It is most common the father of the bride, best man and even the groom perfect a speech on the newlyweds wedding day.
However, it has become more common for the maid of honour or a bridesmaid to say a few words too. As daunting as they may be it's your time to celebrate your bond with them. After all, if the groomsman can brag about the groom, so why can't the maid of honour do the same?
Sarah explained: 'We're seeing more and more maids of honour give speeches on the big day. It's such a brilliant way to celebrate your friendship and the ultimate way to show her how much she means to you.'
But professional bridesmaid, Tiffany, has insisted it is a conversation you need to have with the bride.
She said: 'It didn't used to be tradition but recently more maid of honours are giving speeches. Ask the bride if it is something she would like you to do.
'Don't try and compete with the best man. Best man's speeches are renowned for being risky so keep it classy with yours.'
TIPS: What should the speech include?
'Remember that while the story of you both getting locked out of halls during your first year of uni is still hilarious for the two of you, not everyone in the room will want to hear 20 minutes of inside jokes. Instead, focus on a couple of anecdotes (how you met or a special milestone you share), and a poignant message for your friend. I love the idea of writing a poem', said Sarah.
Tiffany advised: 'Explain to everyone why the bride is your best friend, remind her of anecdotes when you were younger and tell her why her groom is lucky to have her. Sentimentality goes a long way in a MOH speech.'
Maid of honour dresses
What dress the maid of honour should wear is a common question every bride wants to know, as well as who buys them.
Sarah clears this up. She said: 'It's really down to what the bride would like on her day. She may want every bridesmaid in a different dress or prefer to have you all in the same, but it's really up to her and the vision she has for her day, as well as her budget.
'If you're worried about your friend choosing something you don't like, sit down with her beforehand to discuss her ideas and see if you can agree on some styles you both like and that you feel comfortable wearing. If you have a dress you really don't like, think about how you might be able to alter or adjust it, and then choose the right moment to explain to your friend that you'd like to make some small changes to feel more comfortable.'
There can be a lot of dress fittings for the bride, her bridal party and the maid of honour too, but does the MOH have to go to EVERY fitting?
Sarah added: 'If the bride asks you to! But if not, it's not essential for you to be there so long as she is happy and confident to go on her own or with her mum.'
Tiffany has revealed dresses can be styled in different ways, which can suit the whole bridal party.
She said: 'Fabulous bridesmaid dresses out there than can be worn in numerous different ways, so if you do want to stand out, suggest that you all wear the same dress but that yours is worn slightly differently.'
Hen party
This is the main role the maid of honour is given the responsibility of planning, but where to start? There's pressure to please the bride, the stress of who to invite so not to upset the bride, as well as friends of the soon-to-be newlyweds, the fear the bride won't enjoy it, so there needs to be a happy medium between fun but not too rowdy, and affordable, as well as drama free.
Sarah shared her nuggets of wisdom to make the whole process stress free. She said: 'It really depends how well you know the other bridesmaids. If you're all part of the same friendship group and you've planned things together before, then it can be easier to plan.
'However, if you don't know the other bridesmaids it can sometimes become tricky when everyone has a different opinion of what the bride would like. Ask the bride for a few bullet points of what she would and wouldn't like before you get started, so you always have a point of reference to go back to.'
Katie added: 'The hen party always reveals who puts the most effort in…it's always very telling! There's always a bit of drama. I thought I was going to completely bypass it, but I think its unavoidable.'
But when the hen do has been planned the responsibilities continue. During the actual party the maid of honour has the additional responsibility of being in charge of the kitty.
Tiffany said: 'It usually falls to the maid of honour to be in charge of the kitty and collecting any money needed for the hen do.'
TIPS: 'My top tips for planning the hen would be to start planning it as early as you possibly can. This way you can give the guests an idea of the cost immediately and manage expectations of whether it will be in the UK or abroad, and there is time for payments towards the total cost to be spread out and more manageable for those attending, especially if they have other holidays too' Sarah advised.
With all the hen party planning - do not forget to factor in the bride, who the bridal party pay for.
Sarah continued: 'Remember that traditionally, you need to add in the cost of the bride, so make sure you give the guests the costs up front – people will be annoyed if you keep adding more as the hen gets closer.'
Tiffany added: 'Make sure you arrange a hen that THE BRIDE would like, not one that the bridesmaids want. If you bride has told you she doesn't want penis straws and strippers then respect her and stay away from this.
'Try and personalise a hen do to your bride. If your bride loves the countryside and good food then book a gorgeous cottage and bring in a chef', or even opt for a zen do.
How to choose your maid of honour
Picking one person to be your maid of honour can be a huge dilemma for some brides, who fear they will offend the rest of their bridesmaids with their choice.
Katie shared her tips for picking her bridal party, and we are so here for it. She advised: 'I didn't have a maid of honour as, to be honest, the whole asking people to be bridesmaids is awkward enough. I have so many best friends whom I love equally I didn't like the idea of asking one to be top dog.
'But choosing my bridesmaids was the easiest and toughest thing I have ever done. Easy because I knew exactly who I wanted by my side, but tough because I wanted around nine people. I'm not keen on lots of bridesmaids so I had to narrow it down, which broke my heart a little. However, I don't think anyone would have questioned my choices.'
Marie Claire's Fashion Editor, Penny Goldstone, said: 'My maid of honour was my sister, which made it an easy choice, rather than picking a best friend within a group of friends. It meant she knew me best too, so was a great organiser, but also that I had that sister relationship with her that meant I didn't mind telling her if there was something I didn't like. She was just very good at taking stress off me.'
While some may opt for siblings or their best friend, others feel obliged to return the favour and choose someone to take the role because they were there maid of honour for their wedding, or because some are simply more savvy and organised (we're not joking!)
Katie added: 'I have one friend who chose her bridesmaids based on who was the most organised and would be able to throw the best hen do and be the most help in the lead up to the day.'
However, some brides may want to buck the trend and not single out one person as their maid of honour, and will stick with a group of bridesmaids to share the load, while others may even give the title to a male friend.
TIP: 'Always stick to who you want. Don't have someone because you feel you have to. Just because someone asked you, doesn't mean you have to have them.'
You got this!
Celebrity news, beauty, fashion advice, and fascinating features, delivered straight to your inbox!
The leading destination for fashion, beauty, shopping and finger-on-the-pulse views on the latest issues. Marie Claire's travel content helps you delight in discovering new destinations around the globe, offering a unique – and sometimes unchartered – travel experience. From new hotel openings to the destinations tipped to take over our travel calendars, this iconic name has it covered.