'I started working out at KOBOX – the boxing club favoured by Jourdan Dunn, Cheryl and Ellie Goulding'
'My body was exhausted from doing rounds of 360° squats, jumping lunges, push ups and planks with shoulder taps'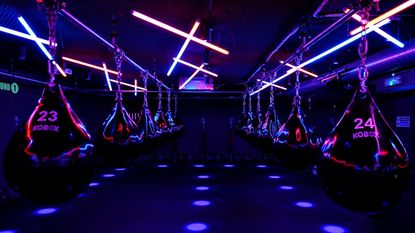 'My body was exhausted from doing rounds of 360° squats, jumping lunges, push ups and planks with shoulder taps'
I discovered boxing at my local gym and I occasionally would go to a class. I really enjoyed the sessions, but they weren't part of my workout routine (not that I really had one). So when I came across KOBOX, a boxing club that looks more like a nightclub than a sports club, I knew that I had to try it.
KOBOX offers 50-minute workouts that include rounds of boxing combinations on a bag (a plus for me because my boxing partner once hit me in the face), as well as rounds of strength training using free weights, resistance bands, slam balls, landmines, gymnastic rings and other equipment.
After a quick search on their website, I learn that they're offering a limited 12-round challenge; 12 classes in four weeks. So that's how I find myself at their Baker Street studio, signed up and ready to start a month of doing the most exercise I have done in years.
Week 1
To ease myself into it, I decided to start my first session on a Saturday. I'm not going to lie – it was hard. There were squats, burpees, high planks, low planks and mountain climbers involved, as well as weights, slam balls and, of course, boxing. The upbeat tunes kept me going, but I had to pause a couple of times to take a deep breath and gather my strength.
My second class, focussing on upper body and core, followed on Tuesday morning. Using 10kg weight plates, dumbbells and suspension bands. This session was particularly hard on the arms, but I was having fun, and that made it a lot more bearable.
I scheduled my last class of the week, a full body/bodyweight one, on Thursday morning. We didn't use any weights during the circuits but we did enough push-ups, burpees, crunches and lunges to make up for that. I am also really starting to enjoy the workouts, so that's promising for the weeks to come.
Week 2
Kicking off my second week on Monday morning, I have to admit that I had some trouble waking up at 6am. We used TRX suspension straps for all our wall exercises (think jumping squats, single leg squats and pull ups all while holding onto the handles) and during the boxing rounds; we focussed on our hooks – or number 3 and 4, as KOBOX calls them.
In contrary to the Monday class, we didn't use any equipment on Thursday. However, after 50 minutes my body was tired from doing rounds of 360° squats, jumping lunges, push ups (I have to note that I still can't do more than 2 of these successfully) and planks with shoulder taps.
I initially regretted booking my last class of the week on Saturday morning. I even checked if I could cancel the class, but I would have lost my credit so I went ahead anyway. Afterwards, I was actually quite happy that I went because a former professional boxer taught the class, so there was a lot to learn from his technique. The rounds of strength training were tough – I was definitely sweating more than usual – but I felt great afterwards.
Week 3
I'm starting to believe that starting off the week with a KOBOX class is the right thing to do. That's why at 7am on Monday morning; I'm at the Baker Street studio again for another full body/bodyweight class.
My Wednesday session, focussing on lower body, was probably the hardest class so far. It's the part of my body that needs the most training and after the first couple of rounds of leg exercises, I couldn't feel my knees anymore. Other than that, a good week.
Week 4
I skipped a class last week (I moved house over the weekend which, if you have ever tried to move an entire wardrobe, you will know is basically a workout), so I needed to fit 4 sessions into my schedule this week.
The first class – apologies if I'm starting to sound repetitive – is a full body one on Monday morning. I want to give a quick shout out to Jay. His classes include a 'beastmode' round and believe me when I say; these will wipe you out. However, thanks to his enthusiasm and volume, as well as a great song selection, I'm always motivated to push through.
I opted for another lower body session on Wednesday. After doing four rounds of lunges, squats, pulses and wall sits with 10kg weight plates, as well as high knees and burpees with a resistance band around my waist, my glutes and hamstrings were burning – in a good way.
I managed to squeeze in another session on Saturday morning, using 10kg weight plates and medicine balls. After 4 weeks, I still struggle to complete the reps that require using a slam ball, so I had to endure these 50 minutes of squats, lunges, bridges and high planks.
Technically I cheated, scheduling my final class of the challenge on Monday, but I just didn't think I could go to KOBOX two days in a row. It was another intense session, combining burpees, jumping squats, bear crawls and planks with shoulder taps with 4 rounds of boxing and the dreaded 'beastmode' round.
I have to mention that I didn't change my diet during this challenge. Yes, I love the occasional can of Coke Zero and I should probably eat some more vegetables, but I don't consider my eating habits to be unhealthy. The one thing I wanted from this challenge was to finally get back into a workout routine.
After 12 rounds of KOBOX, I didn't lose any weight. However, my body looks more toned and I feel better both mentally and physically.
One of the most surprising effects it has had is on my sleeping pattern. I go to bed earlier now (I have to wake up at 6am for the 7.15am session, so I go to bed before 11pm), sleep better and no longer have trouble getting out of bed in the morning.
But I would recommend KOBOX for the studio changing rooms alone. I'm talking rain showers, plush towels, REN toiletries, ghd hair dryers and straighteners and the oversized mirror of course – basically everything you need to get ready in the morning.
If you're thinking about booking in a session, KOBOX offers a pack for first timers; £25 for two classes at any studio and a pair of boxing wraps.
Celebrity news, beauty, fashion advice, and fascinating features, delivered straight to your inbox!