How to party like a French woman, according to Julia Restoin Roitfeld
Très chic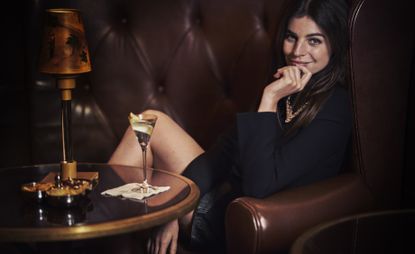 Très chic
The French just ooze effortless chic. It's sort of a rite of passage for them, but when it comes to the cream of the crop, Julia Restoin Roitfeld, 36, is a heavy hitter in the style ranks. The daughter of helmed fashion editor, Carine Roitfeld, and fashion businessman Christian Restoin, Julia grew up to be a French art director and model, as well as the founder of lifestyle brand, Romy and The Bunnies.
And seeing as we've just about mastered how to dress like a French 'It' girl in order to even come close to resembling the chicest French ladies ever, we thought we'd try to tackle how to party like a French woman, too. We caught up with Julia, who is collaborating with vodka brand Grey Goose, on how to be the chicest guest on the list.
What's your getting ready to go out song? When I'm getting ready, I'll listen to '80s music or just stupid hits of the day on Spotify to wake me up and put me in the mood. I don't like to eat before I leave, but I like to be energised so I love to listen anything from Fleetwood Mac and New Order to Daft Punk.
What's your pre-drink? Everyone always defaults to champagne, but I just discovered the Le Fizz cocktail at the Baccarat Bar in New York. Its Grey Goose vodka, St. Germain liqueur, fresh lime juice and soda, it's bubbly and served in a champagne flute. Needless to say, that's my cocktail of the holiday season.
How long does it take you to get ready? It really does depend how much time I have ahead but I try to be very practical. If I have five minutes, then I'll only spend five minutes getting ready but if I have the luxury of more time, I will take more. But, because I always keep my hair minimal, it never takes me too long. I usually just quickly blowdry and tousle my hair if I have the time but I like it best when I just let it air dry. And for make-up, I have my routine of black eyeliner and bare skin. I hate foundation but I'll wear lots of mascara! And I always put body oil on after a shower, I love the one from Bon Point.
What make-up do you normally wear for a party? I keep it simple: smoky eye or cat-eye flicks and bare skin, I don't really wear more than I usually do everyday. The boldest thing I'll do is eyes and lips at the same time.
Who do you normally get ready with? I get ready on my own because I like that time to myself. It's my quiet time with my own music and eventually a drink!
What do you normally wear if you're going out? I hate picking out outfits for events so I always end up wearing the same thing when I go out. I normally will wear a short black dress with black heels so it's always something easy. I always wear heels though, I need them on to feel good about myself so even if it's casual, I'll slip them on. If it isn't a big fashion event, I'll do jeans and a nice top. It might seem pretty boring but it's that French classic look. I'm inspired by women of the '60s like Brigitte Bardot and Jane Birkin. They always looked so put together and cool at the same time and they all were career women and mums.
What do you always make sure you have in your handbag? A phone charger because I can't live without my phone so it's so important to have a charger with me all the time.
What are your favourite cities to go out in? I love NYC; I consider it my home. One of my secret places to go to is La Bergamonte in Chelsea because I love fruit pies and this place sells the best. And, when I'm in Paris, I head to Caviar Kaspia, Fontaine de Mars and Cafe de Flore.
Who's your favourite person to go out with? One of my best friends, [fashion editor of V magazine] Tom Van Dorpe is like a natural high. He always makes me laugh and puts me in the mood.
What's your coming home ritual once the night's done? I like to shower, wash my hair and my face because you really do feel so much better when you wake up. I take an aspirin pill, and if it's not too late, I like to start watching a movie and let myself fall asleep in front of it.
What do you always eat when you come home? Ice cream is my guilty pleasure, but the one thing I have to do when I get home is look for pizza in the freezer because I always need something salty and bad when I go home. Always.
Celebrity news, beauty, fashion advice, and fascinating features, delivered straight to your inbox!