As mini trampolining workouts continue to soar in popularity - 5 to try at home, chosen by a fitness trainer
Celeb fans include Gwyneth Paltrow, Madonna and Miranda Kerr.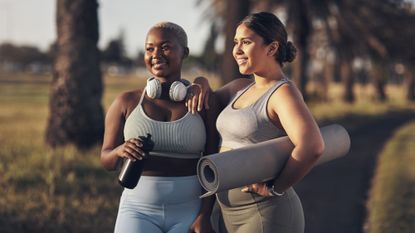 (Image credit: Getty Images)
If you've been on social media in the last few months, you'll likely have seen someone bouncing around on a small trampoline from the comfort of their living room. Trending on TikTok, workouts on a mini trampoline have amassed a casual 68 million views and promise to boost your cardio fitness, metabolism, muscle tone and more.
If you first thought mini trampolining was just for children, prepare to be proven wrong. Even celebrities are giving the fitness trend a go, with the likes of Gwyneth Paltrow, Madonna, Miranda Kerr, Eva Longoria and Goldie Hawn all reported to be fans of the fun but effective sweat session.
So, when did the trampolining boom start? Experts cite that interest has been rising since the beginning of the Covid-19 pandemic. Cison reported that the market for trampolines sat at three billion in 2020 and will rise by a cool near billion (to $3.9 billion) by 2026. This is partly thanks to studios and gyms shutting down during lockdown and people turning to home workouts, instead, but also marks a shift towards more fun, enjoyable and hybrid forms of fitness. Because you'll only ever stick at something if you genuinely enjoy it, right?
Wondering what workouts on a mini trampoline actually consist of? Good question. Below, we've picked the brains of two top experts. Trust us when we say it's not just a fad - this one's sticking around. Read our guides to the best cardio workouts, simple home workouts, and HIIT workouts at home, while you're here.
Workouts on a mini trampoline are soaring in popularity - how they boost muscle and metabolism
What skills do workouts on a mini trampoline require?
Nine years ago, mini trampoline workouts - also known as rebounding - weren't a well-known workout here in the UK, shares Kimberlee Perry, founder and CEO of trampoline fitness company Bouncefitbody. That said, interest in the past few years has been unprecedented. (Case in point: she now sees over 50,000 attendees every month in her studios across the UK).
"Rebounding workouts involve a combination of skills such as balancing on an unstable surface, bouncing, and maintaining your body position," says Perry. She points to a scientific study published in the Journal of Applied Physiology in which the US national space agency, NASA found that rebounding exercises were 68% more efficient than running when participants had the same oxygen intake level.
Trampolining workouts have also been used by astronauts to help regain bone density and muscle mass after returning from space, shares Perry. "NASA's findings even suggest that in just six sessions, you can see a remarkable 70% improvement in your balance and coordination. It's a win-win – getting fit while becoming more agile," she explains.
Can you get a good workout on a mini trampoline?
Short answer: almost certainly. When it comes to the benefits of mini trampolining, there are quite a few.
According to Perry, these include:
Improved balance and agility
Increased bone tissue
Improved heart health
Boosted lymphatic drainage
Boosted endorphins, dopamine and serotonin
Better joint health, thanks to it's low-impact nature.
That's right: bouncing on a trampoline isn't all fun and games, but actually a really great full-body workout, too. It also can help with reducing your risk of osteoporosis by building bone tissue, continues Perry. "Jumping on a trampoline stimulates the formation of osteoblasts," she explains. "These are responsible for building bone tissue and improved bone tissue can lead to an impressive 25% increase in bone growth."
While any workout involving jumping, such as skipping or rebounding, might get you worrying about your pelvic floor, the mini trampoline can work to strengthen it, says Fatema Contractor, women's health and paediatric osteopathy specialist at medical and wellness clinic, The Health Suite. Wondering how? Well, the body experiences alternating periods of weightlessness and increased gravitational force caused by the bouncing motion, and this rhythmic movement then stimulates the contraction and relaxation of the pelvic floor muscles.
Not to mention, it's well-documented that exercise can have a significant effect on your mood. According to the Mental Health Foundation, those who exercise daily see a 20 to 30% lower risk of depression and dementia.
Bottom line: mini-trampolining offers a great combination of fitness and fun, enthuses Perry. "It releases feel-good hormones, endorphins, dopamine, and serotonin and is an effective and enjoyable workout choice that promises to evoke a sense of youthful playfulness." As the expert continues: "It's impossible to jump on a trampoline without a smile."
On the fitness front: "Bouncing on a trampoline is a fantastic cardiovascular exercise, efficiently pumping oxygen through your body, and lowering blood pressure, and cholesterol levels," concludes the trainer, who describes it as a "mini boot camp for your heart and lungs".
That said, Contractor advises anyone experiencing moderate to severe incontinence to always seek advice from a pelvic floor specialist so they can be guided to the correct techniques of rebounding.
"I've never been a fan of the gym - mini trampolining is a fun option for keeping fit"
Emily Conradi, 38, is a marketing manager from Buckinghamshire who's been going to mini trampolining fitness classes for the last two years. She loves the high-energy buzz she gets from the workout.
"I first tried workouts on a mini trampoline a couple of years ago. I was looking to improve my fitness and to find a way to enjoy some "me" time away from the kids."
"I decided to give them a go as I've never been a fan of the gym and workouts on a mini trampoline seemed like a really fun option. When I started that summer, the class I went to was outdoors, too, which I enjoyed. For me, it was a massive bonus to be able to exercise out in the open, too."
"Six months on and I've found mini trampolining to be a great mental boost. It's high energy, which I love, and there's a real social aspect. I've also found it to be great for building my leg and core muscles."
"If you're not sure what to expect, it's a bit like a dance exercise class and leaves you really buzzing afterwards."
"I'd definitely recommend it to others (I've even dragged two of my best friends along to a class, who both loved it). Music, dance and jumping around without a care in the world - what's not to love?"
5 workouts on a mini trampoline to try tonight
1. Basic jump
What? This is a simple guide to your basic jump. Our experts recommend nailing this key move before moving on to the more complex exercises.
Why? Starting with the basics is a good step if you're a beginner. By following the type of bouncing in this YouTube video, you'll engage your core, glutes and lower body, allowing you to strengthen all three areas at the same time.
How long? Aim for two to three minutes.
2. Light jogging for joint stability
What? This is an explainer on how to practice light jogging on the mini trampoline. "Light jogging on a mini trampoline is great for joint stability," explains Perry.
Why? "Transferring weight from one leg to the other might sound easy, but it's made harder by balancing on an uneven surface," explains Perry. "The rebounder is therefore three times more effective than floor-based exercise."
How long? Aim for two to three minutes.
3. Jumping jacks
What? If you've done a classic jumping jack before, you'll know the drill - except this time, the move is performed on the trampoline to give you extra bounce and work different muscles.
Why? "All of your limbs will be working with this full-body movement," says Perry. She also shares that it'll raise the heartbeat and improve your cardio fitness - win, win.
How long? Aim for 10 minutes.
4. Sit ups
What? This one is a core-focused move - think sit-ups on a mini trampoline.
Why? Perry advises lying on the trampoline with your legs at 90 degrees. But fear not - you shouldn't be uncomfortable. "The trampoline's soft elevated surface makes the sit-up more comfortable and protects the spine," she reassures.
How long? Aim for 10 minutes.
5. Tricep dips
What? It's not all about your lower body - work out your upper body, too, by using the trampoline frame for this movement.
Why? A mini trampoline isn't just for bouncing. "Performed on the trampoline frame, this versatile piece of equipment can also be used for static movement," concludes Perry.
Shop MC UK's go-to trampolining equipment now
Opti Mini Fitness Trampoline
A mini trampoline is an essential piece of kit for anyone looking to dabble in a spot of rebounding. This Opti trampoline is stable, quiet and exactly what you need for a mini-trampolining class workout at home.
Solidarity High-Impact Sports Bra
If you're going to be bouncing, well, you're going to want a supportive sports bra. MAAREE's Solidarity High-Impact Sports Bra has got you covered - it's an award-winning piece of kit that feature's an adjustable band that runs across the top of the breasts. It means you're supported in the upwards direction, as well as the downwards. Just what you need for any high-intensity activities.
How long to exercise on mini trampoline?
Short answer: this will depend on your current fitness levels, end goal, and lifestyle. General NHS guidelines recommend aiming for half an hour of moderate-intensity exercise a day, five times a week.
If you're new to trampoline workouts, aim for ten minutes or so to ease yourself in, recommend our experts, and then build your ability up from there. You don't need to spend hours bouncing around, though: trampoline workouts are seriously effective in short bursts, meaning you only need to do short but sweet workouts to notice the many benefits.
Celebrity news, beauty, fashion advice, and fascinating features, delivered straight to your inbox!
Amy Sedghi is a freelance journalist, specialising in health and fitness, travel, beauty, sustainability and cycling.
Having started her career in The Guardian newsroom working with an award-winning team, Amy's proud to have reported on a variety of topics, speaking to a range of voices and travelling far and wide to do so. From interviews on ski lifts to writing up breaking stories outside courtrooms, Amy is used to reporting from a range of locations (she's even been known to type up a story in a tent).
She also loves being active, spending time outdoors and travelling - with some of her favourite features she's worked on combining all three. Cycling and eating her way round the Isle of Man, learning to sail on the Côte d'Azur and traversing the Caminito del Rey path in Spain are just some of her highlights.
Covering a diverse range of subjects appeals to Amy. One minute she may be writing about her online styling session with Katie Holmes' stylist and the next she's transporting readers to the basketball courts of Haringey where she joined a group trying to lower knife crime in the capital.
While at university, Amy was awarded The Media Society bursary. Following her stint at the Guardian, Amy worked at Google and as well as writing for Marie Claire, she regularly contributes interviews, features and articles to National Geographic Traveller, The Guardian, The Independent, The Telegraph, Stylist, Refinery29, Glorious Sport, Cycling Weekly and Rouleur.
When she's not writing, Amy can be found trying to get through her towering stack of books-to-read, cycling down at Herne Hill Velodrome or looking for the next place to eat and drink with friends.