Proof Of 'The Angelina Jolie' Effect...
Referrals for genetic testing for breast cancer risk more than doubled across the UK thanks to Ange.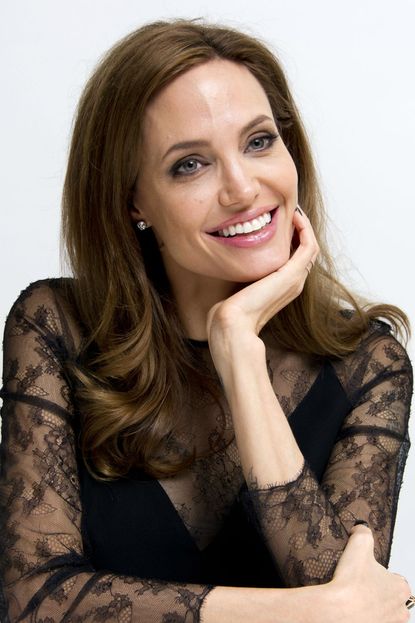 (Image credit: Rex)
Referrals for genetic testing for breast cancer risk more than doubled across the UK thanks to Ange.
Angelina Jolie's announcement about her double mastectomy led to a doubling in NHS referrals for genetic tests for breast cancer risk, a new study has found. They're calling it 'The Angelina Jolie effect'.
The actress revealed in May last year that she had tested positive for a BRCA1 gene mutation and that she'd made the decision to have a double mastectomy.
At the time, Angelina said: 'My doctors estimated that I had an 87 percent risk of breast cancer and a 50 percent risk of ovarian cancer, although the risk is different in the case of each woman.'
Research funded by the Breast Cancer Campaign found that, on learning of Ange's mastectomy, many more women went to their GPs with concerns. Most importantly, these women, rather than booking the appointment as a knee-jerk reaction to Ange's news, tended to have a family history of breast cancer.
Gareth Evans, professor of clinical genetics at Genesis Breast Cancer Prevention, says: 'Although there was concern that the increase in attendance following Ms Jolie's announcement might have been from the "worried well" coming back for an early repeat screen, our research found that the opposite was true. A higher proportion was from women who were late for their test, rather than those who were coming back early.'
Women who have the BRCA1 gene mutation have between 45 per cent and 90 per cent risk of developing breast cancer, something Angelina was keen for other women to know.
In her article for the New York Times, she wrote: 'I choose not to keep my story private because there are many women who do not know that they might be living under the shadow of cancer. It is my hope that they, too, will be able to get gene tested, and that if they have a high risk they, too, will know that they have strong options.'
About her double mastectomy, she added: 'On a personal note, I do not feel any less of a woman. I feel empowered that I made a strong choice that in no way diminishes my femininity.'
Gareth Evans explained that the Hollywood star's image as a strong women, along with her reassurances about sexual identity post-surgery inspired others to get tested.
'Angelina Jolie stating she has a BRCA1 mutation and going on to have a risk-reducing mastectomy is likely to have had a bigger impact than other celebrity announcements, possibly due to her image as a glamorous and strong woman.'
He added: 'This may have lessened patients' fears about a loss of sexual identity post-preventative surgery and encouraged those who had not previously engaged with health services to consider genetic testing.'
Celebrity news, beauty, fashion advice, and fascinating features, delivered straight to your inbox!