DNA paternity tests go on sale in Boots
A new kit for testing paternity goes on sale at Britain's biggest high street chemist amid fears that they could tear families apart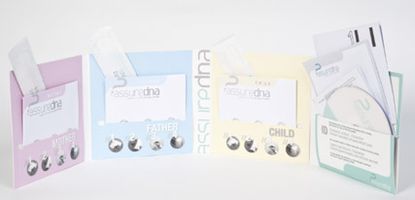 (Image credit: www.assuredna.co.uk)
A new kit for testing paternity goes on sale at Britain's biggest high street chemist amid fears that they could tear families apart
An over-the-counter paternity kit has gone on sale in Britain's biggest high street chemist chain, causing concern over its affect on families.
The £30 test, Assure DNA, compares a man's DNA with a child's to discover whether he's the biological father. It is the first time that a high street chain has sold the product.
It works by collecting cells from the inside cheek, which are then placed inside sterilized envelopes and - for an extra £130 - sent for processing at a laboratory.
Customers receive results by phone or email within five days. A 24-hour service is available at a cost of £329.
There are concerns that the kit could tear families apart as mothers decide to confirm the identity of their child's father and men want to check a child is really theirs.Others believe that adult children will use the tests to trace their biological fathers.
A recent study estimated that one child in 25 is not the product of the assumed father. Furthermore, the father's name is left blank on some 50,000 birth certificates a year.
Boots insists the kit meets demand from customers and would be available in larger stores.
A spokesperson says: 'Boots UK is committed to offering our customers choice. This test provides peace of mind for those of our customers who may be seeking reassurance with paternity matters.'
The kit's manufacturer, Anglia DNA, says half the tests it carries out are for children under one, and a quarter for those younger than 10 weeks. In other words, the child is unaware of family relations.
'The tests provide peace of mind for,' says Dr Mandy Hartley, Anglia DNA's technical manager.
Do you agree that Boots if providing a much-needed service for the customer and it is the public's right to have access to tests such as this? Or are you of the opinion that these kits will cause more harm than good and destroy families during their search for the truth? Post your comment in the box below.
Celebrity news, beauty, fashion advice, and fascinating features, delivered straight to your inbox!