Metabolic workouts for women are trending - so, what are they and do they really boost muscle and metabolism?
Get the lowdown from a top celebrity trainer.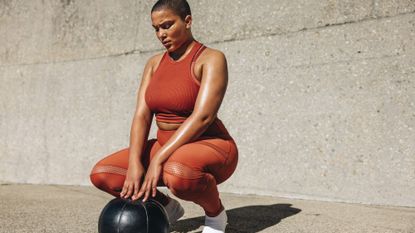 (Image credit: Getty Images)
Metabolic workouts for women are trending - so, question: what are they and do they actually work? Let's break it down for you. In short, a metabolic workout is simply a form of training designed to maximise calorie burn during and after a sweat session.
Although the workout is trending, it's hardly new. Personal trainer and founder Monique Eastwood has been using the metabolic workout system to train clients for more than three decades. The celebrity PT - who counts stars such as Anne Hathaway, Emily Blunt and Stanley Tucci among her clients - explains that far from being a workout of its own, metabolic workout is similar to HIIT training.
While working out should always be about more than calorie burn - you'll only ever stick to a workout routine you enjoy, after all - for those short on time, short, sharp HIIT sessions can be a time-efficient way of getting bang-for-buck from your workout.
A review and meta-analysis of research on the effects of HIIT on cardiometabolic health (for example, high blood pressure, type 2 diabetes and cardiovascular disease) published in the British Medical Journal found that HIIT was effective at improving VO2 max, resting heart rate and percentage of body fat in overweight populations.
Further, a 2021 study published in the journal Sports Medicine concluded that resistance training can reduce body fat percentage, body fat mass and visceral fat in healthy adults. It's worth noting, though, that as above, there is no such thing as one "best" workout - the one you'll enjoy and stick at will work best for you. For Eastwood's go-to workout, though, and the one she shares with clients, keep scrolling.
Metabolic workouts: your guide
What are metabolic workouts?
"Metabolic training means taking your body out of its comfort zone," she explains. "It requires increasing the intensity of your workout so that it has to repair and recover afterwards, therefore using its energy (calories) to be able to return the body back to its natural state."
That said, a metabolic workout will look different for each person, highlights Eastwood. "It's important to remember that you're all different shapes and sizes, meaning you'll be outputting different levels of energy."
So, what is the draw of a metabolic workout? "They can be very effective for burning fat, boosting your metabolism, keeping muscle mass and building endurance," says Eastwood. But, she warns, it's not recommended to put your body through them on a daily basis, rather, two to three times a week. Why? "Metabolic workouts can be hard and challenging," she points out, meaning you'll need to give your body time to recover, too.
How do I know if a metabolic workout is for me?
While metabolic workouts are trending and may suit some people, they won't be for everyone, says Eastwood.
"[Whether this workout works for you] is very individual," she explains. "Someone with an underlying health condition, for example, needs to get their doctor's advice before doing anything of this intensity."
What are the benefits of a metabolic workout?
Eastwood breaks it down. "In short, you're working the body with short, powerful bursts of high-intensity and compound movements," she details. "This then means your muscles use more oxygen and energy post-workout to recover, using more body fat in the recovery process."
While HIIT training and metabolic workouts can have an impact on a person's metabolism, says Eastwood, there's no research as of yet to conclusively prove that high-intensity workouts can improve your metabolism.
Some exercises have been proven to be more effective and efficient at burning fat, increasing muscle mass and improving endurance, says Eastwood, but the most important thing is doing a form of movement you enjoy and mixing things up regularly. "As with all workouts, variety is key," she shares. "Your body can become habituated so mixing up how you move is very important."
Bottom line: A full-blown metabolic workout won't be for everyone and shouldn't be done every day, even if you love them. That said, mixing up your exercise routine with more intense workouts, such as HIIT, can be worthwhile. As the saying goes: variety is the spice of life.
Try Eastwood's workout tonight
Shop our go-to fit kit now:
Another supportive and functional yet stylish design, PE Nation kit is designed to last, plus promises to be sweat-wicking and breathable.
This Energy bra is a firm favourite in my workout wardrobe rotation - so much so, I wore one for the marathon. The bra is flattering yet functional, offering support for intense weights sessions and cardio alike.
Celebrity news, beauty, fashion advice, and fascinating features, delivered straight to your inbox!
Amy Sedghi is a freelance journalist, specialising in health and fitness, travel, beauty, sustainability and cycling.
Having started her career in The Guardian newsroom working with an award-winning team, Amy's proud to have reported on a variety of topics, speaking to a range of voices and travelling far and wide to do so. From interviews on ski lifts to writing up breaking stories outside courtrooms, Amy is used to reporting from a range of locations (she's even been known to type up a story in a tent).
She also loves being active, spending time outdoors and travelling - with some of her favourite features she's worked on combining all three. Cycling and eating her way round the Isle of Man, learning to sail on the Côte d'Azur and traversing the Caminito del Rey path in Spain are just some of her highlights.
Covering a diverse range of subjects appeals to Amy. One minute she may be writing about her online styling session with Katie Holmes' stylist and the next she's transporting readers to the basketball courts of Haringey where she joined a group trying to lower knife crime in the capital.
While at university, Amy was awarded The Media Society bursary. Following her stint at the Guardian, Amy worked at Google and as well as writing for Marie Claire, she regularly contributes interviews, features and articles to National Geographic Traveller, The Guardian, The Independent, The Telegraph, Stylist, Refinery29, Glorious Sport, Cycling Weekly and Rouleur.
When she's not writing, Amy can be found trying to get through her towering stack of books-to-read, cycling down at Herne Hill Velodrome or looking for the next place to eat and drink with friends.