Hit the sheets this Valentine's for 11.11.11 baby
If you want to give your baby the luckiest birth date of all, stay inside this Valentine's Day and follow these top tips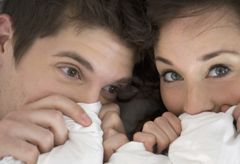 (Image credit: Rex Features)
If you want to give your baby the luckiest birth date of all, stay inside this Valentine's Day and follow these top tips
If you are trying to get pregnant, there's no better way to celebrate Valentine's Day this year than to stay at home and try to conceive a baby with a very special birth date.
Zita West, author of Zita West's Guide to Fertility and Assisted Conception and Guide to Getting Pregnant told Marie Claire that women who conceive this week are more likely to have a baby born on November the 11th if she has a regular 28-day cycle.
There are, however, a few things to bear in mind aside from the exciting new lingerie. Most cycles do vary and ovulation will shift depending on how long yours is. Plus, pregnancies don't always last the full 40 week - a baby can come earlier or much later than expected.
'The fertile window lasts between five to six days leading up to your day of ovulation and a day after,' says Zita. 'Plenty of sex in the lead-up and around Valentine's Day is critical.
'Equally critical is the quality of a man's sperm.Healthy sperm can last three to five days inside a woman. If you are having enough sex in the lead up to ovulation, there should be a good flow of sperm ready for when your egg is released'
As a final secret to success, Zita advises women lay flat for around 15 minuted following intercourse. 'This will allow the stronger sperm to make its way to your egg,' she says. 'There's no need to raise your legs in the air or other types of gymnastics unless you really want to show off.'
The biggest turn-off for a man is feeling pressurised, so go easy on the candles and sexy lingerie. Instead, do what feels right and have some fun.
Celebrity news, beauty, fashion advice, and fascinating features, delivered straight to your inbox!