British women wash bras every two months
How often do you wash your bras?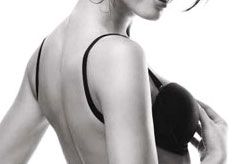 How often do you wash your bras?
When Dame Vivienne Westwood disclosed recently that she never washes her bras, she certainly wasn't alone.
New research by company Dr Beckmann, which quizzed over 2,000 ladies, has revealed that British women rarely wash their bras, often waiting at least eight weeks before tossing them in the laundry.
The poll also showed that women own more than enough bras to wear a new one every day of the week - so there really is no excuse for greying bra straps, girls!
Ironically, 55% of us prefer white bras, showing that we prefer the clean, fresh look. However, thanks to stale perfume, body lotion, fake tan and sweat, combined with infrequent washing, the crisp look we seek doesn't last long.
As if you need prompting, Dr Beckmann's stain guru, Lesley Naylor, suggests: 'Washing bras at least once every two to three wears'.
Since British women reportedly spend an average of £2,700 on new bras in a lifetime, extending their lifespan with a regular wash could save you a small fortune!
ARE YOU A TWITTERER? FOLLOW US HERE
Celebrity news, beauty, fashion advice, and fascinating features, delivered straight to your inbox!
Natalia is a health journalist with 14 years experience in the publishing industry. She has worked for a number of well known magazines and websites including Marie Claire, Woman&Home, Top Sante, Boots and The Telegraph. She likes to think she practices what she preaches when it comes to health and fitness. Her athletic prowess began early. A keen fencer for 13 years, she wielded an epée for Olympic Team GB during her teenage years. She likes to think she made sword-fighting cool before Game of Thrones came along! While working on her sporting performance with the team, she also participated in a lot of nutrition and psychology training, When it comes to time off, you'll most likely find her up a mountain somewhere. It seems holidays have become a time for climbing several thousand feet, rather than chilling out. She's now hiked eight of the major mountain ranges across four continents – including the Appalachians, the Smokies, the Sierra Nevadas (she spent her honeymoon hiking to the top of Half Dome), as well as hitting the summits of Snowdon, Pen-Y-Fan (Brecon Beacons), Table Mountain in South Africa, the Blue Mountains in Australia and the Atlas Mountains in Morocco. She's also passionate about all things health, particularly vaccinations, and will happily jump on her soap box at any given opportunity to talk about their benefits to anyone who will listen!