These are the only 5 pairs of hiking boots worth your money, according to a Health Editor
Hot girl walks, here you come.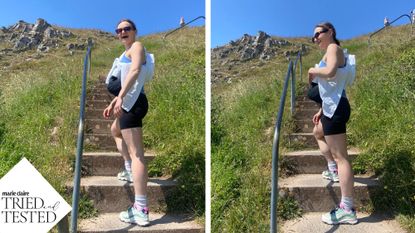 (Image credit: Ally Head)
On the hunt for the best hiking boots but don't want to spend loads of money on a pair that will rub, be uncomfortable, or fail to provide adequate grip?
Lucky for you, I'm a Health Editor who sweat tests fit kit for a living and reckon the below hiking boots are the only ones worth your investment. Why? Well, I've tested them over muddy terrain, slipper riverbanks and hundreds of rainy miles along the South West Coastal Path. The five shoes that made this edit helped me stay warm, dry and blister-free for the duration.
As TikTok's viral Hot Girl Walk and soft hiking trends show, I'm not the only one who's found comfort in the great outdoors in recent years, with more people than ever taking up hiking. One survey from Mintel found that nearly a quarter (25%) of the British public now enjoy hiking at the weekend, compared to just 16% in 2018.
Yep, hiking's having a moment. We've been raving about the benefits of walking here at Marie Claire UK for a while (read our guide to the best UK hikes now). Below, shop our edit of the best hiking boots to wear to support any adventure.
What did I look for when testing the best hiking boots?
Good grip
Adequate ankle support
Waterproof material and design
Comfort - I have quite sensitive feet so haven't included the boots that caused an achy ankle or ball of foot, blisters, or chafing.
More of a walking kind of person? Read our Fashion Editor's guide to the best walking boots, instead.
5 best hiking boots to buy now
Danner Mountain Light Hiking Boots
Reasons to buy
+
Comfortable
+
Supportive
+
Anti-blister.
Reasons to avoid
-
Higher price point
-
Run small.
What we thought when testing: First things first - just look at the design of these boots. I first tried these Danner hiking boots years ago when working at Women's Health as they were widely regarded on the team as the best hiking boot brand out there.
I've worn them for walking holidays in the years since, and they're always soft to the touch on your foot, supportive, and the quality feels superior. They've never rubbed or caused blisters, the grip has stopped me from faceplanting mud several times, and they always stay waterproof.
Top tip: go up half a size, as they run small, and be prepared to break them in over shorter distances, if you're prone to aching on the balls of your feet, like me.
Timberland Sprint Trekker Hiking Boot
Reasons to avoid
-
Don't offer as much ankle support as other options.
-
Not waterproof.
What we thought when testing: You'll all have heard of Timberland boots, firmly cemented as one of the standout 90's fashion trends.
But they sell hiking boots, too, and I rated their Sprint Trekker boots when testing. More of a city boot than a hardcore hiking option (I wouldn't recommend them for, say, Kilimanjaro training, but would recommend them for weekend loops of your local parks or dog walks), I found the soles to be cushioned and comfortable. They didn't rub and they felt breathable, too.
Cons: They don't offer much ankle support, stopping lower than the other alternatives in this roundup, and they aren't advertised as waterproof, meaning they're not the best option for long, muddy hikes.
Merrell Moab Speed GORE-TEX
Reasons to buy
+
Stylish
+
Supportive
+
Waterproof
+
Anti-blister.
What we thought when testing: While technically not a hiking boot, these are my go-to hiking shoes. They had the best grip, waterproof material, and breathability of all of the designs I tested, plus I found them seriously comfortable.
I was also pleasantly surprised by how light they are, while still offering good arch support in-shoe. If you're someone who doesn't like seriously chunky or heavy boots or likes travelling lightly, I'd go for these. Similarly, if you're prone to injury, they're a win, win, as they're light and so won't cause you to overpronate or overcompensate - while also offering advanced support and functionality.
Decathlon Women's Walking Boots
Reasons to buy
+
Affordable price point
+
Comfortable
+
Waterproof.
What we thought when testing: I've had these boots for years now and have never had any complaints. They've been a sound, supportive investment that has carried me across 100+ miles plus.
Main pros: they're more affordable than other options in this roundup, and I've always found them comfortable, soft on my heels and supportive of my arch. I also thought they were especially easy to do up and impressively waterproof - I've never experienced any leaks.
Do note, though, they do take some wearing in. I'm blister prone and had to wear plasters and two pairs of socks for the first five hikes or so.
Women's Trailstorm™ Mid Waterproof Walking Shoe
Reasons to buy
+
Breathable
+
Lightweight
+
Stable
+
Zero break in time.
Reasons to avoid
-
Not the grippiest
-
A narrow fit
-
Runs small - size up.
What we thought when testing: I'm very much a beginner when it comes to hiking and probably would only use walking boots once every few years. So when I was invited on a walking holiday to the Isle of Skye this year, my main priority was to select a hiking boot that wasn't far off a trainer or shoe I'd normally wear that didn't require a long breaking-in period.
I opted for the Columbia Trailstorm mid-women's walking boot and they didn't disappoint. I found them to be breathable, lightweight and with a stable high collar fit, not to mention easy to wear and extremely comfortable, featuring a zero break-in period (which for me was actually the biggest selling point).
As someone who suffers from rheumatoid nodules on my ankles, it was really important to find a boot that had a lightweight and flexible sole and good ankle support so as not to exacerbate it. Spoiler alert: I came back from Skye with zero pain, so for me, the Columbia Trailstorm boots were a success.
They held up well across the many terrains we encountered - rocks, hills, seaweed, and so on, and I can personally testify to them being impermeable (I accidentally put my whole foot in a bog during our hike and it came out dry, so you get the picture).
The only drawbacks? I noticed a lack of grip on slippery surfaces, minimal arch support and a very narrow fit. NB: Definitely opt for the size up with these hiking boots. I went for my size and found the fit a bit too snug.
I would definitely recommend these hiking boots - if only for the comfortable ankle support and the luxury of not having to break them in. - Jenny Proudfoot, Features Editor
Happy hiking.
Is it okay to wear hiking boots for walking?
Short answer: yes, it is, but some may not offer the kindest support to your hips and joints over miles and miles of distance.
The main difference between a hiking and walking boot is the former offers more ankle support, to prevent injury on varied terrain. That said, more traditional styles of hiking boots may also have stiffer soles than your standard walking boots, which could make them a bit much for long distances walking on surfaces like concreate or tarmac.
Top tip: it's worth trying on in store if you're on the fence. Stores like Cotswold Outdoor have plenty of professionals who will be able to find the ideal shoe for you and the type of workouts you enjoy.
Celebrity news, beauty, fashion advice, and fascinating features, delivered straight to your inbox!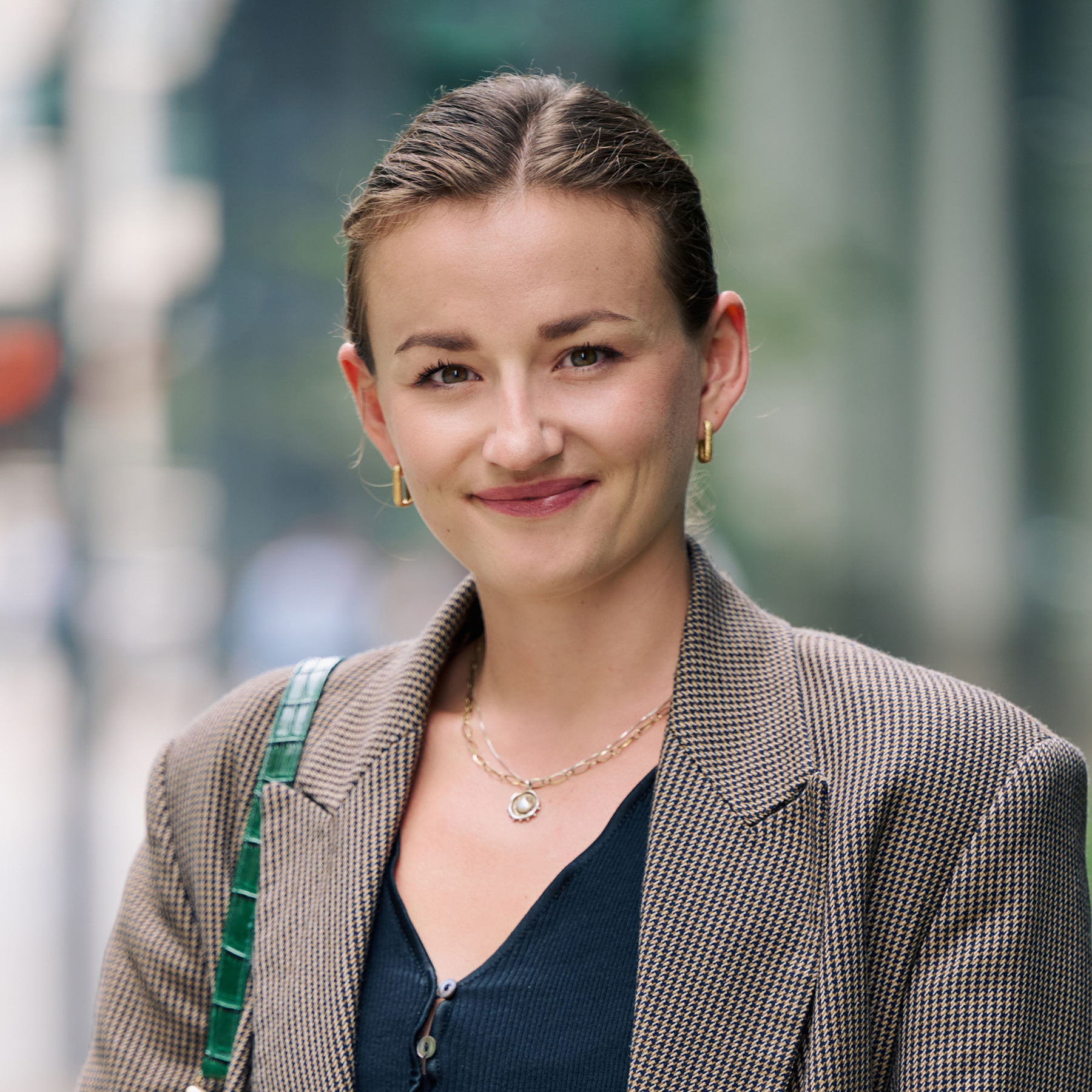 Health, Sustainability and Relationships Editor
Ally Head is Marie Claire UK's Health, Sustainability, and Relationships Editor, eight-time marathoner, and Boston Qualifying runner. Day-to-day, she works across site strategy, features, and e-commerce, reporting on the latest health updates, writing the must-read health and wellness content, and rounding up the genuinely sustainable and squat-proof gym leggings worth *adding to basket*. She regularly hosts panels and presents for things like the MC Sustainability Awards, has an Optimum Nutrition qualification, and saw nine million total impressions on the January 2023 Wellness Issue she oversaw, with health page views up 98% year on year, too. Follow Ally on Instagram for more or get in touch.