New £435 blood test predicts lifespan
A new blood test to predict how long a person will live is due to go on sale in Britain later this year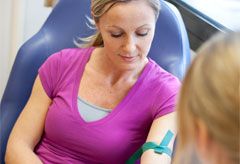 (Image credit: Rex Features)
A new blood test to predict how long a person will live is due to go on sale in Britain later this year
A £435 'death test', which scientists claim accurately measures the length of a person's telomeres, thought to be linked to longevity, could hold the key to a person's lifespan.
The sections of DNA that cap the ends of chromosomes, protecting them from damage, could hold information about a person's speed of aging enabling researchers to estimate how long a person will live. The Spanish firm Life Length is behind the initiative and hopes the test will be commercially available later this year.
Maria Blasco, who led the research at the Spanish National Cancer Research Centre says: 'Knowing whether our telomeres are a normal length or not for a given chronological age will give us an indication of our health and of our physiological age even before diseases appear.'
Maria expects strong demand throughout Europe, Britain and America, from people wanting to learn more about the length of their lives and when they are due to die. She also hopes the test will encourage people to adopt healthier lifestyles in a bid to lengthen their lives.
'What is new about this test is that it is very precise,' she says. 'We can detect very small differences in telomere length and it is a very simple and fast technique where many samples can be analysed at the same time.'
While many are advocates of the Life Length blood test, Dr Greider of Harvard Medical School believes it is unnecessary. 'Do I think it's useful to have a bunch of companies offering to measure telomere length so people can find out how old they are? No.'
What do you think? Do you really want to know how much time you have left? Let us know your thoughts by posting a comment below.
TIPS: THE GET HEALTHY QUICK LIST
Celebrity news, beauty, fashion advice, and fascinating features, delivered straight to your inbox!