How to drink scotch and own it
It's the cool woman's tipple du jour, but how do you pull off drinking scotch in style?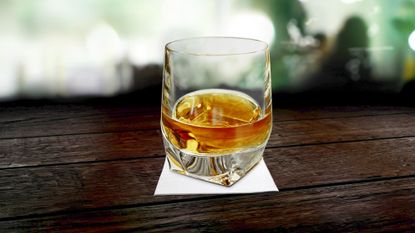 It's the cool woman's tipple du jour, but how do you pull off drinking scotch in style?
How to drink scotch whisky is one of life's finer goals. There's something about scotch that says effortless style: craftsmanship harking back hundreds of years, skills passed down through generations, quality and perfectionism mixed with a modernity borne through innovation. It's been cool since forever and has a swagger and a style that's unmistakable. And now that we've reached peak prosecco, there's a new tipple to raise a glass to.
But who are the women guarding scotch's best kept secrets? Emma Walker, whisky blender at Diageo began life as a process chemist but her love of whisky eventually led her to becoming a scotch blender for some of the world's most famous brands, including Johnnie Walker.
'Science helps to give me a really good understanding of flavours, and how they work together when creating blends; which is useful given that there are over eight million casks of maturing scotch whisky across Scotland to draw from,' says Emma.
Once she has created the perfect blend, Emma works with colleague, Fiona Beveridge, on the luxury development team who will manage the production of beautiful bottles that reflect the specific character of each new release. As well as working alongside the blending team, Fiona's job takes her around the world where she uses her background in design to work with talented crafts men and women to create bespoke products for international clients. She is hugely proud to work in an industry steeped in Scottish heritage – 'Our country is enormously proud of the cultural impact scotch has across the globe.'
Here's what you need to know:
17 million cases of the world's bestselling scotch, Johnnie Walker, are sold every year.
USA, Brazil, Mexico and Thailand are the biggest fans of scotch around the world.
Scotch is loved in every corner of the globe but in order to be called 'Scotch', it has to have been distilled and matured in Scotland. Impress your friends by pointing out that Scotch whisky is spelt with no 'e', whilst 'whiskey' with an 'e' is used for those made anywhere else from Ireland to America.
Single malt or blended – what's the difference? Simple. A single malt whisky is from one distillery only. Blended scotch, like Johnnie Walker, mixes two or more whiskies from different distilleries around Scotland to create a unique taste, featuring different flavour groups including sweet, smooth or smoky.
Every Scotch has a unique set of flavours. If you want to look and feel like a scotch buff, try tasting it like the professionals do: noting the flavours of your drink 'on the nose', 'tongue' and 'throat'. Smell the scotch, swish it around in your mouth a little to taste it and finally pay attention to how it feels as it hits the back of your throat.
Some people will tell you it's made to be tasted neat with no ice or mixer – don't listen to them. Scotch is made to be enjoyed with good company however, whenever, wherever.
Experiment with food and drink pairings. Light, sweet whiskies can match perfectly with seafood, so go for a lighter flavour-led whisky whilst fuller-bodied whiskies will go well with cheese courses and rich deserts. If you're brunching, why not try Emma's suggestion - a Johnnie Walker Black Label Bloody Mary?
This festive season, skip the prosecco and show you know your stuff by bringing a bottle of scotch. Whether sipped, mixed in a cocktail or poured over ice cream, it will definitely raise your dinner party game. You could try either a 'flavour led' or an 'age statement' scotch if you're looking for a gift, age statements will have words like '12 years' or '15 years' on the label, that's the length of time the liquid has been matured in casks before being bottled.
Celebrity news, beauty, fashion advice, and fascinating features, delivered straight to your inbox!