Wondering how to survive mercury retrograde? Your survival kit
Fail to prepare, prepare to fail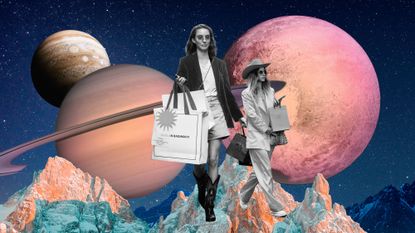 Fail to prepare, prepare to fail
You'd have had to have been living under a rock to have missed that mercury is in retrograde. Many believe that the astrological phenomenon brings a season of, in short, bad vibes - poor decision-making, travel delays, and even confusing messages from the likes of your ex. So if you're wondering how to deal with the onslaught - we've got all the reinforcements for you.
As you've likely come to know (and fear), mercury retrograde season quite literally means that the planet starts travelling backwards in the sky. The astrologically inclined believe that down here, we can experience the equivalent - in a word, chaos. (Think being late to a meeting with your boss and then dropping your phone to top it all off, so now you can't even scroll Instagram through the cracked screen).
While I try not to expect the worse, five hours into mercury retrograde season, my laptop stopped working and my ex popped up on my now cracked phone screen. Yes, really... So I'm not inclined to think of it as a coincidence anymore.
Following the drama of four Mercury retrograde seasons last year. You might think you'd be more prepared for chaos by now, but let's be honest: no one likes things taking a turn for the worse (or things breaking).
It's not all doom and gloom, though. The good news? There are plenty of ways to cope with mercury being in retrograde, including this tool-kit-come-survival-guide we've pulled together for you.
As much as we'd all love to hibernate indoors and curl up binging on Netflix until it's over, life goes on. So instead, we've rounded up the best protection for your tech (yes, tech is meant to go awry during this time), self-care tools to soothe your soul, and calming positivity products, to boot.
Mercury retrograde ends on 18th January - shop our favourite products to get you through below. Happy shopping. And, breathe...
How to survive mercury retrograde: your survival kit
As astrologer Jake Register explained to Skin Proud, "This retrograde is in the sign of Capricorn, known for being the sign of structure and routine. The result? A retrograde in which all of the signs are likely to endure struggles with their daily routines and forget to take good enough care of themselves".
Mercury retrograde can be pretty intense, from ex's coming back to your daily routine. If your ex does come back on the scene, read our guide on what to do when your ex texts you.
Or, if you're just keen to boost self-care in prep, scroll the below.
Protect the tech
Tired of broken phone screens, chargers and laptops failing? The below might help.
It's nice to be nice phone case
With Mercury retrograde causing more communication problems to deal with, this phone case is the super cute reminder we all need. Because positive affirmations and a seriously protected phone case are a Mercury retrograde essential. So now is the time to invest in a phone case ASAP. If this one isn't your style Casetify has over 300 thousand designs to chose from. So you can glide through mercury retrograde with your phone safe and sound.
Leather Cord Phone Strap with Card
Skip out on the broken screen Mercury retrograde curse and keep your phone on you at all times. I hardly ever take this off, and it has saved my phone more times than I can count. Made with eco-friendly leather, 62cm adjustable strap and a rotatable hook. Thank me later.
Two Ultra Slim Portable Charger Power Banks
The last thing we need in this time of communication chaos is to be out and about with 1% battery. Keep a portable charger (or two) charged up and ready to go, so you never miss that all important text.
Keep your laptop safe with this ultra-protective case. Taking no chances with any laptop failures, this case is cushioned inside for maximum protection, with a super cute cosmic print too.
Make self-care a priority
With all the cosmic drama going on up there, making you feel out of sorts down here, utilising your go-to self-care ideas has never been more important. Make yourself a priority by allowing time for meditation and a cheeky face mask (or two).
Mushroom Cacao Super Blend
This is not your average hot chocolate - far from it. This is super-boosted cacao designed to calm and relax and includes soothing Reishi and Ashwagandha shrooms, antioxidant lacuma, and anti-inflammatory Cylon cinnamon. It's quite literally a hug in a mug that Health Editor Ally Head swears by.
Start your day right or calm the chaos mid-day with a positive affirmation. Find peace and clarity with 65 cards including exercises for mindfully, grounding and gratitude. Finding yourself caught up in workplace dramas? You might want to try bringing the cards out at lunchtime to bring some peace.
Psychic Sisters Rose Quartz Gui Sha facial wand
Release the tension of a long day with your favourite oil or serum, using the Gui Sha facial wand to release tension around your face and neck. Some believe Rose Quartz promotes feelings of peace, making this the ultimate self care tool.
Cleanse your space
You can feel the vibe is off, and need to somehow bring it back. This is where soothing scents come in - an easy way to calm your mind and boost your mood. Bring on the candles, diffusers and sage sticks.
Alexandra Kay Time To Inhale Handheld Diffuser
Essential oils are known to make you relax and bring a sense of calm. Imagine being able to bring that around with you. Well, now you can, with a portable diffuser. It automatically turns off after 60 seconds so you get just the right amount to refresh you for the day. The me time scents instantly create a sense of calm.
Top tip: take this with you into the office and have a stress-free day. I love using it on the tube.
Psychic Sisters Sage Sticks
The ultimate space cleanser, that can be used during Mercury retrograde and beyond. Simply burn and feel any negative energy disappear. For centuries, burning sage has been used as a spiritual ritual to cleanse spaces and promote healing. Let's hope they were on to something.
Some say a Himalayan salt lamp can purify the air. Although the theory hasn't been tested, what it certainly will do is bring a beautiful ambience and will illuminate a space with a warm glow.
Treat yourself
If mercury retrograde is causing you complete chaos, then you definitely deserve a little treat, or two.
Huda Beauty Mercury Retrograde Eyeshadow Palette
Could there be a more perfectly suited eyeshadow palette for this moment? With elevated everyday shades and creamy gel hybrids too, you will feel empowered to take on mercury retrograde and anything it throws at you. It's Huda Beauty so of course, the pigment will be long-lasting, fortunately not as long as mercury in retrograde.

Glacce Amethyst Glass Water Bottle
Apparently, water spills on tech are more prominent during this turbulent time. We can only hope the good vibes from this water bottle will stop any laptop breaking spillages. The Amethyst crystal in this bottle is used for instilling inner peace, just what we need.
Dreem Distillery CBD Bed Balm
If all the drama from Mercury retrograde is creating a little too much stress and tension, this balm will work wonders. A potent muscle-relaxing balm formulated with 1,200mg of CBD. It instantly relieves tension with arnica extract and the scent of lavender too. I love applying it throughout the day because it's non-greasy and replenishes the skin with argan oil and vitamin E.
Celebrity news, beauty, fashion advice, and fascinating features, delivered straight to your inbox!
Dionne Brighton is a writer at Marie Claire UK, specialising in all things shopping, beauty and fashion. Born and raised in North London, she studied Literature at the University of East Anglia before taking the leap into journalism. These days, you can find her testing out the latest TikTok beauty trends or finding out what the next full Moon means.