Finding The Perfect Jeans: What Lessons Can We Learn From The Stars?
Jeans are a wardrobe staple for many, but getting the right shape to suit you can be a challenge. Take your style cue from these dandy denim dressers...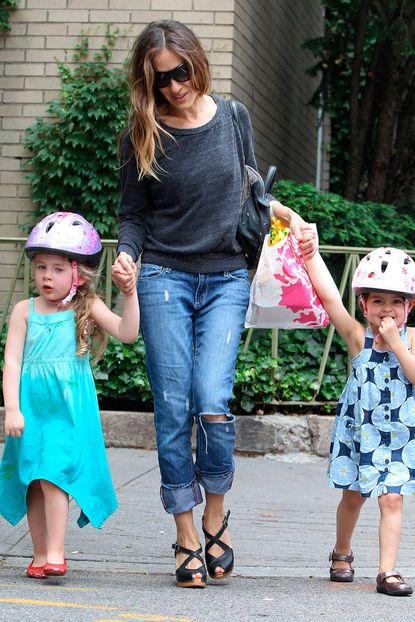 (Image credit: Rex Features)
Jeans are a wardrobe staple for many, but getting the right shape to suit you can be a challenge. Take your style cue from these dandy denim dressers...
---
Celebrity:
Sarah Jessica Parker Jean style: Boyfriend Good for: Most people can wear the boyfriend jean. The trick to making this style work is to make sure they fit on the hips and waist, they need to fit here and then 'hang' off the rest of you. You have to flash some ankle – the new way is with one big apple catcher turn-up, as modelled by SJP, but if that's too much for you, then lots of mini rolls work just as well. Why it works: SJP epitomises NYC Soho cool – summery, sunny and easy. The addition of a chunky heel and a simple grey jumper make for a low maintenance look.
SJP works the boyfriend jean perfectly
Celebrity: Jessica Alba Jean style: Flare Good for: Big derrieres! The flare works so well with curvy hips by balancing out proportions. Flares must be worn with a heel and wedges are the perfect partner, plus adding a few inches to your leg length never hurt, did it? Why it works: Okay, so Jessica Alba doesn't have a big bum, but she has created a look with sleek lines and a very no-fuss sillouette. The shirt would work just as well tucked in for a real 70s vibe.
Jessica Alba is wise to team her flares with a chunky heel
Celebrity: Rihanna Jean style: Distressed and ripped Good for: Making a statement. Wear at summer festivals teamed with a cotton tee or fringed waistcoat. Not for the faint hearted – this style requires you to go hard or go home. Why it works: Rihanna's ripped jeans still look 'done'. These are not casual rips from getting caught on a fence, these are perfectly placed rips to show off the optimum amount of glowing skin. Perfectly balanced with a killer heel and a smoking attitude, of course.
Rihanna's bad ass attitude perfectly match her ripped jeans
Celebrity: Emmanuelle Alt Jean style: The crop Good for: Great for wearing to work – this look is smart, especially when teamed with a chic blazer or crisp white shirt. Why it works: Good for boyish and slim figures, this style adds shape and femininity with the flash of ankle. Works well with flat ballet pumps or heels.
Emmanuelle Alt is the cream of the crop
Celebrity: Kate Moss Jean style: Skinny Good for: Petite frames and those that want to emphasis their curves alike. Why it works: The thing about skinnies is the attitude you wear them with - skinny jeans don't hide very much. The overall rule with a skinny is it's all out there. So be prepared. Moss' cropped jacket and heeled ankle boots are the perfect partners for the 'yep, this is it' look.
Which style of jeans do you prefer? Is there a style you wish you could wear but struggle with? Let us know in the comment box below.
Celebrity news, beauty, fashion advice, and fascinating features, delivered straight to your inbox!