10 times Lee Alexander McQueen showed us he was the ultimate fashion showman
Lee Alexander McQueen didn't just make clothes. The ultimate showman, his ability to tell stories through fashion was as celebrated as his skill as a craftsman and was just as important to his stellar career.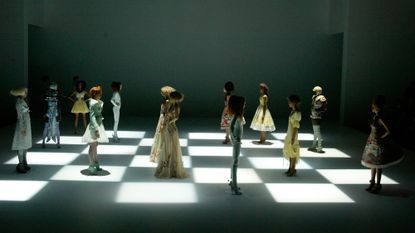 Lee Alexander McQueen didn't just make clothes. The ultimate showman, his ability to tell stories through fashion was as celebrated as his skill as a craftsman and was just as important to his stellar career.
Ever pushing the boundaries of what a fashion show could be, McQueen the theatre-lover gave us such moments as the couture-clad asylum and the supermodel chess set. Meanwhile, the future-thinking innovator brought robotics to the runway and, of course, delivered the first ever catwalk live-stream.
Five years on from the designer's untimely death on February 11th 2010, his work is as relevant and revered as ever. His career moments have been well-documented through Savage Beauty, the sell-out MET retrospective and Working Process, a behind-the-scenes photography exhibition shown at the Tate. there A string of unseen photos, videos and interviews are surely still set to emerge, exploring the designer's life both on and off the catwalk and confirming that our appetite for his glamorous, dark and magical world hasn't waned at all.
When every show was titled a 'performance', and McQueen its passion-fuelled director, it was difficult to narrow down his greatest runway spectacles. But in celebration of his major moment, here are some of our favourites...
Autumn 1997: Givenchy Debut McQueen replaced John Galliano as creative director at Givenchy in 1996 and proved he was more than up to the task with his debut collection the following February. Midas touches met extreme mohawks in the stunning show - look a little closer at the construction of those corsets to appreciate the designer's infatuation with the female form.
Image: Givenchy Autumn 1997 Fashion Show
Spring 1999: No. 13 Shalom Harlow became a human canvas at Alexander McQueen's 13th runway show in September 1998, as robotic arms spray painted her tulle dress in a genius statement about computerised production processes in the fashion industry. It's gone down as one of the greatest London Fashion Week moments of all time, for us anyway.
Image: Alexander McQueen Spring 1999 Fashion Show
Spring 2001: Asylum This one was another biggie. McQueen sat his audience around a mirrored cube which, when the lights went on, became a padded cell at a mental hospital. Kate Moss, Erin O'Connor and more became his crazed patients, pressed against the glass in extreme theatrical dresses and puzzle panel tailoring.
Image: Alexander McQueen Spring 2001 Fashion Show
Autumn 2003: Scanners McQueen put his models in a wind tunnel for the finale of his Autumn 2003 show, inspired by travellers journeying through desolate Siberian lands. His exquisitely embroidered kimonos became billowing capes, cutting dramatic silhouettes that left the fash pack in raptures.
Image: Alexander McQueen Autumn 2003 Fashion Show
Spring 2004: Deliverance McQueen took his reputation as fashion's greatest performance artist more literally than ever in 2003, when he hired choreographer Michael Clark to teach Lily Cole, Karen Elson and more how to ballroom dance. Mimicking a scene from They Shoot Horses, Don't They?, the models span in ruched, ballet pink corset dresses, edged-up with knitwear layers and messy hair. Tons of designers have since taken their cue from McQueen and featured dancers on the runway, but his idea will always be the original.
Image: Alexander McQueen Spring 2004 Fashion Show
Spring 2005: It's Only A Game McQueen outdid himself when he presented his audience with a supermodel chess set at his spring 2005 show. Exquisite structured jackets, Edwardian ruff necklines and fairytale dresses were the day's key players, casting strong silhouettes that echoed actual chess pieces. Check, mate. Alexander McQueen wins again.
Image: Alexander McQueen Spring 2005 Fashion Show
Spring 2007: Sarabande Just when you thought you knew what was coming, McQueen would completely switch pace and surprise his audiences all over again. Case in point? He hired a string orchestra to set the mood at a deserted French theatre, as he presented one of his most romantic collections ever. Still with his signature dark undertones, McQueen's attention to hand craftsmanship did all the talking, no grand performances needed.
Image: Alexander McQueen Spring 2007 Fashion Show
Autumn 2008: The Girl Who Lived In The Tree An enormous tulle tree formed the centrepiece of Alexander McQueen's Autumn 2008 fairytale, a collection that escalated from the most beautiful rags (raw tailoring and scrappy panelling) into extravagant riches (regal capes and nods to the Queen's coronation wardrobe). This was fashion storytelling at its best.
Image: Alexander McQueen Autumn 2008 Fashion Show
Autumn 2009: The Horn Of Plenty When the recession struck, Alexander McQueen considered both what he loved about couture fashion and what he hated about it. Subtitled 'Everything But The Kitchen Sink', he made statements about greed and excess with his AW09 collection, on the one hand recycling props from old shows in his black lacquer set, on the other, creating ballgowns of extravagant proportions. 'Bin bag' nylons were worked beside classic Dior houndstooth checks in a subversive mix that challenged the fashion industry's perceptions of beauty.
Image: Alexander McQueen Autumn 2009 Fashion Show
Spring 2010: Plato's Atlantis Where to start? The now-iconic 10-inch Armadillo shoes, the out of this world digital prints or the fact that this was to be the first fashion show ever live-streamed online. In his last ever complete production, McQueen explored evolution, cloning and his vision that at some point, we'll all be living under the sea. An innovator until the end, he embraced digital print design in a way that few had ever done before, engineering his motifs onto each individual dress structure. The website ShowStudio was due to stream the show as it happened, before a certain Lady Gaga got wind of it and Tweeted, causing it to crash.
Image: Alexander McQueen Spring 2010 Fashion Show
Check out the latest collection of Alexander McQueen accessories here.
Celebrity news, beauty, fashion advice, and fascinating features, delivered straight to your inbox!