We could have had a very different Wonder Woman if this scrapped Justice League movie had happened
Seth Cohen as The Flash though?!?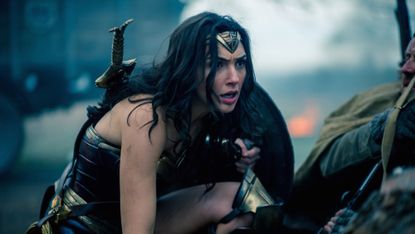 (Image credit: Clay Enos/REX/Shutterstock)
Seth Cohen as The Flash though?!?
The cinematic DC universe could've looked really different, if a previous Justice League movie hadn't been scrapped at the very last minute. In another life, we wouldn't have Gal Gadot, female director Patty Jenkins and Wonder Woman would have been a hell of a lot more bloodthirsty according to a new interview.
Way back when, DC had big plans to produce Justice League: Mortal - a DC team up movie directed by Mad Max: Fury Road director George Miller. According to Jay Baruchel, who was cast as the big baddy Maxwell Lord, the film was inches away from production with a full cast and there had even been costume fittings for the super heroic crew. However, it wasn't meant to be and he revealed what could have been in a recent interview.
First of all, Wonder Woman would have been played by Megan Gale and she would have had a much gorier introduction. Jay revealed to the Happy Sad Confused podcast that in the original script, 'The first time you see Wonder Woman, the opening scene on Themyscira, it was just her. It's her on top of a steed and she stood about half a kilometre away from a Minotaur. The Minotaur has a battle-axe in his hand and she just rushes him. All the Amazons are there cheering her on, and she just beheads him. Gets off her steed and holds up the Minotaur thing — and doesn't say a goddamned thing. I was like, 'That's the Wonder Woman I want to see!' It would have been special.'
Instead of the dumpster fire that was Batman V Superman, the film would have given us Wonder Woman V Superman. Jay's character had the ability to control minds and would have taken over Clark Kent, pitting him against the rest of the Justice League crew. Diana, as the only superhero strong enough to take him on, would have stepped up to the plate and taken the Kryptonian for a spin.
Jay described the scene, saying, '[Maxwell Lord turns Clark Kent] into full red-eye Superman, and then there's this big ass fight between him and Wonder Woman, where he breaks her fucking wrists and shit.'
The film also had a very different cast made up of relative unknowns, check them out below.
The Justice League: Mortal Cast
Megan Gale as Wonder Woman
At the time of the casting, Australian actress Megan Gale didn't really have many credits to her name. Since then, George Miller finally managed to work with her and cast her as The Valkyrie in Mad Max: Fury Road.
DJ Cotrona as Clark Kent / Superman
This heart throb has more of a background in television on shows such as Skin, Windfall and From Dusk Till Dawn: The Series. If you've seen Dear John (or god forbid, G.I. Joe: Retaliation), he's also popped up there.
Armie Hammer as Batman
Armie Hammer does not get enough work, the boy is amazing. After seeing him in The Man From U.N.C.L.E. as a stoic Russian spy, I could totally see it. Hopefully Ben Affleck's Batman changes my mind in the next Justice League film.
Adam Brody as The Flash
Yes, yes, a thousand times yes to this casting. He would have been the perfect fast-talking, sarcastic, over enthusiastic Wally West ever (though I'm pretty sure Ezra Miller's going to do an amazing job as well). To be honest, a part of me only wishes this happened so that Seth Cohen would have gotten his ultimate dream.
So, what actually happened to George Miller's Justice League: Mortal film? It was all a matter of bad timing and luck, as the Writer's Guild strike kicked off in the US around the same time that new tax laws were introduced in Australia (where they were planning to film). To be honest, while parts of the Justice League movie that could have been sound fantastic - I can't imagine a universe without Patty Jenkins' stellar Wonder Woman.
In the meantime, we'll have to wait until Justice League comes out on November 17 this year to see Wonder Woman again on the big screen. I honestly don't know if I'll make it that long.
Celebrity news, beauty, fashion advice, and fascinating features, delivered straight to your inbox!
Megan is a freelance journalist who covers entertainment and all things lifestyle, with a particular passion for fashion, beauty, travel and Keanu Reeves stories. She has previously worked on staff for titles including Marie Claire UK, CNN Style and The Evening Standard and has written for titles such as Bustle UK, Wallpaper*, Forbes and Hong Kong Tatler. She splits her time between London and her hometown Hong Kong, where she currently lives with the love of her life - an elderly dog named Poppy - and her husband.