Somebody tell Sabrina to blow out her candles, and other terrifying Chilling Adventures of Sabrina moments
BLOW. OUT. YOUR. CANDLES.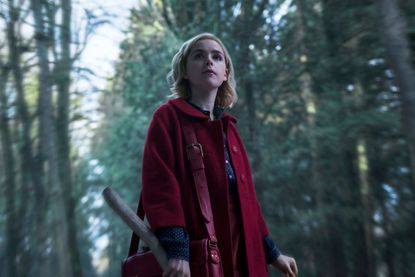 BLOW. OUT. YOUR. CANDLES.
Sabrina stans, the day has finally come. Netflix has dropped the entire first season of the new Sabrina the Teenage Witch reboot and you can bet the first thing I did this morning was watch the pilot. If this is all news to you, buckle in: the Chilling Adventures of Sabrina is a spooky take on the original television show and Sabrina Spellman - well - she's changed. It's based off an eerie offshoot of the comics which takes black magic and witchery to a horrific level. I can't speak for the entire season (though you can bet I'm binging it tonight) and it's a gloriously campy piece of television, which is totally to be expected since it came from the gang behind Riverdale.
The show bridges the gap between teen drama and horror, peppering in blood curses and murder amongst cute nights out to the cinema and Sabrina making kissy faces with Harvey Kinkle. Given that Halloween's coming up, it's a great binge option in time for the season that'll have you cuddling up close. Not convinced? Here's a few moments from the first episode that scared the ever loving daylights out of me below. Also heads up: spoilers.
The entire show is a fire safety hazard.
While I'm sure the set smells amazing, as somebody who once forgot to blow out a Yankee Candle overnight and spent the morning afterwards spiralling, I was sweating hard. There are candles irresponsibly lit everywhere.
In one of the spooky dream-like sequences, Sabrina is whisked away to the forest where flaming candles are placed on the ground. I'm sure I don't have to explain why lighting a fire in a massive kindling trap is a bad idea. More terrifyingly, Sabrina lights a ton of candles, takes a bath and then falls asleep while they're still lit. LOOK AFTER YOURSELF, SPELLMAN.
One scene prompted an existential crisis.
It came as a pretty big surprise to me when three girls called the Weird Sisters appeared to bully Sabrina. Although I was at first distracted by their Wednesday Adams-chic dresses, it felt like the rug was pulled from under me when I realised I actually knew one of them IRL. The girl with the braids on the far left, a.k.a. Agatha, used to go to my high school back home in Hong Kong.
While me and the actress Adeline Rudolph weren't friends or anything (I was a couple of years above her), seeing her onscreen made me both a) super proud that somebody from little old GSIS had made it and b) low-key horrified that I'm not doing more with my life. There's nothing more terrifying than being smacked in the face with your own inadequacy.
Sabrina could have had a pet hedgehog and she said NO.
Yes, I adore Salem as much as the next person. However, Sabrina is initially handed a book of potential familiars to choose from by her Aunt Zelda and cats are great, but there were so many cooler options. (Also, not to rag on Sabrina, but surely a witch with a black cat is about as basic as it gets?) We get to see six of the other familiars she could have chosen from: a snake, an owl, a beagle, something that looks like a baby kangaroo, a duck and an honest to god hedgehog. Even Aunt Zelda tries to steer her in the hedgehog's direction, calling it a 'very handsome hedgehog', and yet Sabrina squanders the opportunity.
I'm not angry at her, I'm just disappointed. I'm also just trying to deal with the fact that we probably won't get to see this iconic moment below:
Sabrina wants her new witch name to be Edwina Diana.
I get you're trying to pay tribute to your dead parents Sabrina, but Edwina? Girl.
Ambrose's laptop made me sick.
I'm still not sure how I feel about broody, bathrobe wearing and you're-kind-of-doing-something-for-me Ambrose. As Sabrina's cousin, he's one of her sounding boards in the series and actually helps her with some magical mischief as they curse her sexist principal with a swarm of spiders. While he and Sabrina are discussing the logistics of casting the curse, he's perched outside in one of the most uncomfortable seating positions I've ever seen in my life (crammed into a corner of the house's railings and leaned up against the spikiest set of branches). Despite his uncomfortable position, he also somehow manages to manspread which is kind of inspiring. However, it's his laptop that truly sent shivers down my spine.
As he flips open the laptop, he reveals the lid which is a hot ass mess. It's a ill-advised mish mash of stickers including pentagrams, bright red lips and - the worst offender - a fading Union Jack flag. It's proof that Sabrina is truly a show written by Americans, as real millennial Brits would never proudly display the flag on a day to day basis. We spend most of our time being mildly embarrassed of being British, unless it's the world cup. I still believe it's coming home.
There's a ton of creepy murder and stuff.
A woman gets stabbed brutally in the neck with knitting scissors, a bloody minotaur erupts from a tree as Sabrina knocks into dead hanging witches, a scarecrow comes to life and tries to murder Sabrina in a hay maze. There's a few healthy jump scares in there and TBH, the show does a pretty good job of making your heart race even if it's in gloriously cliched ways: but it's all part of the campy horror that makes Sabrina such a pleasure to watch.
All jokes aside, the show is low-key terrifying and I'm so glad it's dropped just in time for Halloween. I love my job, but I honestly can't wait to clock off today and binge the rest of the Chilling Adventures of Sabrina.
The entire first series of the Chilling Adventures of Sabrina is currently available to stream on Netflix.
Celebrity news, beauty, fashion advice, and fascinating features, delivered straight to your inbox!
Megan is a freelance journalist who covers entertainment and all things lifestyle, with a particular passion for fashion, beauty, travel and Keanu Reeves stories. She has previously worked on staff for titles including Marie Claire UK, CNN Style and The Evening Standard and has written for titles such as Bustle UK, Wallpaper*, Forbes and Hong Kong Tatler. She splits her time between London and her hometown Hong Kong, where she currently lives with the love of her life - an elderly dog named Poppy - and her husband.