How To Have Sex is the powerful drama about consent that everyone is talking about
It was the breakout film at Cannes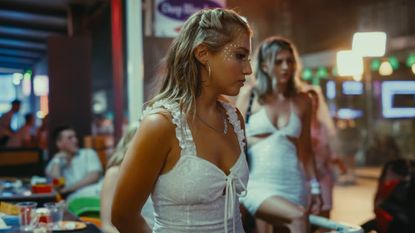 (Image credit: Mubi)
For many of us, the first girls' holiday depicted in How To Have Sex was one of our own rites of passage. Whether it was Zante, Kos, Aiya Napa, or Malia (as in the case of HTHS) these brash, sun-soaked and cocktail-laden holidays bring back some happy memories — and perhaps some not-so-happy memories, too.
How To Have Sex sees Tara and her two best friends, Skye and Em, hit the strip on the Greek party town Malia, Crete for a huge blowout after their exams. For the leading character Tara, Malia represents a coming-of-age moment where she loses her virginity with her two best friends cheering her on. However, all that glitters and shines under the fluorescent lights of Malia's nightlife is much starker the next day, with the tone of the film quickly shifting.
While the teenage experience of Brits-abroad holidays doesn't sound particularly Cannes-worthy, the perceptive way this film explores its central themes won Molly Manning Walker the Un Certain Regard award at this year's film festival in May. Critics have praised its nuanced approach to the conflicting emotions that accompany early sexual experiences and the 'stunning' (according to Vanity Fair) performance from its lead, Mia McKenna-Bruce as Tara.
At its heart, this is a film about attitudes towards consent and 'the grey area' surrounding the topic, as Molly Manning Walker explains: "For me, the law never worked, and I think it never will fully work for us." This is what to expect from How To Have Sex, and why critics are praising this powerful new drama.
So, what's How To Have Sex about?
How To Have Sex follows three friends as they embark on a rites-of-passage trip to Malia for their end-of-exams summer holiday. It's a tale we've seen told before - friends marking the end of an era with a huge blowout, drinking, debauchery and a quest for the central character to lose their virginity. But this time the story is told through a different lens.
Tara (played by Mia McKenna-Bruce), Skye (Lara Peake) and Em (Enva Lewis) are all 16 and awaiting their GCSE results at a holiday resort with a swimming pool shaped like a huge penis and balls. For the three young women, it will be 'the best holiday ever!' with neon outfits, sweaty dance floors, cheesy chips, Sambuca shots and memories to last a lifetime. How To Have Sex captures the dizzying highs — and painful lows — of teenagers let loose abroad, and it's a heady dose of nostalgia for many.
Tara's plan to lose her virginity soon becomes a potential reality when the girls set their sights on their new neighbours, affable Badger (played by Shaun Thomas) and his more brooding mate Paddy (played by Samuel Bottomley). Cue a lot of partying, bonding and frivolity — before a big gear change after Tara goes missing and returns looking anxious and troubled over the events of the past 24 hours.
Standout star Mia McKenna-Bruce explains how the actors navigated this shift, explaining to The Independent: "We shot all of the party stuff in the first two weeks, like back-to-back party, party, party, party, party. And then we got into the aftermath of what happened after that. So I could physically feel the complete shift."
As well as exploring the girls' journey into womanhood, How To Have Sex also tackles themes around consent, as director Molly Manning Walker explained to GQ: "I really wanted to talk about the grey area." The male character in question is neither completely blameless nor predatory — and these blurred lines offer authenticity.
"For me, the law never worked, and I think it never will fully work for us. So then it becomes about being more human. And that becomes about how we teach each other and our kids, and how to appreciate each other and have good sex, as equals."
Mia McKenna-Bruce echoes this, explaining how the film appeals not just to the younger generation, but also to older generations who had a similar experience to Tara in their youth.
"I expected the viewers to be young people," Mia explained to The Independent. "But generations above mine have been coming forward and saying that they can relate to this story, and that they've been pushing those feelings down for years and years and years until they've seen this film. And now they finally feel like they can talk about it. It's scary and insane that there are so many people who have stories very close to Tara's."
Who directed How To Have Sex?
London director and writer Molly Manning Walker was at the helm of How To Have Sex. While it's her debut feature, the director has worked on a number of short films before, including The Worlds My Oyster, The Forgotten C and Good Thanks, You? Molly is also a cinematographer, working on the Sundance winner, Scrapper.
Molly brought her full skillset to the role, including masterful cinematography, compelling story-telling and carrying out in-depth research that shaped the messaging in the film. As part of their funding, the BFI sent Molly and her producers across the UK to talk to teenagers about consent. Walker explained: "People were like, 'Surely consent has changed,' and I May Destroy You, Sex Education and things like that have pushed the conversation forward."
But worryingly, that wasn't necessarily the case. "We'd give them a script, and they'd be like, 'That's not an assault because he slept with her the night before.' Or 'she shouldn't be wearing a short dress'. There's an idea that Gen Z is like the queer, hipster version of it all. But we were quite shocked."
Where was How to Have Sex filmed?
True to its plot, How To Have Sex was filmed on location in Malia at the end of the 2022 season — surrounded by plenty of actual teenage revellers. "We must have looked like absolute nutters to anyone who saw," Mia McKenna-Bruce told The Independent.
"Some of the time they overlapped with actual holidaymakers, and there was one scene shot in a chip shop at night that proved tricky to film, because hungry, inebriated clubbers were trying to get their carb fix. I can just imagine them waking up the next morning like, 'Guys, were we in a film last night or something?'"
What's been said about How To Have Sex so far?
The film has received high praise from critics, with the Guardian declaring that 'two stars are born with this searing study of consent', referring to Molly Manning Walker and leading actor Mia McKenna-Bruce.
The Telegraph praises Mia's 'brilliantly transparent performance' alongside Molly's 'compassionate camera'. It has also been called as 'enthralling as it is important' and it currently sits with a rating of 96% on Rotten Tomatoes.
Of course, there's also the win at Cannes that should solidify for anyone that this is a film worth watching, with How To Have Sex being the breakout film of the 2023 film festival, scooping the Un Certain Regard. Actor Mia McKenna-Bruce was pregnant at the time, telling The Independent: "It was pretty mental. I felt like a real-life disco ball. Despite carrying around a watermelon, I felt as good as I could."
Is there a How To Have Sex trailer?
Yes, you can watch the official trailer for How To Have Sex online.
---
How to Have Sex launched in cinemas in the UK and Ireland on 3rd November 2023. You can also watch the film on streaming service MUBI here.
Celebrity news, beauty, fashion advice, and fascinating features, delivered straight to your inbox!
Lauren is the former Deputy Digital Editor at woman&home and became a journalist mainly because she enjoys being nosy. With a background in features journalism, Lauren has bylines in publications such as Marie Claire UK, Red Magazine, House of Coco, women&home, GoodTo, Woman's Own and Woman magazine.
She started writing for national papers and magazines at Medavia news agency, before landing a job in London working as a lifestyle assistant and covers everything from fashion and celebrity style to beauty and careers.