This is how one model is tackling abuse in the modelling industry
'Most models have had to deal with uncomfortable, morally wrong or illegal situations'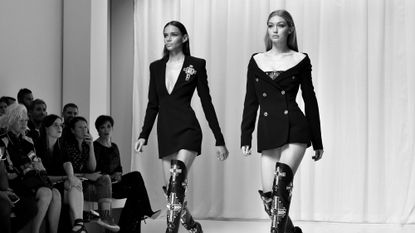 'Most models have had to deal with uncomfortable, morally wrong or illegal situations'
Model Alison Pelletier was so fed up of the exploitation she and other models experienced in the modelling industry that she joined the team behind new app, Agent , which allows models to share their experiences and fight back against abuse. Agent, created by Mark Willingham, (Pelletier is on board as Marketing Manager) allows models to rate their experiences with photographers and agents in the industry. They also say they are the only booking app to complete criminal background and sex offender checks on its users. An Uber for the modelling industry, if you will.
The modelling industry is the latest to be rocked by allegations of harassment and exploitation. We've also heard about abuse and harassment in Hollywood (which began with the Harvey Weinstein scandal), revelations about endemic sexism in the music industry, abuse in gymnastics and the sporting world, and growing complaints about harassment in Westminster.
Pelletier is not the first model to take a stand against abuse in the modelling industry; fellow model Cameron Russell has been sharing models' stories of exploitation on her Instagram page using the hashtag #MyJobShouldNotIncludeAbuse. Pelletier spoke to Marie Claire about what made her decide to act:
Why did you decide to take a stand against abuse in the modelling industry?
'I believe the majority of models have had to deal with some very uncomfortable, morally wrong, or illegal situations. I was once on a shoot where the client became upset because they "needed to get some nude shots" and that this was already agreed to between them and the modelling agency, but not approved by me. The client called my agent on the spot and the agent sided with the client so as to "not rock the boat". A big client can have a lot of power with a modelling agency because of their annual revenue potential. For this reason, the agency may not always make the models' best interest their number one priority. Many models are also young. Sometimes, very young . . . like 16 years old and, at this age, being put in a situation where they must make on-the-spot decisions is not only wrong, but can also be illegal.'
How common is abuse in the modelling industry?
'If I had to guess, I would estimate that more than 90% of female models have been sexually harassed or assaulted during their careers. I have personally experienced it in different forms from, "The lighting is perfect so we would like to get some more natural shots," "Let's try some with your top off," to "Now, we want some nude photos." The issue with these examples is not necessarily about nudity, it is about models being asked to do something that was not agreed to in writing prior to the shoot.
'If I had to guess, I would estimate that more than 90% of women models have been sexually harassed or assaulted during their careers'
I know of a situation where a photographer offered a young model "a drink or two to loosen up a bit." The model is stuck wondering, "Maybe I need to do this because an adult is suggesting it" or "This is what all models do to get to the next level." Then, what comes next? Even experienced models can feel pressure (read, "coerced") to not speak up when they are sexually harassed or assaulted during a job. There is always the fear, implicitly or explicitly communicated, that speaking up can result in them being blacklisted or labelled as "difficult to work with". Most models learn that if you want to succeed as a model you need to have tough skin and "just deal with things." It was these industry inefficiencies, non-transparency and lack of safety controls for models that were the primary drivers for the creation of Agent.'
How will Agent combat abuse in the modelling industry?
'We want to completely re-imagine the modelling industry, which has basically remained the same for over 60 years. The traditional method of booking a model is time-consuming, with issues of safety, payment and career control (exclusivity agreements between models and agencies tie the model's hands, preventing them from controlling their own destiny).
The Agent platform is focused on empowering models, providing the tools and guidance to control and grow their careers. We give models and companies the power to rate each other at the completion of each job. We have created a safer work environment for models by running checks on every person who wants to use the app to book them. Models set their own rates on the platform and they are electronically paid the same day that the job is completed. We want to be the impetus for change - it's morally right to support a safer industry.'
Celebrity news, beauty, fashion advice, and fascinating features, delivered straight to your inbox!