'I'm very much the marrying kind' Gwyneth Paltrow talks love, success and marriage second time round
Gwyneth Paltrow was just yet another actress-turned-entrepreneur when she launched her wellness brand, Goop, to a nation of sceptics. Ten years later, it's more successful – and more scrutinised – than anyone would have predicted. She invites Jane Mulkerrins into her Hamptons home.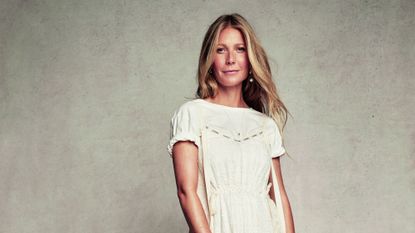 Gwyneth Paltrow was just yet another actress-turned-entrepreneur when she launched her wellness brand, Goop, to a nation of sceptics. Ten years later, it's more successful – and more scrutinised – than anyone would have predicted. She invites Jane Mulkerrins into her Hamptons home.
Down a leafy, sun-dappled lane in the Hamptons – the sandy strip to the east of New York where America's 0.1 per cent decamps for the summer months – there's one house that bucks the local fashion for low-key luxury.
In place of the usual white picket fence, this particular residence is hidden from view by a high electric security fence. It's almost like a little slice of LA on Long Island, which feels appropriate, given the property belongs to Gwyneth Paltrow – the Hollywood-born, New York-raised, Oscar-winning actress, and now empire-building wellness entrepreneur.
I arrive at the imposing entrance on a humid August afternoon. Jeffrey, the 'house manager', buzzes me into the compound, greets me at the front door and ushers me into an airy, immaculate lounge filled with low, pale furniture, a grand piano and vast, muted works of modern art. There's no twee beach chic here. Beyond the French doors, a huge lawn stretches away.
Nicholas, another staff member, fetches me a giant goblet of iced water. The lady of the house herself (known to all as GP) arrives a moment later, concerned if I've been waiting long and brimming with questions: where have I travelled from today? Do I live in the US? Have I married an American yet? How do I find dating Americans? She is – to state the obvious – the walking, breathing, embodiment of Goop, the wellness and lifestyle company she founded a decade ago. What began as a newsletter from her kitchen has since blossomed into a formidable (if controversial) phenomenon, with a podcast, glossy magazine and book imprint alongside its own beauty products, vitamins, clothes and annual wellness summit.
Barefoot, in a tiny pair of cut-off denim shorts and a black ruffled sleeveless blouse, she is make-up free, freckled, and genuinely seems to glow. She has some teeny, tiny lines around her eyes – as befits a woman of 46 – but positively exudes youthfulness and health. As she sits cross-legged on the sofa beside me, it's hard to stop staring at her perfectly tanned, toned limbs and I wonder if, with enough dry brushing, spirulina and daily Tracy Anderson workouts, I, too, could achieve legs like hers.
To mark Goop's tenth anniversary, the burgeoning LA-based brand is not only extending its shipping to Europe, but has also just opened its first pop-up store in London's Notting Hill. And while there's no denying that the company – now worth an estimated $250 million – has been at the vanguard of the wellness trend, it's also been the target of derision for its more, well, fringe recommendations, such as vaginal steaming and $66 jade eggs to insert in one's vagina to help 'cultivate sexual energy', apparently.
Given that the UK is eminently more sceptical than Paltrow's native California, the actress gives a wry smile. 'I remember when I started doing yoga and acupuncture, people thought it was outrageous. When I was photographed with cupping marks on my back, everyone went crazy. I've always been the person who introduces wellness ideas into the culture, and I can see by pattern recognition that people eventually come around. I think London is ready,' she enthuses. 'There's yoga and green juice everywhere, and places where you can get IV vitamin drips. In many ways, I think London is more in line with LA than New York.'
Plus, she points out, Goop isn't all shamans and chakras. 'People love to talk about our "incendiary" wellness content, but we're a lifestyle brand, so we have gorgeous homeware and fashion. You're not going into the store to have an exorcism or enema.' Although, we both agree it would make for a unique Halloween event, or, as she calls it, an 'IRL activation'.
GP 2.0 speaks not in the vernacular of acting, but in the language of start-ups. Her conversation is peppered with 'modalities' and 'verticals', bumping up against the earnest discourse of the self-help industry; she's the only non-therapist I have ever heard employ the phrase 'family of origin', and she refers to herself as 'an integrity'.
Her bedside table these days, she tells me, is home to a stack of leadership books. 'That's all I read. The psychology of this, the culture of influence that, and all these fucking business books,' she laughs. 'If you saw my nightstand, you'd be like, where is the nerd?' Two years ago, she stepped up to become CEO, and has, she says, 'a very regular working mum routine', when the family is home in LA. 'I get my kids up, take them to school, exercise, then go to the office. I stay there all day.'
Midway through our time together, 14-year-old Apple, the elder of her two children with her ex-husband, Coldplay's Chris Martin (Moses, their son, is 12) wanders in with a friend. All foal-like legs and pink hair, she collapses on the sofa beside her mother, before standing up again to come over, say hello and shake my hand. 'Hi, sweet girls,' coos Paltrow. 'What are you doing today?' They are, they tell us, currently discussing the rumoured relationship between a very famous pop star and the increasingly famous teenage offspring of a supermodel.
'That's a bit young,' comments Paltrow, furrowing her brow, as the girls disappear to another room. 'I would lose my mind. He's a very sweet boy, but no.' Paltrow herself is now engaged to Brad Falchuk, a Hollywood producer whom she met when she guest-starred on Glee (which he co-created) in 2014.
When I tell friends I'm interviewing the actress-turned-entrepreneur, the reactions are split, and passionately so. 'I love her,' swoons one friend, who went to the same all-girls New York private school, The Spence School. 'Tell her that her miso turnips changed my life,' gushes another, referring to a recipe from one of her four bestselling cookbooks. 'OMG, OMG, OMG,' texts a friend from London, herself a cook and wellness guru of considerable celebrity.
'Pedlar of bullshit pseudoscience,' spits a less approving friend over coffee. 'Elitist charlatan,' texts another. But, even those who accuse her and her brand of quackery also demand a download after I've met her. Public reactions to the now infamous New York Times magazine profile of her this summer have been similarly mixed; some believing it was brutal and harsh, others, quite the opposite.
Paltrow herself posted an image of the cover on Instagram, with the caption, 'A true watershed moment for us @goop. Thank you to the @nytimes'. She admits today that she didn't read the piece word for word, but skimmed it – 'I don't like to read about myself – it's none of my business what people think of me. Ultimately, it shows the strength of the business,' she says. 'There are Fortune 500 companies that aren't in the NYT, ever. So, it means that we're on the right track, we're doing something important, we're iconoclasts and trailblazers. You can love it or hate it, but we're building something that's changing the world, and it's irrefutable that the world is coming along with us.'
Even pre-Goop, Paltrow long provoked strong reactions. Yes, she comes from privilege – the daughter of film director Bruce Paltrow and Tony award-winning actress Blythe Danner – but few other A-list actresses are subjected to the sort of vitriol she's received over everything from her emotional Oscars acceptance speech (for Shakespeare in Love) in 1999, to her 'conscious uncoupling' from Martin in 2014. In person, I find her funny, warm, engaged and, save for her earnest phrasing at times, surprisingly self-deprecating.
I mention her father taking her to one side, when she was about 27, and telling her that she was 'becoming an asshole'. 'I was just believing my own hype, thinking that I was super-awesome. And he was like, "You're getting weird – you're acting like a dick",' she laughs. 'When you achieve the kind of fame that I did by the time I was 25 or 26, the world starts removing all your obstacles because you're now a "special person",' she continues, with a raised eyebrow. 'You don't have to wait in line at a restaurant, and if a car doesn't show up, someone else gives you theirs,' she says. 'There is nothing worse for the growth of a human being than not having obstacles and disappointments, and things go wrong. All of my greatest achievements have come out of failure.'
And to Paltrow's credit, she has long been open about her struggles and challenges – including the death of her father from cancer when she was 30, which propelled her towards a deeper interest in wellness, having watched him undergo radiation and be fed through a tube. She's also spoken honestly about her enormous sense of failure when, having come from a 'tribe of people who stayed married', her own ten-year marriage to Martin didn't work out.
That begs the question, I venture, why does she want to do it again? She takes a long pause and fiddles thoughtfully with her hair. 'I think that marriage is a really beautiful, noble and worthwhile institution, pursuit and endeavour,' she says, finally. 'Because I don't think you get married and that's it – I think it's the beginning. You create this third entity, this third being that you have to nourish and look after.' She pauses again. 'For a while, I thought, I don't know if I'd ever do it again. I have my kids – what's the point? And then I met this incredible man, who made me think, no, this person is worth making this commitment to. I'm very much the marrying kind,' she adds. 'I love being a wife. I love making a home.'
She's said that her wedding to Falchuk will be a very private affair. And she's wearing a gold band set with diamonds on her ring finger, I notice. Is she already secretly married? For the first time all afternoon, she squirms a little and tries to dodge my question. 'No, not yet,' she chuckles, eventually.
Paltrow is also one of the most high-profile women to have alleged sexual harassment at the hands of Harvey Weinstein, who produced many of her biggest films, including Sliding Doors and Shakespeare In Love. Weinstein has denied all allegations against him, insisting all relationships were consensual.
Last October, she told the New York Times how, after signing her up for Emma – her first major role as a leading lady – Weinstein invited her to his hotel room and asked her to give him a massage. She refused, and told her boyfriend at the time, Brad Pitt, who then confronted the film producer.
'I am so grateful to Brad, because he leveraged his power and fame to protect me – when I was no one – and he scared Harvey,' she tells me today. 'And if it hadn't been for him, I don't know if I'd have gotten fired, or what. But instead, Harvey was like, OK, let's put it behind us. I think he wanted to keep Brad on side.' It was, she says, the only time she was ever harassed so overtly, by Weinstein or anyone else.
When I ask her what she misses about acting, she answers, immediately: 'Nothing. It's so weird,' she muses. 'It was such a part of my identity for so long.' Her fiancé recently persuaded her to return to the screen, albeit briefly, for a cameo in his new series for Netflix, The Politician, in which Paltrow plays the mother of a high-school student.
'I went out to LA for a couple of days, and I actually didn't hate it. But I just don't miss it. The level and breadth of creativity that I have in this job is so bananas, and I'm very fulfilled.' There's also plans to launch Goop TV next year, with magazine-style programming, looking at health, food and fashion – 'stories across all the verticals'.
As Jeffrey appears, I realise we've run long over time and he says Paltrow has a call waiting. It's 5pm on a Friday, but even in wellness there's no knocking off early. I wander down to the nearby beach to dip my feet in the ocean before catching my train back to the city.
I'm never going to buy into shamanic energy practice, (and I'm sure as hell not stashing a jade egg anywhere), but when I get home I order a dry brush online. One way or another, even the most cynical of us can't help but get a little Gooped.
Photographs by Tesh
Styling by Tiffany Fraser Steele
Celebrity news, beauty, fashion advice, and fascinating features, delivered straight to your inbox!
The leading destination for fashion, beauty, shopping and finger-on-the-pulse views on the latest issues. Marie Claire's travel content helps you delight in discovering new destinations around the globe, offering a unique – and sometimes unchartered – travel experience. From new hotel openings to the destinations tipped to take over our travel calendars, this iconic name has it covered.