Michelle Obama: Even More Inspiring Than We Realised...
To celebrate her 51st birthday, we're reliving her most inspirational quotes to date. What an incredible First Lady and generally fabulous human being...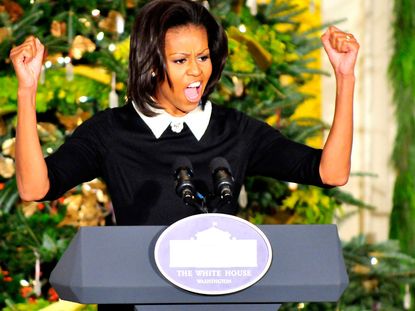 (Image credit: Rex Features)
To celebrate her 51st birthday, we're reliving her most inspirational quotes to date. What an incredible First Lady and generally fabulous human being...
1. 'You may not always have a comfortable life and you will not always be able to solve all of the world's problems at once but don't ever underestimate the importance you can have because history has shown us that courage can be contagious and hope can take on a life of its own.'
2. 'One of the lessons that I grew up with was to always stay true to yourself and never let what somebody else says distract you from your goals. And so when I hear about negative and false attacks, I really don't invest any energy in them, because I know who I am.'
3. 'I am an example of what is possible when girls from the very beginning of their lives are loved and nurtured by people around them. I was surrounded by extraordinary women in my life who taught me about quiet strength and dignity.'
4. 'Women in particular need to keep an eye on their physical and mental health, because if we're scurrying to and from appointments and errands, we don't have a lot of time to take care of ourselves. We need to do a better job of putting ourselves higher on our own "to do" list.'
5. 'Barack and I were raised with so many of the same values, like you work hard for what you want in life. That your word is your bond, that you do what you say you're going to do. That you treat people with dignity and respect, even if you don't know them and even if you don't agree with them.'
6. 'I never cut class. I loved getting As, I liked being smart. I liked being on time. I thought being smart is cooler than anything in the world.'
7. 'Whether you come from a council estate or a country estate, your success will be determined by your own confidence and fortitude.'
8. 'And in my own life, in my own small way, I've tried to give back to this country that has given me so much. That's why I left a job at a law firm for a career in public service, working to empower young people to volunteer in their communities. Because I believe that each of us - no matter what our age or background or walk of life - each of us has something to contribute to the life of this nation.'
9. 'Success is only meaningful and enjoyable if it feels like your own.'
10. 'There are still many causes worth sacrificing for, so much history yet to be made.'
11. 'I am so tired of fear. And I don't want my girls to live in a country, in a world, based on fear.'
12. 'When I get up and work out, I'm working out just as much for my girls as I am for me, because I want them to see a mother who loves them dearly, who invests in them, but who also invests in herself. It's just as much about letting them know as young women that it is okay to put yourself a little higher on your priority list.'
13. 'We should always have three friends in our lives: one who walks ahead, who we look up to and follow; one who walks beside us, who is with us every step of our journey; and then, one who we reach back for and bring along after we've cleared the way.'
14. 'Do not bring people in your life who weigh you down. And trust your instincts... Good relationships feel good. They feel right. They don't hurt. They're not painful. That's not just with somebody you want to marry, but it's with the friends that you choose. It's with the people you surround yourselves with.'
15. 'Just do what works for you, because there will always be someone who thinks differently.'
Celebrity news, beauty, fashion advice, and fascinating features, delivered straight to your inbox!