These are the must read books to have on your radar this month
Add these to your reading list, stat...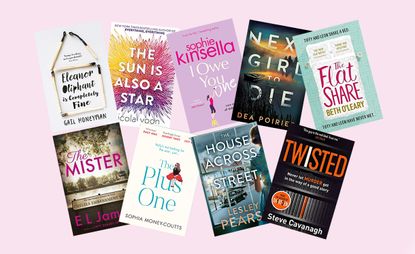 Add these to your reading list, stat...
You know when a story takes over your entire day, when you just cannot think and do anything but stay gripped to those words and all other obligations seems so minuscule and nothing matters but reaching the endgame. Then you my friend have found the perfect book.
Summer is finally here - and we are so ready to lay out in the sun, faces engrossed in a 'can't put it down, mind altering, whisk me away to another world', kind of read. This month has seen an endless supply of new releases and some old-new books. So, take a couple of minutes, grab a drink because here are the ones we've got our eyes on right now:
Next Girl to Die by Dea Poirier
This is the thriller that made me fall in love with the genre all over again. Claire Calderwood has never fully recovered from her sister, Rachel's murder 15 years ago, so much so that she has now become a successful homicide detective. But the past has a way of always catching up- no matter how hard you try to escape it. From collisions of the past and present to a small-town history and unexplained occurrences, this murder mystery will keep you guessing every step of the way.
The Flat Share by Beth O'Leary
Tiffy and Leon are flatmates with a twist. They share a bed! But Leon is in the flat only during the day as he works night shifts. Whereas Tiffy is in the flat at nights and on the weekends. Their lives are so separate that they haven't even met. The book deals with some real-life issues regarding destructive relationships, moving on and finding new love. A unique concept, cleverly written with warm and kind characters, that pull you in instantly.
I Owe You One by Sophie Kinsella
From the #1 New York Times bestselling author of the Shopaholic series, Sophie Kinsella's latest stand-alone novel is all about finding love and compassion in the most unlikely of places. Fixie Farr is all about "Family first", but since her dad passed away, Fixie spends all her time worrying about her siblings instead of striking out on her own. Then a handsome stranger scribbles an IOU on a coffee sleeve after Fixie saves his laptop and before they know it they are both neck deep in favours and IOU's. The novel is cleverly written with witty characters, one-liners and a charming plot line- what more could you ask for.
Eleanor Oliphant Is Completely Fine by Gail Honeyman
Eleanor Oliphant has trouble in social environments which stems from her unfiltered approach to everything in life. With her obsessive compulsive cleanliness and being a stickler for routine, she is the perfect Type A personality. The one thing she hadn't planned for was the unhygienic IT guy that crosses her path. After an event bonds the two, they become the unlikely allies that rescue one another from their lives of loneliness. Extremely late to the bandwagon but on it none the less, this is a must for any chick lit romance lover.
Twisted by Steve Cavanagh
After you've read this book, you'll know: the truth is far more twisted. Twisted is a novel that certainly lives up to its name, this is a story of a troubled couple, a rising body count, unreliable memories and of characters that are nothing as they appear. The element of mystery is heightened because the less you know the more you'll enjoy it. This psychological thriller will have you turning the pages rapidly to see what happens next.
The Mister by E.L. James
E L James, author of the phenomenal #1 bestselling Fifty Shades Trilogy, brings you your next guilty pleasure. Maxim Trevelyan, a boy living his aristocratic carefree playboy life, has his world turned upside down when tragedy strikes and he finds himself as the heir to his noble family's estate. A role he finds that he is not prepared for and one that he struggles to face, when Alessia Demachi- a girl battling her own demons- comes along at the exact right moment. This is a Cinderella-eques love story with some very heartbreakingly sombre, humorous, loveable and erotic moments!
The House Across the Street by Lesley Pearse
23-year-old Katy Speed lives with her family in 1960s Britain, she finds herself entranced by the house across the street. The house is occupied by a glamorous and friendly woman named Gloria who often has strange young visitors. Then one night, the house burns down and the police arrest Katy's father for the deaths of Gloria and her daughter. The novel shows Katy's determination to uncover the truth behind the house across the street, despite the danger and the obstacles she faces.
The Plus One by Sophia Money-Coutts
Polly Spencer, the eternal single journalist, spends her time writing stories about the royal aristocracy at celebrity gossip magazine 'Posh'. With the new year looming she has decided to get her life together, which may or may not include finding love. Then her best friend is suddenly getting married and she needs someone by her side, like... yesterday. Polly's not looking for 'the one', just the plus one. If you're looking for the next Bridget Jones personality you've found it in Polly. This book has it all-Love, romance, sadness and sex- a rare find that is funny at times and moving at others.
The Sun Is Also a Star by Nicola Yoon
In 24 hours, Natasha- a girl who believes in science and facts- will be deported from New York City to Jamaica. However, there comes a little kink in this story, as she manages to fall in love with Daniel, a guy who believes that fate has something much more extraordinary in store for everyone. They have one day to live out a fully-fledged romance, this is a book full of heartbreak and heartbreakingly beautiful moments that I can't even explain right now. Don't question the logic- just feel the moments.
There you have it, Happy reading!
Celebrity news, beauty, fashion advice, and fascinating features, delivered straight to your inbox!
Humaa is the Fashion Affiliate and Social Media Manager at Marie Claire, who occasionally puts her English Literature degree to use by writing entertainment, fashion and book related content for the site.
Having been the editor of all of her educational establishment's magazine's, Humaa is known for hardly making any grammatical errors-ever-and pulls out receipts faster than Boots. She has interned and worked at magazine titles including New! and Vogue and landed her first freelance editorial job when she was 18. Under affiliates she gets a sneak peak at all the new fashion collections and beauty collaborations, helping with their promotion on the site while also running the social media pages of the Marie Claire Edit.
Working at magazines for most of her adult life, Humaa has accumulated an (un)healthy wealth of knowledge on chick-lit novels, Zara's new collection and every single show to ever air on The CW.