We Interview Blondie Legend Debbie Harry. And Discover 9 Reasons Why She's STILL The Coolest Woman On The Planet
EXCLUSIVE INTERVIEW: We talk style, beauty and geeky science-fiction with Blondie legend Debbie Harry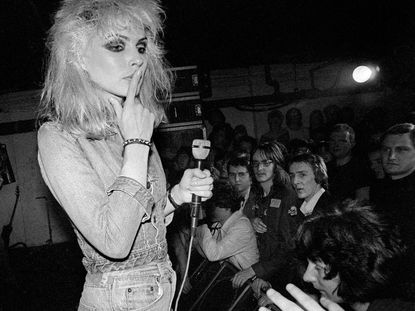 (Image credit: Rex Features)
EXCLUSIVE INTERVIEW: We talk style, beauty and geeky science-fiction with Blondie legend Debbie Harry
When you interview Blondie legend Debbie Harry, you can guarantee that talk will turn to that hair and that iconic look. But science fiction geekiness and the Wizard of Oz was more of a surprise...
1. She's obsessed with clothes
'I can't throw out clothes. Vintage pieces like my Stephen Sprouse collection from the 70s and early 80s is too special to part with. He would be a household name now if he hadn't passed away. I still wear a lot of his pieces – the stuff that fits anyway!'
2. Science fiction is her guilty pleasure
'Some films stay with you forever. For me it's Juliet of the Spirits. I love fantasy films and novels. More recently, I loved Nightcrawler - it's so creepy. I've seen it compared to Taxi Driver and he [Jake Gyllenhaal] is great in it. He's come a long way since Bubble Boy.
3.Shopping bores her
'Shopping isn't something I have time for. I realised I was buying the same thing over again for no apparent reason. But heaven is the COMME des GARCONS store on 22nd street, New York City. It's really beautifully designed and they take special pains with the interior.'
4. She's got a Nicholas Kirkwood fetish (just like us!)
'I met Nicholas Kirkwood recently and he was very charming. His shoes are wonderful. I was also inspired when I stumbled across a vintage showroom on Wooster Street in New York City, called Melet Mercantile. It's quite extraordinary..'
5. She smells pretty good
'Fragrance is an important part of my ritual, I put some scent on everyday. [Debbie Harry is the face of Paco Rabanne's new fragrance Black XS 'Be A Legend'] But the worst thing is walking through duty free in an airport, when you get attacked with this horrible cacophony of scent.'
6. Childhood stories make her nostalgic
'I'm not sure a book has ever changed my life, but reading certainly entertains me. I started reading as soon as I learned the alphabet – The Little Prince, The Secret Garden, The Wizard of Oz. Now I love sci-fi fantasy author China Mieville. Embassytown is extraordinary.'
7. She takes good care of THAT hair
'I won't use hair dye that contains ammonia - it burns my hair terribly. But I've had to bleach my hair for, well.... a very long time, so it's not done too badly considering. I swear by Viviscal hair vitamins and Wen's cream conditioner that doesn't contain soap. I thought of going natural and having silver hair at one point, but as long as I'm pulling Blondie out of the hat I have to maintain my character'
8. Lipstick matters to her
'I wouldn't leave the house without lipstick. I use Mac a lot and I like to experiment with colour, especially for a show. It frustrates me when you fall in love with a product and it gets discontinued. You can never quite find anything comparable.'
9. She chooses her style icons carefully
'You don't get style icons like Jean Seberg and Edie Sedgwick anymore. They had some kind of source within them. Today everyone is styled by outside sources so it's hard to spot individuality. Yolandi Visser from the group Die Antwoord is very exciting though, with a completely distinctive look and haircut.'
Debbie Harry is the face of Paco Rabanne's new Black XS Be A Legend fragrance
Celebrity news, beauty, fashion advice, and fascinating features, delivered straight to your inbox!