'It's time to have babies' – up close with Marie Claire's July issue cover star Kirsten Dunst
The fabulously irreverent Kirsten Dunst talks Instagram, having kids and why she thinks nothing can top the Tobey Maguire Spider-Man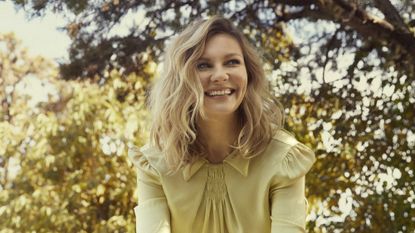 (Image credit: Marie Claire UK / Camilla Armbrust)
The fabulously irreverent Kirsten Dunst talks Instagram, having kids and why she thinks nothing can top the Tobey Maguire Spider-Man
Kirsten Dunst is in a pretty sweet spot right now: she's engaged to be married to her best friend, the actor Jesse Plemons (the pair recently hit the Gucci Cruise show in Milan together), she's just teamed up with Sofia Coppola for new movie The Beguiled - she was so happy to be reunited with her old friend, she wept on the Cannes red carpet - and she's the star of Marie Claire's brand new July issue.
Writer Mickey Rapkin met up with Dunst for a chat, a walk and a hotdog on a sunny day at LA's Descanso Gardens. After a long career that began at the age of three, Dunst told Rapkin that 'it's time to have babies and chill.'
'I wasn't one of those "I need a baby!" people until my goddaughter was born' she said, 'I love her so much. That love is just like... you can't experience that unless you have a kid. I put her to bed last night and she woke up this morning and said to her mom, "Where's Kiki?" I just love that love. That's what I want.'
Dunst was pretty coy about her wedding plans, but described her Fargo co-star turned fiancé Plemons as 'my favourite actor I've ever worked with' and her 'best friend.'
With an astonishing 32-year Hollywood career already behind her, Dunst discussed the new pressure for Hollywood women to be on social media. 'You can get jobs based on your Instagram following these days. That's insane' she said, 'but that's why I have it now. As a man, you could get away with not having it. As a woman in this industry, I think you gotta do it now. It's just part of the game.'
She also pointed out that if she wasn't an actress she'd pay far less attention to her wardrobe. 'I definitely have a gross dress with holes in it that I would never wear in LA, but in Austin, [where her fiancé Jesse Plemons is based] no one cares... If I wasn't an actress I'd dress like garbage every day. All my clothes would be rags.'
When asked for her opinion on the Spider-Man reboot, she was also pretty unequivocal. 'We made the best ones, so who cares? I'm like, "You make it all you want." They're just milking that cow for money. It's so obvious. You know what I mean?'
To read the interview in full, see the July issue of Marie Claire, out today
Photographs by Camilla Armbrust, styling by Jayne Pickering.
Celebrity news, beauty, fashion advice, and fascinating features, delivered straight to your inbox!