THUG: Angie Thomas talks about her brilliant debut novel
Her new book THUG, inspired by life on the streets in America, has spent 6 weeks as No.1 on the New York Times bestseller list and this week hit no.1 on Amazon UK. Here she reveals how she found her voice as a writer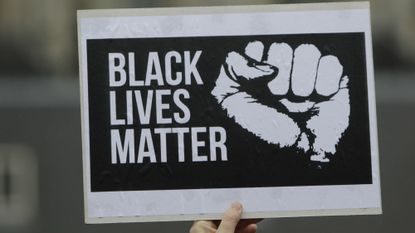 Her new book THUG, inspired by life on the streets in America, has spent 6 weeks as No.1 on the New York Times bestseller list and this week hit no.1 on Amazon UK. Here she reveals how she found her voice as a writer
Words by Angie Thomas
One of the first essays I ever wrote in college was, ironically enough, about finding my voice.
As a way to sort of set the tone for the next couple of years, one of my creative writing professors asked the class to write about the type of person we hoped we'd become by the time we graduated. The "ideal Angie" was easy to imagine. Of course, like a majority of college students I hoped I'd have a great-paying job secured when I crossed the stage with my degree in hand. But surprisingly even more than that, I wanted to find my voice. I was tired of being the quiet girl who rarely spoke up for herself let alone for others. I never gave my opinions—even when someone asked for them, I always said what I thought they wanted to hear as opposed to how I actually felt. By the time I got to college, the entire act was exhausting, and I was more than ready for a change.
Change was a big part of my entire college experience.
The first day I arrived on campus, I realized I was different. The liberal arts college I attended in Jackson, Mississippi was diverse in a lot of ways, just not in the Creative Writing department. In their defense, the program was young—I think I was a part of the third graduating class—but when I walked into my first class on my first day, I was a brown thumb, sticking out in a sea of white. I was also from "the hood." When prompted by our professor, my classmates told about their world travels over the summer, and I slumped into my seat, dreading my turn. I'd never travelled out of Mississippi much less the country. For me, sightseeing was when my mom and I would make the thirty-minute drive to the suburbs to gawk at the mini-mansions, and I wasn't about to share that.
Videos you may like:
Video you may like:
As soon as class was over, I went straight to my car and cried for at least half an hour. I was ashamed and suddenly felt as if I didn't belong. What did I look like, studying alongside all of these students who had not only seen the world but had the means to see the world? And on top of that, I was the only black person, and the black person from the hood, a double whammy.
In that car, with tears still on my cheeks, the other Angie was born; the one who would fight to constantly prove herself and fight every single stereotype anyone tried to place on her.
That meant being extremely careful of how I presented myself, right down to the way I spoke. And in some ways, it meant being silent instead of using the voice I was so desperate to find.
All in all, it sucked. But I thought that was what I had to do.
Then Oscar Grant lost his life thousands of miles away in Oakland, California.
I remember when I first saw the video of his last moments—Oscar lay flat on his stomach, hands in cuffs behind him, only to be shot in the back by a cop. When the unrest took place in Oakland in response, I understood the anger and heartache all too well. I saw guys like Oscar every single day in my neighborhood, and this was like seeing one of them unjustly lose their life. Oscar was one of us.
But to some of my classmates, Oscar was an ex-con who had it coming, and the protestors and rioters were simply trying to cause problems, the latter an echo of many southern whites' sentiments during the Civil Rights Movement. Being in Mississippi, I shouldn't have been surprised, but I was angry, hurt, and frustrated nonetheless. However, I was afraid to speak up.
The only thing I knew to do was write. So I set the "other Angie" aside and let all of my emotions pour into my words.
Fiction can create empathy by giving us windows into lives we may not have paid attention to otherwise. Sure, I could've told my classmates why their comments angered me, but instead I decided to show them through the stories I wrote. One short story later became my novel, The Hate U Give, in which I hope to show people why we say three simple words: Black Lives Matter.
I'm happy to say that I've finally found my voice and my activism through my art. I'm even happier to say that it will take a hell of a lot to shut me up.
The Hate U Give by Angie Thomas is published by Walker Books on the 6th April, RRP £7.99. It has spent 6 weeks as No.1 on the New York Times bestseller list and this week hit no.1 on Amazon UK.
Celebrity news, beauty, fashion advice, and fascinating features, delivered straight to your inbox!
The leading destination for fashion, beauty, shopping and finger-on-the-pulse views on the latest issues. Marie Claire's travel content helps you delight in discovering new destinations around the globe, offering a unique – and sometimes unchartered – travel experience. From new hotel openings to the destinations tipped to take over our travel calendars, this iconic name has it covered.