17 best self-help books for 2023 that are actually worth reading, according to MC Editors
You won't be able to pu these down.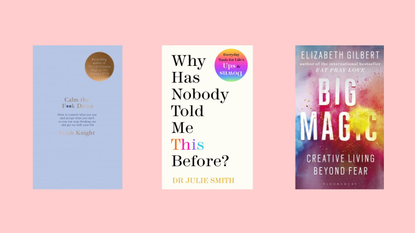 If you're searching the Internet for the best self-help books UK, you might feel a little overwhelmed. There are 597,000,000 results on Google alone - so where do you start? And which ones won't be a waste of time?
Good question - which is why we've rounded up the books team Marie Claire UK have genuinely loved in this handy edit for you. Wondering how to be happy? There's a book for that. On the hunt for expert tips for how to switch off? There's a book for that, too.
Picking up a self help book is one of of our favourite self-care ideas - but how do you separate the wheat from the chaff and find the best self-help book for you? You've probably heard of Atomic Habit, The Secret, and The Power Of Positive Thinking - but below, we'll share the other must-reads to have on your list. Because yes, there are books that can genuinely empower you, break bad habits and even change your life.
Read on for our complete roundup of the books that are actually worth reading, from new releases to timeless classics. All you have to do is pick up a copy and get stuck in.
Make sure to check out our guide to the best self care gifts and the best self care apps, while you're here.
16 best self-help books UK to boost mood and mental health
Best self-help books UK: Editor's pick
Atomic Habits by James Clear
Over five million copies of Atomic Habits have sold globally since the book was first released. In a nutshell, it's a simplistic explainer about how our daily habits shape our lifestyles and ultimately make us who we are. Have a pattern you've been trying to kick? This book is a practical guide to help you break bad habits and build new ones.
Health Editor Ally Head says: "I'd read rave reviews about Atomic Habit and I now understand why. I couldn't put it down - it's easy to follow, enjoyable, and breaks down simple concepts to help you form positive habits. Things like giving yourself visual queues (having your vitamins on your chest of drawers instead of in your drawer) have really changed my health and wellbeing this year."
Best self help book for manifestation sceptics
The Source by Dr Tara Swart
"I'm someone who needs to see the science behind something to believe in it—I'm a Beauty Editor, after all," shares Shannon Lawlor, Acting Beauty Editor at MC UK. "So when I heard that Dr Tara Swart's book, The Source, sits somewhere between The Secret and scientific thesis, I was in. It explains the neuroscience behind manifestation and the ways in which it can work. If you're a realist, add this to your reading list."
Best self help book for confidence and anxiety
Why Has Nobody Told Me This Before? by Dr Julie Smith
Another bestseller, this book is basically an inside look at a therapist's tool kit. Dr Julie Smith draws upon her years of experience as a clinical psychologist to provide you with the skills you need to get through life's ups and downs and optimise your mental health. She covers loads of important topics, from tips for managing anxiety, battling low mood, building self-confidence and learning to forgive yourself, too - it's no wonder she's become an online sensation.
Best self help book for the perfectionist
Brave, Not Perfect by Reshma Saujani
Think about every time you haven't done something because you didn't feel good enough to. Didn't apply for that job you wanted because you didn't think you were qualified? Gave up writing that novel because you convinced yourself your ideas weren't up to scratch? Or found yourself re-writing emails so that it's worded just right (and people don't think you're too pushy)? Yep - you're probably a perfectionist. But it's time to unlearn everything you thought you knew about how to be brave with the help of Girls Who Code founder, Reshma Saujani. The book focuses on ways in which women are primed to be perfect (and therefore feel inadequate when they don't achieve what they set out to) before offering up tips and tricks to ensure you're making courageous decisions in everyday life, whether that's standing up for yourself in a meeting or quitting your job entirely and moving to a remote island. Saujani is like your fearless friend throughout, encouraging you to take a leap of faith - even if it means potentially landing on anything but your feet.
Best positive thinking book
Think Like A Monk by Jay Shetty
Whether it's a hard day at work, an irritating boss, or a train delay, it's not always easy to keep thinking positively. That's where Jay Shetty comes in. He spent three years as a monk and now shares his wisdom in his New York Times best-seller, Think Like a Monk. Freelance writer Dionne Brighton says: "This book helped me recognise where I needed to remove negativity from my life and stop overthinking. The best part was the Venn diagram on how to find your true purpose. Not to be dramatic, but it completely changed how I think about work and what I am passionate about. It encouraged me to go after my dream role and not live for other people's acceptance. It's hard not to think positively after reading Shetty's words."
Best self help book for anxiety
Jog On: How Running Saved My Life by Bella Mackie
Bella Mackie's book begins at rock bottom. The journalist and writer starts her story looking back over the days following her divorce, in which she realised she had never learnt any real coping mechanisms, including how to deal with her GAD (generalised anxiety disorder) and OCD (obsessive-compulsive disorder) symptoms she'd had since childhood. She takes the reader back with her over her life during her hardest moments, explaining in detail how her mental health has impacted everything from school to her first marriage. As the title suggests, the ongoing thread in the book is how Bella used running to self-medicate and get her life back on track. So often those of us suffering with our mental health are made to feel as though there are only two lines of treatment: therapy and/or medication. And while these are of course front and centre when it comes to treating mental health, Bella's book makes a brilliant case for also taking up exercise. Not only will this book encourage you to take up running - or simply to find something you are passionate about to improve your mindset - it also reminds you that you are absolutely not alone. From beginning to end, Bella's book is highly relatable (she can only manage two minutes on her first run), realistic and will have anyone who suffers from the terror of an anxiety disorder joyously celebrating that somebody finally knows exactly how they feel.
Best self help book for career progression
How to Live Your Best Life by Maria Hatzistefanis
Founder of global beauty brand Rodial, Maria Hatzistefanis has written a book about her own experiences, failures and fortunes. After realising that her life needed a new focus, Maria takes you on a journey and shares her own clear, concise and intuitive strategies to help you tackle your own challenges, master your mindset and be in control of your own destiny.
Best self confidence book
Untamed: Stop Pleasing, Start Living by Glennon Doyle
Everyone we know who's read Untamed loves it. Know someone who just oozes self-confidence and wonder how they do it? Author Glennon Doyle reckons they're probably living life untamed. Part memoir, Doyle encourages you to trust your voice deep within: "The braver we are, the luckier we get."
Best self help book for a spiritual awakening
Good Vibes, Good Life By Vex King
This book has taken social media by storm in the last couple of years, and it's easy to understand why. In this book, life coach Vex King teaches us how self-love is the key to unlocking your greatness, featuring a range of tips for overcoming toxic energy, creating positive lifestyle habits (including mindfulness and meditation), manifesting your goals, and finding a higher purpose in life.
Best self help book that actually helps
Thinking, Fast and Slow: Daniel Kahneman
After a self-help book that's very science-heavy? Then you'll enjoy Thinking, Fast and Slow, written by qualified psychologist Daniel Kahneman. In it, he breaks down the two different ways our mind works (yep, you guessed it - fast and slow) - plus explains concepts, from knowing when to trust your intuition to how to be more rational in day-to-day life. "This self help book is a little heavy and can be hard to get into at first. But once you start to read into the different ways in which our brains work, it's hard to put back down and think the same again," says Dionne Brighton, freelance writer.
Best self help book for if you're feeling stuck
Big Magic: How to Live a Creative Life, and Let Go of Your Fear by Elizabeth Gilbert
If you're feeling stuck in a rut, this book will convince you to get creative with your life. It's not just for the poets, painters and performers, but for anyone who feels like they've lost themselves and want to rediscover their passions. The book focuses on finding and appreciating joy in everyday experiences, doing the things you love, and ignoring the judgement and opinions of others. The message is clear: you can live big without selling everything and moving to a remote village, or vowing to commit to a sport so that you can compete in the next Olympics. Whether it's rekindling your childhood love for ice skating or booking a piano lesson after twenty years off the keys, this book will encourage you to forget what others think, focus on what you want, and follow your own interesting and totally unique path.
Best self help book for people who don't like self help books
Calm the F**k Down by Sarah Knight
If you're familiar with Knight's other works, The Life-Changing Magic of Not Giving a F*ck, Get Your Sh*t Together and You Do You, you'll be familiar with her writing style: punchy, energetic and a bit tongue-in-cheek. Her fourth "anti-guru" book offers readers an easy framework for dealing with the daily ups and downs of anxiety – from someone who knows what it's like to deal with it – all interspersed with diagrams, a good sense of humour and relatable anecdotes. It's a breeze to read and you'll feel much less alone by the end of it.
Best self-help books for people pleasers
The Subtle Art of Not Giving a F*ck, by Mark Manson
"I still remember how empowered I felt after reading this self-help book for the first time. Since then, I've pretty much forced all my friends and family to read it. He says failure is the way forward, and I now have to agree. Not worrying about the outcome or what other people think is liberating. 'F*ck positivity', Manson says. It's not just me who loves it. A few weeks ago, I saw it on Netflix as number one in the UK. So he must be doing something right," says Freelance Writer Dionne Brighton.