Wondering how to be happy in a turbulent world? 20 tried and tested ways to find joy
These will put a smile on your face.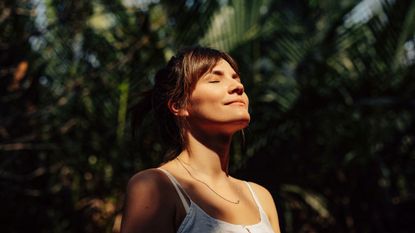 (Image credit: Getty Images)
Religious leaders and philosophers have mulled over how to be happy for hundreds of years in the quest to find peace. Plato thought it boiled down to a life committed to knowledge and virtue, while Aristotle reckoned happiness meant living each day with courage, generosity, justice, and friendship.
That said, happiness to you might look a little more simple - a positive outlook, a cup of tea in bed as part of your morning routine, or a daily meditation.
Finding it difficult to boost your mood day to day? Navigating how to feel happy all the time can often feel way harder than it needs to be when juggling your work, home, and social life. While it's normal to feel down from time to time - after all, happiness looks different for everyone - feeling happiness daily is not only important for your mental wellbeing, but key to living a healthy life.
While there is no formula or algorithm for how to be happy and create a life filled with joy, sometimes, looking at how others find theirs can be inspiring. Take SunLife's Life Well Spent report, which surveyed 2000 over 50's and found that the happiest spent time holidaying, in the garden, and in the great outdoors.
Below, we've spoken to twenty different life coaches, psychologists, and Editors to hear how they find happiness every day, in the hope that it'll inspire a smile next time you're feeling down. Don't miss our guides to finding joy, self care ideas and the best self-help books, while you're here.
How to be happy, 20 simple tricks to finding happiness
1. Visualise your dream future
Who? Lydia Kimmerling, life coach at The Happiness Explorer.
I find happiness by... "Visualising my future - never underestimate the power of visualisation," she shares. "You don't need to be able to create the perfect picture in your mind - it's more about being clear on what you want and then feeling the feeling before you get there. Give yourself permission to dream big but remember it's not actually about this vision becoming a reality, it's all about how this changes you in the present moment. You can only shape your future from the present moment you are in and when you feel happier, you draw more of what you want in the future, into your present life right now."
Ask yourself: if you were not worried about failing and you knew it could all work out, what would you like to see change in your life?
Try this: Have you ever created a vision board for your future? "Invite your friends around, gather lots of different magazines together, and start to cut out the images or words that inspire a good feeling for your future. Then, stick it all to a big piece of card and put it somewhere you can see it daily. Doing this uses creativity to shift you from a state of anxiety into excitement and helps you stay motivated to your vision because you can see it daily," explains Kimmerling.
Remember this, too: your vision board doesn't have to just be things that you want. It's more about feelings than things, she stresses.
2. Find joy in the small things
Who? Laura Greenwood, Accredited Psychotherapist and Maternal Mental Health Coach.
I find happiness by... "I know it is cliché but happiness really is an inside job," she shares. "So many of us look to external people, situations, and experiences, even to the achievement of goals or attainment of things to make us happy, thinking "I will be happy when…". But once you get to these desired destinations, you may find that you feel good only a short period - then you're onto the next thing."
"What you really want to be seeking is not happiness but joy, contentment, and a sense of peace - a sense of acceptance for who we are and what our life is in each given moment (yes, even the rubbish parts). Being able to see that they can all teach you something and support you to find who you truly are is key, as is building our resiliency to life's inevitable challenges."
"I aim for joy, acceptance, and contentment with the present, and try to find the joy in the smallest of moments and experiences each day."
3. Get moving
Who? Dean Shaw Aroma Energy CEO and Founder.
I find happiness by... "Going for walks, especially in the spring and summer. Not only does this make me happy, but it also sparks inspiration that I carry with me through my working life. I love visiting the gym and playing sports - I find exercise to be a great release and a good way to get into a clear headspace."
4. Find balance
Who? Lois Spencer-Tracey. Founder of Shebang Digital and Bunnipunch blogger.
I find happiness by... "For years, I thought my career was the secret to happiness, but now, I think it's about balance and appreciating the simple things. Walking the dog, doing yoga, answering emails and then booking tickets for the theatre work for me," she shares. "Mixing up my day is key for variety and to avoid any boredom spells, too. Balancing life and work and learning to like myself have also made me happier than I could have imagined."
5. Work on your self-confidence
Who? Lee Pycroft, psychotherapist at Goldster.
I find happiness by... "Much of my happiness comes from an emotional state I've learnt to cultivate over time which consists of happiness and self-confidence boosting skills, like managing stress and reframing negative thoughts. These help me maintain a feeling of contentment and satisfaction."
"Self-confidence comes from a trust in my skills and abilities and an understanding that no matter what is happening, I will be ok and can surf any feelings of uncertainty. Happiness, for me, is resiliency - having the ability to bounce back while acknowledging difficult, strong emotions. "
"Being self-aware and observing your behaviours and emotional states is key. When I do this, I can identify what it is that might be ruining a happy moment and instead, move with the ebb and flow of feeling happy."
6. Embrace nature
Who? Humeara Mohamed, Freelance Beauty Editor.
I find happiness by..."For me, pure happiness is donning my trusty pair of boots and wading through the mud soup at my local park on a misty morning. I'll take a towel, swimming costume and neoprene socks, ready for a freezing dip in the pond, and take my rescue dog along with me."
"I make sure my phone is on silent so I can't be distracted by work notifications."
"Somewhere, there's the sound of a woodpecker monotonously hitting a tree, and if I look carefully enough, I can spot the odd heron. All anxious thoughts suddenly don't seem so anxiety-inducing as all that matters is the here and now. Me, my dog and Mother Nature."
7. Journaling
Who? Christie Hitchens, Beauty PR professional.
I find happiness by... "Journaling is an amazing way for me to take some time for myself and bring a little bit of joy into my day. I recently discovered a book called My Five Year Story, where I write down one good thing that happened each day. It only takes a few minutes and I try to focus on the most positive thing that happened, even if it was just a small moment. It's such a powerful reminder to be present and grateful, which is a truly wonderful feeling."
"Journaling is just one of the ways I stay connected to myself and it has been a great addition to my daily routine."
Read our guide to journaling for anxiety, here.
8. Meditation
Who? Kate Hollowood, Journalist and Editor.
I find happiness by..."I find that even just ten minutes a day of meditation makes a huge difference to my mood (I highly recommend Headspace as one of the best self care apps)."
"It helps me to appreciate the small joys in life - they're easy to miss if you're not living in the present moment. It also helps me separate myself from difficult emotions, allowing me to be less reactive and more calm. Meditation can help you to let go of all that and stay in the present."
9. Inspire others
Who? Jennifer Mo, founder of Pura Collagen
I find happiness by... "Surrounding myself with people I want to inspire - it keeps me focused and reminds me that I'm doing it for them. My daughters Madison and Harper have grown up with a working Mum - I took a career break when they were very little and loved every second, but also knew when it was time to resume my career. I've always wanted them to see that if you try hard and have a dream and a vision, you can achieve whatever goals you set for yourself."
"I also find happiness by staying in my lane - I say this on a weekly basis. My business partner and I are good at very different things and efficiently manage our business days by staying in our lanes. He does what he's good at and I do what I'm good at - we fully trust the other to get on with those tasks, which eliminates a lot of second-guessing and time-wasting, allowing me me to stay happy and focused."
10. Get creative
Who? Jules Kay, Senior Library Assistant and blogger.
I find happiness by... "Getting creative with my makeup - it's long been used by many marginalised communities to boost self-esteem."
"I consider myself a creative and painting my face with new looks is definitely one way I express myself and boost happiness. Occasionally, I try something more out there, like a blue lip or red eyeliner. I like reminding myself that makeup doesn't always have to look a certain way."
11. Spend time with loved ones
Who? Psychologist at digital healthy living platform Goldster, Kath Temple.
I find happiness by... "For me, happiness is characterised by a feeling of joy and a sense of fulfilment with my life. I love the joy of living with purpose, and using my gifts, skills and talents in a way that makes a real difference in the world and brings joy to others. I love connecting with my family and friends, sharing time together, enriching each other's lives, and laughing together - you know, the simple pleasures. The combination of meaningful relationships and meaningful work, is what brings me the greatest happiness. "
Top tip: "Smile and hold your head up as you do. It's hard to feel hopeless when you do this, as it's the opposite of what we do when we're feeling low."
12. Head for a morning walk
Who? Pauline Cox MSc, functional nutritionist, nutritional adviser at Wiley's Finest and author of Hungry Woman.
I find happiness by... "A morning walk, no matter the weather. When light enters your eyes first thing in the morning, it helps to stimulate serotonin. Serotonin is a key neurotransmitter that arouses you from sleep and provides feelings of happiness and contentment ready for the day ahead."
"A morning walk can do wonders for your brain chemistry, increasing both serotonin and dopamine, lowering anxiety and increasing alertness. If going for a walk first thing in the morning is not possible, try and sit by a large window for breakfast or stand outside for five minutes in the garden before going to work."
13. Gardening
Who? Ann Summerhayes, CEO of social enterprise Inside Job Productions
I find happiness by... "Gardening. I love gardening, watching things grow, being outside, using my body, and just seeing hard work quite literally grow into something spectacular."
14. Cuddles
Who? Adrian Bethune, primary school teacher putting wellbeing at the heart of schools with Teachappy.
I find happiness by... "Savouring time with my family while reminding myself that my time with them is limited and fleeting. What I mean by that is, I try and remind myself regularly that everyone's time on this earth, including mine, will come to an end at some point. And none of us know when. So, we could get bogged down with things that don't matter and we could stress about inconsequential things, or we could finally wake up and savour each precious moment we have with the people that really matter and who you'll really miss when they're no longer here."
"When I do this, I find that I appreciate each cuddle with my two boys, I savour the snuggles on the sofa with my wife while watching GoggleBox, and I even enjoy spending time with my own parents more. I used to get really annoyed that my Mum would call me to remind me to wear a hat on a cold day, despite being a 42-year-old man - now, I smile and am grateful that I have a Mum who still cares about me."
15. Say no more often
Who? Raakhee Stratton, founder of Easy Peasy Greeny.
I find happiness by... "Saying no. Sometimes it can be hard to navigate requests from friends, family, and colleagues, but saying yes to everything can lead to anxiety and mental exhaustion. I don't want to disappoint anyone or let them down, but advocating for myself and putting my own needs first is a priority. Saying no to the things I don't want to do makes me a much happier person."
16. Embrace change
Who? Stacey Brass-Russell, life and business coach.
I find happiness by... "I believe the secret to true happiness is knowing when to call it quits on a career and follow a new dream. Change is never a sign of failure. Every time I pivoted, it was because my current experience wasn't feeling good. A lot of people get to a place in their life where they are not happy but they are afraid to do anything about it, but I believe everyone has what they need inside themselves to fulfil their dreams."
17. Find a role model
Who? Katie Queue, life coach and motivational speaker.
I find happiness by... "Always having a role model. You want a few select individuals who represent the good parts of you, whether they are now or in the future. I aim for class, manners, and a mission. I look up to people who have kind hearts. Having these people in my mind allows me to stay focused."
"My role models are Princess Catherine of Wales, Jameela Jamil who is at the forefront in her ability to articulate and execute her missions and Hannah Rasekh, who is challenging the fashion industry and fighting for our planet. It's a big task to get the Fashion Industry to think differently and this lady is doing it. I chose three strong women who stand by what they say and take challenges head-on. I look for strength."
18. Reading
Who? Dionne Brighton, freelance journalist.
I find happiness by..."Turning my phone off and escaping into the world of a good book is a sure way to put a smile on my face. If that doesn't work, my liked songs on Spotify get turned up to the max on my speaker and I'll dance around the house and sing my heart out like no one is listening (thank goodness they aren't, as I do not have Dionne Warwick vocals)."
19. Running
Who? Marie Claire UK Health and Sustainability Editor Ally Head.
I find happiness by..."Surprise, surprise - I find happiness by lacing up and heading out for a run, whether that's an easy 5km around my local park or a speedwork session on a treadmill. Running for me provides headspace, calm, and contentment, reminds me of who I am, and continues to remind me that I can do hard things."
"I've also really focused on protecting my own space this year - saying no more, identifying feelings as they pop up, and making sure I put myself first. I'm a people pleaser, but I believe that making sure you're prioritising your own happiness first is the only way to make sure you're truly able to give back to others."
20. Gratitude
Who? Psychologist at digital healthy living platform Goldster, Kath Temple.
I find happiness by... "Reminding myself to be kind and cultivate an attitude of gratitude each day. I try to make a positive difference with who I choose to be, as well as with what I'm doing. I find my joy on a daily basis and by doing so, keep bringing more joy not only into my own life but also the lives of others."
Celebrity news, beauty, fashion advice, and fascinating features, delivered straight to your inbox!
Dionne Brighton is a writer at Marie Claire UK, specialising in all things shopping, beauty and fashion. Born and raised in North London, she studied Literature at the University of East Anglia before taking the leap into journalism. These days, you can find her testing out the latest TikTok beauty trends or finding out what the next full Moon means.