John Legend: 'Women now care more about my wife'
Marie Claire sat down with the Grammy-winning musician, social activist and one half of LA's most likeable celebrity couple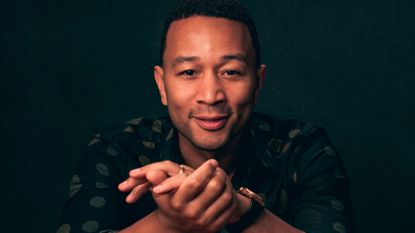 (Image credit: Andrew H. Walker/Variety/REX/Shutterstock)
Marie Claire sat down with the Grammy-winning musician, social activist and one half of LA's most likeable celebrity couple
'Women used to care more about me. Now they care more about my wife,' says John Legend with a grin. It's mid-afternoon and we're sitting at a table in the vast art-deco brasserie of London's Corinthia Hotel. Legend, along with Chrissy Teigen, that aforementioned thunder-stealing wife of his, flew into town yesterday with their baby daughter Luna, and he's staving off the jet lag with a strong cup of coffee. 'I'm proud of her,' he says of Teigen. 'I'm proud of the impact she's made by being funny and honest and authentic and charismatic. People want to be friends with Chrissy. And I can see why.'
The cynicism we so often attach to celebrity couples doesn't seem to apply to Legend and Teigen. Perhaps it's all the spontaneous LOLZ they share on social media (Legend eating chicken wings off Teigen's thigh, for instance) or the joint Twitter scuffles with Piers Morgan, but the pair brings a dose of irreverence to life in the public eye that makes it hard not to like them.
But today is not about the Legend-Teigen #relationshipsgoals love-in. Today, Legend is flying solo. After a four-year hiatus, the 37-year-old is returning to music with a new album, Darkness And Light. Tomorrow he'll appear on The X Factor to deliver a note-perfect rendition of the album's headline track 'Love Me Now.'
His third record's name was partly inspired by the birth of his daughter Luna eight months ago, when the song Superfly by Curtis Mayfield was playing in the background when she came out. 'The first lyric of that song is "Darkest of night, with the moon shining bright,"' he says. The album name is also a wider reflection on the state of the world, which feels particularly prevalent when we meet, close to the most explosive presidential election in recent history, days after members of Donald Trump's own party had condemned him over sexual harassment allegations.
'You shouldn't have to have a daughter, with your DNA, to empathise with women and girls that are victims of abuse or harassment,' he says of the Republicans who withdrew support for Trump on family grounds. 'Like, have you not met any women before? How can you not empathise with them before all that? I understand why people want to use that qualifier, but I feel like it suggests you can't have empathy for someone unless they're in your family.'
Legend isn't opaque about politics. He collaborated on Obama's 2008 anthem Yes We Can with Will.i.am and fundraised for Hillary Clinton. He's now frequently asked if he'd ever consider running for office himself. 'I just don't have the appetite to have half of the country want to see my destruction,' he says with a sardonic smile. But he is a passionate social activist. His most recent campaign, #FREEAMERICA, aims to tackle the US's problem with mass incarceration and has seen him travel all over the country talking to prisoners. Miscarriages of justice highlighted by the Netflix series Making A Murderer are happening 'all the time,' he says. 'They don't know their rights, they get forced into false confessions – like that kid [Brendan Dassey] with the low IQ. The police and prosecutors are schooled on how to get confessions out of people, even if they're false. They can psychologically paint you into a corner where you feel like the only way you can get out of it is to tell them what they want to hear.'
Legend says his upbringing in a blue-collar family that always struggled financially (his father Ron worked in a car factory, mother Phyllis was a seamstress) has given him a closer understanding of how tough life can be without a cushion of money. Christened John Roger Stephens, he cut his musical teeth playing the piano and singing at his local church (there's still a bit of the clean-cut, well-mannered church boy about him in the way he springs up at the table to shake my hand when I arrive). After school, Legend turned down a place at Harvard to study at the University of Pennsylvania and even had a brief spell as a management consultant (according to a former colleague, he was a dab-hand at an Excel spreadsheet) before music took over. It was when he moved to New York and began plugging away on the small gig circuit that he was introduced to an up-and-coming hip-hop artist by the name of Kanye West. The pair became collaborators and are still good friends. 'My first-ever trip to London was with Kanye,' he says at an album event in Soho later that day. 'Let's just say we had a lot of fun running around town.'
Legend's music career has so far delivered him ten Grammys, three platinum albums, an Oscar for his Selma soundtrack song Glory and wide critical acclaim, as well as helping to rescue thousands of wedding couples from a bad first-dance song choice. Is there a formula to the perfect love song? 'If you're going to have a song about real emotion there is some complexity in the song, there is some doubt in the song, there is some darkness in the song. All Of Me and Ordinary People, those songs weren't just "everything's lovey-dovey," [they] were saying, "even when things aren't lovey-dovey, let's find a way to make it work or let's love each other thoroughly even though neither of us are perfect."'
Early next year, Legend will also make his Hollywood movie debut. And not just in any Hollywood movie, but the Oscar buzz magnet La La Land, an original musical set in Los Angeles starring Emma Stone and Ryan Gosling. Legend will play Keith, a jazz performer and member of Sebastian (Gosling)'s band. He was particularly impressed with the speed at which Gosling managed to master the piano on set. 'I think he had played a little bit before, but the level of playing in the film is really sophisticated and he nails it,' he says. He in turn enjoyed being a bit of a beginner, too. '[Gosling] was very supportive. Obviously I'm a new actor on this level, last time I really acted was in high school.'
The film is widely expected to clean up at awards season. Legend and hip-hop artist Common famously reduced the entire Academy Awards audience to tears in 2015 with a live rendition of their Oscar-winning Selma theme tune Glory, which followed the story of Martin Luther King and the race rows of the 60s. 'There are more black men under correctional control today than were under slavery in the 1850s,' Legend said in his blistering acceptance speech.
A year later, the #OscarsSoWhite row, which saw not a single actor of colour among the 20 nominees, caused many prominent Hollywood names (including Spike Lee, Will Smith and Jada Pinkett Smith) to boycott the ceremony altogether. This year, the mix of nominees is expected to be better, but there's still a long way to go. 'America is like, 30 or 40 per cent people of colour,' Legend says. 'The American film landscape shouldn't be 95 per cent white – it should be reflective of the audience and reflective of the broader creative community.' He's confident that, despite 2016's wider picture of appalling race relations in America, things are gradually getting better. 'Hopefully the producers and people that help get films made will usher in a new era where more diverse voices are represented.' If this man has anything to do with it, that new era should be on the way sooner than we think.
John Legend's new album Darkness And Light is out now
Celebrity news, beauty, fashion advice, and fascinating features, delivered straight to your inbox!