This Zodiac sign has won the most Oscars (and will probably win this year too)
An astrologer predicts the celebrities most likely to win an Oscar this year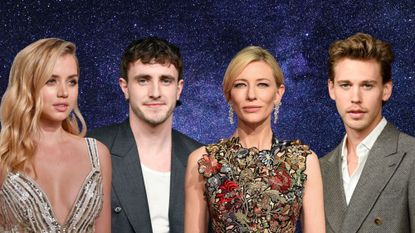 (Image credit: Getty Images)
The Oscars 2023 are almost upon us and while we will quite happily admit that it's the red carpet looks we are most excited about; it's the winning that counts (despite what you may have heard).
When it comes to the best Oscar dresses, we already know the luckiest dress colour at the Oscars, but predicating who will win an Oscar gong is a job for an astrologer.
Celebrity psychic and astrologer Inbaal Honigman teamed up with Heart Bingo to find the star signs of every single Oscar award winner since 1927. And the top zodiac sign on the list is not what we expected. Leo's are known for loving (or stealing) the limelight, but surprisingly they aren't the most likely to win, ranking third on the list.
The Zodiac sign with the most Oscars is Taurus. With an whopping 51 Taurus winners over the years, the nominees born between April 20 to May 20 have the best chance of winning this Sunday.
The least likely to win? Geminis, with only 28 winners born between May 21st to June 21st.
So which celebrities are most likely to leave the Oscars with an award this year?
Most likely to win Best Lead Actress
It's going to be a tough call because there are two Taurus' up for Best Actress this year and one very popular Leo. Taurean Cate Blanchett is up for the best lead actress award for her role in Tár. And fellow Taurus Ana de Armas from Blonde is also nominated.
Taurus' are known for being focused and hard-working and seriously creative, explains Honigman. It's a stable sign, and once they put their mind to something, nothing will come between them.
Then there is our Leo nominee Michelle Yeoh who has already won a Golden Globe and a SAG award for her role in Everything Everywhere All at Once.
Most likely to win Best Actor
Austin Butler has already been claiming lots of awards for his role in Elvis, and as a Leo he will probably be able to add an Oscar for Best Actor to the list too.
Looking at the numbers, statistically Taurus Colin Farrell is the most likely to win. But with only a six win difference between Taurus and Leo, the Leo's could take second place by Monday morning.
Both Aries (ranking number two) and Leo are fire signs. "They are speedy and tireless, and the fire of creativity burns in their bellies. They love creating magic and are enthusiastic about the exciting make-believe business," explains Honigman.
Keep scrolling to see all the winners for Best Director, Best Actor, Best Actress and Best supporting categories.
Taurus, 51 winners
Aries, 49 winners
Leo, 45 winners
Scorpio, 42 winners
Aquarius, 42 winners
Capricorn, 38 winners
Cancer, 39 winners
Libra, 36 winners
Pisces, 35 winners
Sagittarius, 34 winners
Virgo, 32 winners
Gemini, 28 winners
So it seems either Aries Brendan Gleeson or Brian Tyree Henry will come away with a best supporting actor gong. Most likely to win best supporting actress is Leo Angela Bassett for her role in Black Panther Wakanda Forever. And for best director it's between Ruben Östlund and Martin McDonagh.
Check out the full list of Oscar Academy Award nominees for 2023 and make sure to follow our live blog for all the Oscar winners on Sunday night.
We can't wait to see which star sign reigns supreme.
Celebrity news, beauty, fashion advice, and fascinating features, delivered straight to your inbox!
Dionne Brighton is a writer at Marie Claire UK, specialising in all things shopping, beauty and fashion. Born and raised in North London, she studied Literature at the University of East Anglia before taking the leap into journalism. These days, you can find her testing out the latest TikTok beauty trends or finding out what the next full Moon means.