3 things an expert wants you to know before getting filler
We've got all the information you need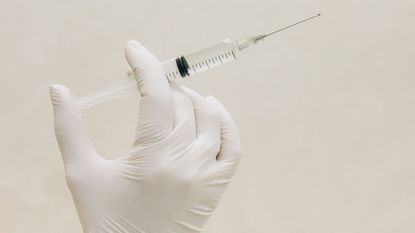 (Image credit: Getty Images Elena Fedorina 1299524434)
It's no secret that filler has become one of the most popular beauty treatments as of late. From lip filler to under-eye filler, there is a range of tweakments on offer, but as with any procedure like this, it's important to understand the risks before considering getting it yourself.
Luckily, Dr Stefanie Williams, a German board-certified specialist dermatologist and medical director of Eudelo, has shared the three things that you should consider before booking in for the treatment. Keep on scrolling for everything you need to know, and for more information, don't forget to check out our guide to the difference between Botox and fillers.
1. A medically qualified practitioner is non-negotiable
"Fillers are classified as 'medical devices' (rather than prescription medicines such as botulinum toxin, aka 'botox'), so strictly speaking it's not illegal for a non-medic to administer them," explains Dr Stefanie Williams. "Does that mean I'd recommend seeing a non-medically qualified practitioner for a treatment? Absolutely not.
"It's also crucial to know which fillers have the best safety records and give the best results. In my professional opinion, this is hyaluronic acid (HA) containing fillers. Unlike other types of fillers, HA can be reversed by injecting the enzyme hyaluronidase (a prescription-only medicine), which effectively dissolves them within 24 hours. So, if for some reason you want to get rid of your HA filler, this can be done quite easily, but of course should only be done by a medically qualified practitioner."
2. Avoid permanent fillers
Another thing that Dr Williams recommends is avoiding permanent fillers. "I strongly advise against permanent fillers as they have a much higher risk of complications. And even if you don't experience an adverse effect, feel the aesthetic result is great and are glad you don't have to keep coming back for top-ups, your face naturally changes with time, so you can't be sure of what the filler will look like in the future.
"Ideally, aesthetic treatments are adjusted as we get older, to keep up with facial changes, so a permanent filler may look out of place years down the line. So be smart, stay safe and keep your options open."
3. Aesthetic procedures are complex
"A superior knowledge of facial anatomy is essential to minimise risks," says Dr Williams. "With most aesthetic injections, we're putting a needle into very precise locations with complex anatomical structures. Without specialist knowledge and training you can cause actual harm. I have spoken to non-medical injectors who were shockingly unaware of all the possible risks – and in this case ignorance is not bliss."
So, there you have it. Everything you need to know before getting filler. As Dr Williams says, "To sum it up, my expert advice for fillers is to only go to a practitioner who is medically qualified, has a prescribing license and is highly experienced in administering these treatments, so can deal with any complications, should they arise."
We couldn't have said it better ourselves.
Celebrity news, beauty, fashion advice, and fascinating features, delivered straight to your inbox!
Grace Lindsay is currently Junior Beauty Editor at Who What Wear UK and previously was Marie Claire UK's E-Commerce Writer. With over three years of experience in the fashion and beauty industry, she covers everything from the best make-up and skincare deals to how to shop the stand out trends of the season. When she's not typing away at her laptop, Grace can be found shopping her favourite vintage markets IRL, or catching up on her never-ending list of books to read.