Dermatologists want those with sensitive skin to hear this advice before using vitamin C products
Plus, tried and tested formulas by someone with sensitive skin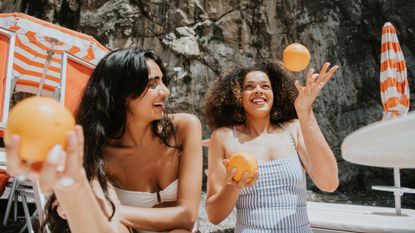 (Image credit: Getty Images/Catherine Falls Commercial)
Vitamin C serum is often one of the products that skin experts hail as being a game-changer when it comes to evening skin tone, protecting skin against free-radical damage and boosting overall radiance. But if you're in camp sensitive skin, vitamin C can be a bit of a nightmare product (particularly if you get irritation-related breakouts). As a beauty editor, where my job is to quite literally try hundreds of products, the one I've struggled the most with is vitamin C.
Serums that others praised as being top of their game just broke me out and made my skin an angry mess. And that's because if you have sensitive skin, formulations can be a little too much for our delicate, fussy complexions. Recently though I've been wanting to give vitamin C a go again and knew, this time, I'd need formulas created with my skin type in mind.
I called in some expert friends to school me on everything there is to know about vitamin C for sensitive skin, and I set out to find the best.
Why must vitamin C be formulated so carefully?
Vitamin C (known as ascorbic acid in its purest form) is an antioxidant with a number of benefits. "It combats free radicals from the environment to prevent them causing damage to your skin. There are scientific studies to show that topical vitamin C may help to slow skin ageing, prevent sun damage and improve the appearance of pigmentation or post-UV exposure redness," explains Dr Hayley Leeman, consultant dermatologist at the Cadogan Clinic.
Sounds great! But there's a catch. "It is a highly unstable compound and can easily degrade when exposed to air, light or heat. To ensure its effectiveness and stability, vitamin C must be formulated carefully," says Dr Awatif Mandour, formulator, pharmacist and founder of Dermanda Skincare.
"Careful formulation involves using stable forms of vitamin C, such as ascorbic acid or its derivatives like magnesium ascorbyl phosphate or ascorbyl palmitate," explains Dr Mandour. These forms have better stability and are less likely to oxidise quickly. "Additionally, formulating vitamin C with other antioxidants or stabilising ingredients can help enhance this stability and efficacy."
Why aren't all vitamin C products appropriate for sensitive skin?
There are a few reasons. The first is because of a high concentration being too potent for sensitive skin types. "This can lead to irritation, redness or stinging sensations. It is generally recommended to start with lower concentrations (around 10-15%) and gradually increase if well-tolerated," says Dr Mandour.
The second reason is due to a low pH. "Vitamin C products with a low pH (acidic) can be irritating for sensitive skin. Low pH formulations are typically more unstable and may cause stinging or burning sensations. Sensitive skin types may benefit from vitamin C products with a pH closer to neutral (around 5.5-7)," Dr Mandour explains.
And lastly, it could be down to other ingredients, like fragrance, preservatives or potential allergens, rather than the vitamin C itself. It can be tricky to know what is causing the irritation, so the best way to quickly and effectively get to the bottom of it is by seeing a skin expert or dermatologist who can help create a skin plan with you.
Why can vitamin C cause breakouts?
One of the biggest complaints with vitamin C is that it causes a breakout, which has certainly been the case for me. "As vitamin C can cause local irritation, this may exacerbate pre-existing acneiform lesions and make them appear more visible," says Dr Leeman.
However, to make matters confusing, there are some studies which have shown vitamin C can reduce acne; though more studies are needed to understand this in more detail. "It is important to note any other ingredients in the vitamin C cream or serum formulation that you are using, as sometimes they can contain heavy oils or comedogenic substances which can trigger acne," she adds.
How to introduce vitamin C into your routine
When it comes to introducing any new actives, abide by the 'low and slow' rule; low percentage and slow frequency.
"Start applying a vitamin C serum once weekly and see how your skin responds," says Dr Leeman. If you experience no irritation, you may be able to increase the frequency of application slowly over time as your skin adapts. "I would suggest aiming for a concentration of 10% L-ascorbic acid if you have sensitive skin. You should limit the number of exfoliative products you are using as if you are already using tretinoin or other chemical exfoliative skincare products, this may lead to over-exfoliation and impair your skin barrier function. Be sure to use a hydrating moisturiser regularly," she adds.
The best vitamin C serums for sensitive skin
If you're prone to product overwhelm, the good news is, there aren't tons of vitamin C products on the market that truly work for sensitive skin. So, I've rounded up the tried-and-tested few that really do work for sensitive skin type. Though, I always advice patch testing new products, especially treatments like a vitamin C. Due to the nature of formulation being so tricky, really good vitamin C serums do tend to be more expensive than most—and, on behalf of the beauty industry, I apologise for that. Here's hoping that brands find ways to step up their vitamin C game and keep prices down.
1. Skinceuticals Serum 10
Skinceuticals Serum 10
Best overall vitamin C serum for sensitive skin
Reasons to buy
+
Perfect introduction serum
Reasons to avoid
-
The price is eye watering
If you're totally new to vitamin C, start with SkinCeuticals (this product in particular) due to the lower concentration of vitamin C. The brand understands complicated formulas, and this one won't steer you wrong (as long as you introduce it slowly and don't use it with other strong acids at the same time!) This 10% active is particularly good for my rosacea-prone skin; it works to brighten my complexion and and maintain even skin tone—all without breaking me out. Despite being super expensive, this formula is still more affordable than the brand's other favourite: SkinCeuticals C E Ferulic.
2. La Roche-Posay Pure Vitamin C 10 Serum
La Roche-Posay Pure Vitamin C 10 Serum
Best brightening vitamin C serum for sensitive skin
Reasons to avoid
-
Can oxidise if not used within specified time
If a glow is what you're after with your vitamin C then La Roche-Posay has your back. For those with sensitive skin, including me, La Roche-Posay is the brand we've come to rely on. The formulas are smart, simple and dependable—this one is no different. It's non-irritating, absorbs fast and doesn't interact with other products layered on top.
3. Medik8 C-Tetra
Medik8 C-Tetra
Best sensitive-skin vitamin C serum for hyperpigmentation
Reasons to buy
+
It's great at targeting sun damage
Reasons to avoid
-
Has an orange smell that some might not like
As a brand, Medik8 knows its way around formulating tricky ingredients, so it's no surprise this vitamin C serum is so great. It is a great option if you're wanting to tackle hyperpigmentation as it contains tetrahexyldecyl ascorbate, which combats free-radical damage in the skin. I also think it's a fantastic price given the complex formulation (and that it's a 100% stable formula) from an established, science-backed brand.
4. Zelens Power C Collagen-Boosting and Brightening Serum
Zelens Power C Collagen-Boosting and Brightening Serum
Best luxury vitamin C serum for sensitive skin
Reasons to buy
+
Yields impressive results
Reasons to avoid
-
Next-level expensive
-
Won't be suitable for all sensitive skin types
This is one of the more powerful serums on the list, so is one to use with caution or later down the line once your skin has got used to lower percentages. With 20% vitamin C, this serum gives skin a turbo-boosted radiance and also helps tackle fine lines and wrinkles. It's a joy to use, feeling silky on the skin and working well under make-up in the morning. The packaging is also stunning, but we'd expect nothing less from Zelens.
The product instructions say to use daily both morning and evening, which is far too much for sensitive skin types (including mine). This is sadly often where the confusion comes with more irritation-prone skins. My advice is, after introducing this slowly (and if your skin tolerates it well), use in the morning before moisturiser and sunscreen.
Celebrity news, beauty, fashion advice, and fascinating features, delivered straight to your inbox!
Tori is a freelance beauty journalist and contributor for Marie Claire. She has written for various titles, including Allure, Glamour, Elle, Refinery29, Brides, and more. Currently training to be a nail tech, Tori is a total nail enthusiast and always has time to talk all things nail art. When she's not writing about beauty and testing products, Tori can be found walking her rescue dog Pip, drinking great coffee, and eating as many croissants as humanly possible.