Augustinus Bader: what's all the fuss about?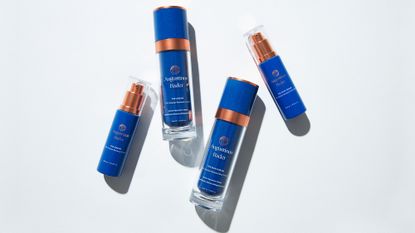 In this new franchise we ask: what's all the fuss about? There are so many products and brands that enter stratospheric realms of popularity - going from zero to hero in what feels like a matter of weeks – think Drunk Elephant and Milk Makeup. But why are they so popular? We've decided to investigate…
Augustinus Bader - the background
A brand that has gained celeb and beauty-editor interest quite quickly is Augustinus Bader. The super-duper scientific skincare brand is currently only made up of two products - The Cream and The Rich Cream - but it's enough to completely convince some; with it being touted as the future of skincare.
You've probably spotted the thin blue and rose gold bottles on your Instagram feed (where else?) last year, following the German brand's initial launch in February 2018.
Created by Professor Augustinus Bader, a Director and Professor of Applied Stem Cell Biology and Cell Technology, the products are inspired by his extensive research into the healing process and treatments. He has dedicated years to helping develop treatments for burns patients, in particular creating a medical-grade Hydrogel that encourages scar-free healing. Using this breakthrough technology, he realised that it could help with a range of conditions - including skin concerns.
And so the brand was created.
The two iterations of the face cream are designed to appeal to your personal preference; both deliver active ingredients to the skin, boost cell function and improve the appearance of your complexion.
How does it work?
The formula contains Professor Bader's Trigger Factor Complex (TFC8®). In layman's terms this is basically a mixture of natural amino acids, high-grade vitamins and synthesised molecules naturally found in the body that quite literally trigger your skin's natural repair and renewal process, by ensuring your cells are getting the key nutrients and ingredients to create an ideal environment for regeneration. As we age our body's natural ability to heal and regenerate declines, so the trigger complex ensures the skin gets the right ingredients to create the best healing condition.
But what does all of that mean? When skin cells are able to repair properly wrinkles, fine lines, age spots and redness are reduced; skin tone is evened out and texture is smoothed. Which is what everyone wants right? It's the ultimate anti-aging beauty product.
One of the most interesting things is that the formula is said to be so complex, rich in ingredients and delivers such great results that it can be used alone, in the place of your normal toner, serum and moisturiser. The brand believe that it performs better without other products interfering. So whilst the high price point (£125 for 30ml, £205 for 50ml) might scare you, you wouldn't have to buy the rest of your skincare routine on top of that.
Is it worth the hype?
The brand conducted clinical trials over a 28 day period and they found the following:
94% of people agree that dull skin appears brighter
90% of people agree that rough, dry skin is smoothed
85% of people agree that it lessens the appearance of unwanted redness
85% of people agree that it visibly reduces the appearance of acne scarring
75% of people agree that it fades the appearance of dark spot
After 4 weeks fine lines and wrinkles were reduced
After 4 weeks photoageing was reduced and skin looked younger
'I have fallen in love with Augustinus Bader. I have dry skin, so prefer The Rich Cream (oily to combination skin would be best suited to the original) and at first I noticed how much it transformed my dry, barren complexion into a plump, hydrated one. But it's only after continued use that I've noticed the bigger change - anytime a blemish appears on my face it never gets to an angry state. There's very little redness and no marks left afterwards. On days when my skin would typically be patchy and dull (hello hangover) it just isn't. It's still plump, glowy and more importantly hydrated. I know it's pricey and it won't suit everyone's budgets, but I believe this is just the start for technology like this and eventually smart ageing will touch brands in all price ranges.' KT - Digital Beauty Editor
'Coming from a founder who is one of the foremost regenerative medicine and tissue engineering scientists of his generation, the Augustinus Bader one-product-range was a complete no-brainer for Cult Beauty; it's Skincare 2.0. I love it personally as within three-week's usage I noticed a couple of chin spots healed quicker, my cheek age spot was fading and the surface of my skin just looked better. After a couple of months I'm noticing that a pinched cheek springs back more readily. I wasn't convinced that it would become a top seller, because of the price point, but from the moment we uploaded The Cream to the New In page it started selling well. It's one of those brands that has 'good grapevine'. - Alexia Inge, Founder of Cult Beauty
Who loves it?
The question really should be: who doesn't love it?
It has been reported that Alexa Chung, Sandra Oh, Priyanka Chopra, Bella Hadid and many more have fallen head over heels for the brand. Diane Kruger got involved with the brand quite early on, Kate Bosworth is constantly uploading clips of her using the cream and Victoria Beckham loves it so much she had the models from her AW18 show all prepped with the products.
If you give it a try, let us know how you get on.
We'd love to hear all about your experiences. Find us on Instagram @marieclaireuk
Celebrity news, beauty, fashion advice, and fascinating features, delivered straight to your inbox!
Katie Thomas is the Senior Beauty Editor at Marie Claire UK. With over 10 years of experience on women's luxury lifestyle titles, she covers everything from the best beauty looks from the red carpet and stand out trends from the catwalk, to colonic irrigation and to the best mascaras on the market. She started her career on fashion desks across the industry - from The Telegraph to Brides - but found her calling in the Tatler beauty department. From there she moved to Instyle, before joining the Marie Claire digital team in 2018. She's made it her own personal mission to find the best concealer in the world to cover her tenacious dark circles. She's obsessed with skincare that makes her skin bouncy and glowy, low-maintenance hair that doesn't require brushing and a cracking good manicure. Oh and she wears more jewellery than the Queen.