#FilterDrop Sasha Pallari on being happy with the skin you're in
The beauty activist secured an important social media ruling with her #FilterDrop campaign. Now Sasha says we need to work on self love for the sake of our mental health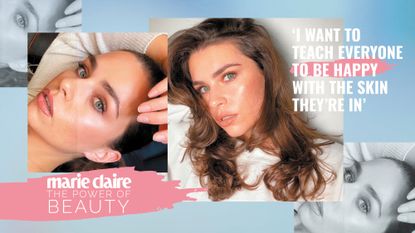 (Image credit: Marie Claire UK)
The beauty activist secured an important social media ruling with her #FilterDrop campaign. Now Sasha says we need to work on self love for the sake of our mental health
Glow Up star Maya Jama kicks off our spring campaign, The Power Of Beauty, over at Marie Claire UK. Stay tuned throughout the month of May as we celebrate the transformative power of beauty and champion the industry we love.
There's no denying that three lockdowns and a pandemic ensured our doomscrolling went off the charts. Throw in the horror of WFH Zoom meetings, our addiction to Instagram and AR face filters and we've cooked up a recipe for widespread insecurity about our looks.
This can have long-lasting damaging effects on our mental wellbeing, something that #FilterDrop beauty activist Sasha Pallari knows well. "Mental health and self image is connected in so many ways," she says. "I've taught myself to be confident over the years and want others to feel the same way. Looking beautiful is an opinion, feeling beautiful is a choice.
Introducing Sasha Pallari's #FilterDrop campaign
Self confidence is something Sasha Pallari is passionate about. You've probably heard about this 29-year-old, Weston-super-Mare-based make-up artist and curve model who created the game-changing hashtag #FilterDrop on her Instagram account back in June 2020.
"I knew I was becoming dependent on how good I looked using filters and how shocked I felt when I saw my natural skin," she says. "I was scared of the tricks it was playing with my mind." So Sasha took the plunge and stopped using filters altogether in the autumn of 2019, and by the time we were all deep into last year's first lockdown she was becoming increasingly alarmed by the plethora of filters being used by influencers, celebrities and companies advertising products and their supposed effectiveness.
"By the summertime the only real skin I was seeing was my own. I thought, 'Is it me or is it ridiculous that we don't see real skin anymore?' So I said to my followers one night, 'If you feel comfortable enough I want to see your filter-free selfie. Use the hashtag #FilterDrop.'"
Sasha didn't know what to expect but over the course of last summer her #FilterDrop movement gained momentum and she was flooded with messages and pictures. "I receive messages every day. I have so many screenshots on my phone. A recent one said: 'I can't explain to you how much you helped my confidence I wouldn't have even posted without a filter'. I love hearing from parents and teachers of young girls too."
Supercharged by her followers, Sasha knew she had to rebalance the use and effects of filters [the 'Paris swipe' filter has a lot to answer for, she says], face-altering apps and Photoshop on social media, specifically when these are used in ads and promotions by influencers. It was this blurring of what's real and what's fake that prompted her to take her case to the Advertising Standards Authority (ASA) in August 2020. "My focus was on people who are selling or making money through collaborations with make-up or skincare brands to do so truthfully and transparently," she says.
Securing a game-changing victory
Finally, in February 2021, came the 'biggest shock' for Sasha Pallari - the ASA ruled 'filters should not be applied to social media ads if they exaggerate the effect of a beauty product'. Now, in the same way that influencers have to flag up 'AD' or 'Sponsored Post' on their grid and stories, ASA ruled all UK brands, influencers and celebs' accounts should flag when a filter has been used to promote skincare or cosmetics.
Ads that break these rules would be taken down and prohibited from appearing again, an act that can damage an advertiser and influencer's reputation. All this is undoubtedly a good thing, but has left many critics asking how effectively it will be enforced.
"I made it very clear that I didn't want this to be about influencers," says Sasha. "I wanted the issue to examine the problem that's made influencers and celebs feel they need to use filters. That's why we need regulation and transparency."
So far Sasha Pallari says she has achieved two out of her four #FilterDrop aims. The first was to inspire as many women as possible to wean themselves off their filter dependency. ASA made her second aim come true and now she wants to seek regulation in the States and get AR face-altering filters removed from Instagram.
"The AR face-altering filters are big business but unfortunately I don't think they will ever be removed, although it scares me how addictive they are," she says. "I found one that slimmed down my nose and face. It was so realistic. I've never thought I had a big nose but I started looking and wondering, 'Oh, maybe it is big?' They're so dangerous, especially for young minds and for anyone with low self-esteem. They really do affect how you view yourself. It explains a lot about why we're seeing a boom in plastic surgery."
Spreading the self love message
Confidence-destroying filters aside, Sasha Pallari's campaign is all about self esteem, self acceptance and self love. She's incredibly honest about her own insecurities and it's this authenticity that's resonating with many women online. She admits she wasn't always this way and has worked long and hard on accepting her own body, 'I've always been very self conscious of my body because I've always been bigger than other girls'. She has spent years building up her confidence so she can show up on social media as her 'true self' and help others struggling with issues. "I'm honest, open and comfortable with everything I share on social media. People can relate to me and my journey of self acceptance," she says. "I'm still on that journey but I'm so excited that I'm able to work online and do make-up tutorials or do beauty lives. I want to teach women how to feel confident in their own ability and how they see themselves. The more I can help people then the better I feel about myself too.
"There's still so much messaging to be done in terms of how we view ourselves online. I'd love to talk in schools to teenagers and help as many people as I can accept themselves in their own unfiltered skin."
Sasha's feeling-good-in-your-skin strategies
Keep reading for five top tips from Sasha Pallari on feeling your best self.
1. Care more about the beauty inside
Don't make the way you look your main priority. We should all care more about who we want to be as a person. 2. Give yourself time
Enjoy the process of applying make-up and the self-care element of having a skincare routine. Allow yourself time to practise makeup skills and time to pamper yourself. 3. Curate a feelgood feed
Surround yourself with people online who make you feel better. Find people who are authentic and with messages that resonate with your life. Ditch the feeds showing incredibly phenomenally beautiful women who are only going to make you feel bad about yourself. 4. Stop the comparison game
The only reason we compare ourselves to others is because we don't feel good enough ourselves. I used to judge people straight away. Why did I do that? Why did I feel the need to judge? Why did I feel the need to compare? Why did I always think the grass was greener on the other side? I don't compare myself anymore -it does take working at it all the time. 5. Practise being confident
There's never an end goal to self-acceptance and confidence. I've been actively working on mine for the last four years. I know there are still things that do that hold me back, such as questioning what others will think of me. We are all going to be judged for what we do, the trick is not to let others affect you. True confidence is showing up as your true self and not worrying about the implications. Practise being confident, because it's a constant journey, we're always growing and evolving. Confidence is like a muscle, the more you use it, the stronger it gets.
Celebrity news, beauty, fashion advice, and fascinating features, delivered straight to your inbox!
Maria Coole is a contributing editor on Marie Claire.
Hello Marie Claire readers – you have reached your daily destination. I really hope you're enjoying our reads and I'm very interested to know what you shared, liked and didn't like (gah, it happens) by emailing me at: maria.coole@freelance.ti-media.com
But if you fancy finding out who you're venting to then let me tell you I'm the one on the team that remembers the Spice Girls the first time round. I confidently predicted they'd be a one-hit wonder in the pages of Bliss magazine where I was deputy editor through the second half of the 90s. Having soundly killed any career ambitions in music journalism I've managed to keep myself in glow-boosting moisturisers and theatre tickets with a centuries-spanning career in journalism.
Yes, predating t'internet, when 'I'll fax you' was grunted down a phone with a cord attached to it; when Glastonbury was still accessible by casually going under or over a flimsy fence; when gatecrashing a Foo Fighters aftershow party was easy-peasy-lemon-squeezy and tapping Dave Grohl on the shoulder was... oh sorry I like to ramble.
Originally born and bred in that there Welsh seaside town kindly given a new lease of life by Gavin & Stacey, I started out as a junior writer for the Girl Guides and eventually earned enough Brownie points to move on and have a blast as deputy editor of Bliss, New Woman and editor of People newspaper magazine. I was on the launch team of Look in 2007 - where I stuck around as deputy editor and acting editor for almost ten years - shaping a magazine and website at the forefront of body positivity, mental wellbeing and empowering features. More recently, I've been Closer executive editor, assistant editor at the Financial Times's How To Spend It (yes thanks, no probs with that life skill) and now I'm making my inner fangirl's dream come true by working on this agenda-setting brand, the one that inspired me to become a journalist when Marie Claire launched back in 1988.
I'm a theatre addict, lover of Marvel franchises, most hard cheeses, all types of trees, half-price Itsu, cats, Dr Who, cherry tomatoes, Curly-Wurly, cats, blueberries, cats, boiled eggs, cats, maxi dresses, cats, Adidas shelltops, cats and their kittens. I've never knowingly operated any household white goods and once served Ripples as a main course. And finally, always remember what the late great Nora Ephron said, 'Everything is copy.'