The genius way to stop your concealer from creasing
Get rid of fine lines for good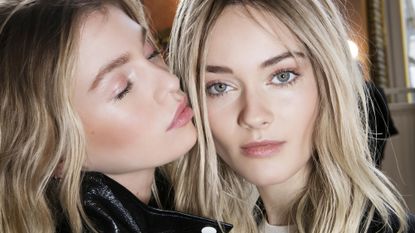 (Image credit: Antonello Trio)
Get rid of fine lines for good
If you suffer from dark circles under your eyes, concealer can be your best friend (find the perfect one for you by taking this quiz). That is, until it all collects in your fine lines. It seems like a never ending battle trying to work out how to stop concealer creasing, but if you follow these simple steps, you'll have flawless, smooth skin under your eyes every time.
Step 1. Hydrate under your eyes with a face oil
Plump up the skin under your eyes with face oil. One of the main reasons you get fine lines under your eyes is because the skin here doesn't produce as much oil as other areas on your face, so you need to compensate. Unlike moisturiser, which can cause make-up to move, face oil is absorbed quickly, leaving your skin smooth and hydrated. Use your ring finger to gently pat the oil into your skin and allow to absorb for at least 10 minutes.
Step 2. Apply your concealer
Using a cream or liquid concealer, draw a triangle underneath your eyes from the inner corner of your eyes, to the centre of your cheek and back up to the outer corner of your eyes. Then fill in. This will brighten up your whole under eye area, which looks more natural than just applying concealer to your socket. Then, blend your concealer with a damp make-up sponge. This will help pick up any excess product, so you don't end up with caked on concealer.
Step 3. Re-apply oil throughout the day as needed
A lot of people swear by the baking method of applying a thick layer of powder on top of their concealer to 'set' it in place. However, for some, this can simply dry the area out more and lead to even more creasing. If you find that you're one of these people, try applying oil throughout the day when you notice any creasing. Simply dab a small amount of face oil over your concealer with your ring to finger to reinvigorate the product's formula and stop your concealer from creasing.
Celebrity news, beauty, fashion advice, and fascinating features, delivered straight to your inbox!