Is chocolate the latest must-have beauty ingredient?
Looks like beauty has developed a serious sweet tooth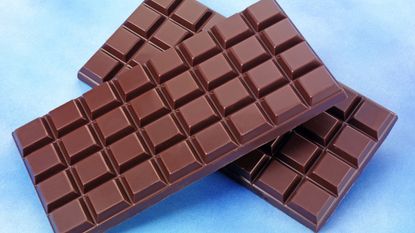 (Image credit: Food and Drink/REX/Shutterstock)
Looks like beauty has developed a serious sweet tooth
Every year - no, make that, every few months - a new hero ingredient inserts itself into our skincare and make-up ritual. There's been a craze for coffee, a fever for coconut, mania for algae and a furor for gold. But an infatuation with chocolate? Well, we just thought that was for nights on the sofa watching the latest Netflix series. However, it looks as though cocoa is set to be the new hero ingredient in not just our skincare, but our make-up as well.
Addicted to beauty as much as you are to chocolate? Then you HAVE to check out Powder – they match you with bespoke product recommendations! Start off by finding your holy grail foundation here...
Recently, Too Faced launched their new brow pencils infused with actual cocoa powder and the internet went into meltdown. But it's not the first time they've combined two of our most beloved things in this world to make for a very happy throng of women. In fact, the cult make-up brand has an entire range of chocolate infused make-up products including an eyeshadow palette, bronzer and liquified lipstick.
Skincare gurus, Fresh, also launched their Cocoa Body Exfoliant, much to the delight of chocolate-obsessives everywhere. So why exactly are beauty brands infusing our favourite indulgence in their products? Because not only is it packed with antioxidants that help repair skin cells and neutralise harmful free radicals, but the scent is said to be an instant mood-booster. It's also rich in collagen-boosting plant peptides, known to stimulate microcirculation, restore elasticity and fight inflammation.
But we know what you're thinking. Wouldn't this just make for a very sticky situation? After all, if we were to lather our brows in melted chocolate, or add a pipet of choclate to our moisturiser, we'd just end up with a gooey mess. However, the cocoa bean is actually quite dry. What makes chocolate sticky when it melts is the added sugar in chocolate bars. So without the added sugar, you've just got a whole lot of goodness.
The saying 'beauty, good enough to eat' just got a literal meaning.
Celebrity news, beauty, fashion advice, and fascinating features, delivered straight to your inbox!