How to build a fragrance wardrobe
Because you really can spritz yourself happy this #NationalFragranceWeek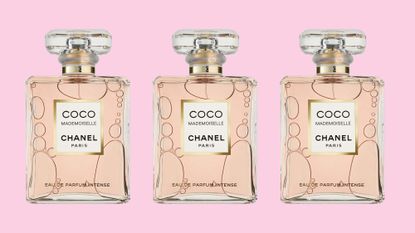 Because you really can spritz yourself happy this #NationalFragranceWeek
I was at a dinner party the other night and the conversation, as they so often do, turned to my 'fragrance wardrobe' – perfumes I've strategically built up to help me feel bolstered on a daily basis, depending on my mood or what I've got in the diary.
It's also what my friends fondly refer to as the perfume equivalent of reading tea leaves. In the same way that half of all UK adults are trying mindfulness techniques, I turn to psycho perfumery: fragrances scientifically proven to hit us at emotional and neurological levels, enhancing sensations of pleasure, ramping up energy levels and reducing stress.
Here's what's going on behind the scenes: when you inhale a scent, it stimulates the limbic system (the brain's emotional control centre) where fear, depression and joy originate. 'If you connect to the aroma because it reminds you of a time when you felt happy and well, your brain releases mood-enhancing chemicals including serotonin and endorphins,' says Professor Tim Jacob, neurologist from the School of Biosciences at Cardiff University.
'The limbic system also controls your heart rate, blood pressure and the nervous system, so certain fragrances can have a physical effect, too." Of course a whiff of Chanel Coco Mademoiselle Eau de Parfum Intense (£82 for 50ml) won't make Brexit magically disappear in a fragrant fug but it can create an emotional force field around you. I breathe deeper knowing its sunny bergamot and calming undertones of patchouli and vanilla are there. I somehow feel lighter. All is right with the world ,because scents are happy-makers.
As a beauty editor I'm lucky enough to be sent the very latest fragrance launches and able to edit my collection whenever I feel the need for an emotional reset. Psycho perfumery is also the reason I don't have or believe in a signature scent. Numerous perfumers I have spoken to caution that your brain starts to cancel out smells if you're surrounded by them all the time, stripping them of their mood-boosting powers. These, thankfully, are still as spirit lifting as the first time I smelt them.
And when you're done here, be sure to check out the Marie Claire Fragrance Directory of editor-approved scents.
To feel uplifted
On those glass-half-full kind of days, I avoid anything heavy and spicy as they can leave me feeling listless. All I really want is scent that channels a quiet bolthole with low lighting and warm cashmere throws. That's where this blend of skin-hugging musk, velvety cacao and sweet tinge of coconut water comes into its own.
For an energy boost
I really struggle with the 3pm slump but rather than mainline on chocolate, I splash on this jasmine-infused scent instead. Scientists at the Toho University in Tokyo have found that jasmine increases the beta waves in the frontal lobes of your brain (its wake up area) so you're more alert. Turquoise also happens to be my favourite colour.
To feel serene
On mad-as-hell deadline days, I could almost bathe in this. It marries creamy vanilla with lavender, a sweet herbal scent, which a study by the University of Miami School of Medicine found triggers alpha waves in the brain, putting you in a Zen state.
To combat commuter hell
Otherwise known as my sweaty-commute-curing fragrance. I keep this in my desk draw – its zesty and aquatic notes conjure up drinking fresh orange juice while walking on the beach. Exactly what I want to be doing after 30 minutes on the Tube.
For seduction
Gucci Guilty Absolute Pour Femme EDP, £74 for 50ml, Boots
It sounds obvious to equate roses with romance, but here's the thing: rose oil has a similar constituent to human sweat, so it's actually a bit more feral than you think. If you want a scent that makes them think of sex – the sweaty up-close-and-personal kind – this is the one to do it.
For a dose of confidence
For me, the real confidence-boosting power of a fragrance is how you choose to wear it. If I've got an important meeting I'll reach for this as it's spiked with notes traditionally considered masculine, such as woods and spicy pink pepper. It sends out the message that I want to be taken seriously.
Got a favourite fragrance for when you need a mood booster or confidence hit? Let us know by tweeting @marieclaireuk.
#ScentMemories
Celebrity news, beauty, fashion advice, and fascinating features, delivered straight to your inbox!
Fiona Embleton has been a beauty editor for over 10 years, writing and editing beauty copy and testing over 10,000 products. She has previously worked for magazines like Marie Claire, Stylist, Cosmopolitan and Women's Health. Beauty journalism allowed her to marry up her first class degree in English Literature and Language (she's a stickler for grammar and a self-confessed ingredients geek) with a passion for make-up and skincare, photography and catwalk trends.