Why this new way of dying your hair is about to change the way you treat your hair
Herby hair dye for the win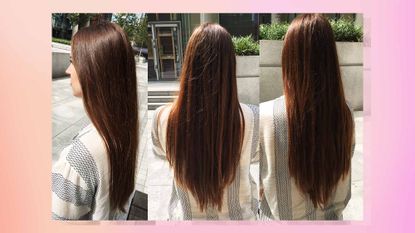 Herby hair dye for the win
If, like me, you operate in a continuous state of panic about the condition of your hair: thinning, dull, snappy, existing limp and lifeless and forever evading a state of 'bounce'… then colouring said hair can sometimes be challenging.
Yes, we've come a long way from the hair-ruining dye formulas of yesteryear, but colouring has never really been good for your hair, has it?
Step forward then, Botanea. A new, all natural henna hair colour system that won't ruin your hair, only improve it. Sold. Sold. And sold…
WHAT IS IT?
Botanea is unlike any other hair colour you've had before. It's a 100% natural herb-based colour, composed of three natural vegan ingredients: Henna, Cassia and Indigo.
The herbal ingredients, which L'Oréal Professional have made sure to responsibly, and sustainably, source from India, are then are coated in coconut oil, to prevent them from drying out (no chemicals here), and that's it. Let's break it down…
Henna...
One of the most famous herbal hair dyes, the henna used for Botanéa comes from the leaves of Lawsonia Inermis, grown in Rajasthan in north-west India. It releases warm copper pigments, so is perfect for blondes with dark and copper bases.
Indigo...
A natural dye derived from the indigo plant that packs a punch. The plant, Indigofera Tinctoria, is grown in Tamil Nadu, in southern India and contains blue-y purple pigments, which is great for brown and dark bases.
Cassia AKA neutral henna...
This star ingredient doesn't actually contain colour, instead, it's used to adjust the tones and add luminosity and radiance.
These three power players are mixed to a bespoke recipe depending on your own natural hair and the colour you're wanting to achieve, resulting in a high-shine blend that is totally individual to you.
HOW DOES THIS VEGAN HAIR DYE WORK?
Prepare for a Hogwarts-esque trip to the hairdresser, for this colouring session is not your average trip to the salon. Once you've chosen your colour, it gets custom blended for you on the spot. If you've got long hair like me, expect to be confronted with a massive sludge bowl; warm, green and full of magical (OK, natural) hair-loving ingredients. The sludge pot™ is actually a paste made up of the plant powders (which look like tea-like leaves) and have been mulched together using hot water. The warm paste actually feels really nice on your scalp, and dries like a mud mask cum scalp treatment for an extra nourishment boost before being washed off. I like to think of it as a spa day for your hair.
HOW MUCH IS IT?
I got my henna hair job done at the Percy & Read East salon in Spitalfields (if you go there, ask for the wondrous Ellenora), where the Botanea treatment starts from £72. For your nearest salon, check here.
HOW LONG DO HENNA HAIR DYES LAST FOR?
As every colour is essentially bespoke, each result will differ slightly in terms of colour and longevity. My naturally brunette hair (with touches of red) lasted for about ten weeks, but as I opted for a natural reddish tint full of gloss, it was hard to see when it had completely faded. Something which I was eternally grateful for, as I'm not really into the whole regrowth look.
Celebrity news, beauty, fashion advice, and fascinating features, delivered straight to your inbox!
Holly Rains is the digital editor of Marie Claire UK. She has over 10 years journalism experience, working as an editor and writer, specialising in digital media, content strategy and dog breeds. Prior to Marie Claire, she has held senior staff positions at ELLE UK, Grazia and Company magazine.
Holly is a frequent speaker, panelist and interviewer on a range of subjects including media trends, careers and entertainment. From working with Reuters to provide global red carpet coverage for events like the BAFTAs, to discussing fashion and beauty trends on network TV, she was also the host of the Marie Claire series 'Holly's First Dates', where she regularly interviewed a mix of inspiring woman and A-list celebrities (including Jack Black, Dakota Fanning and Renée Zellweger) - a series which garnered half a million views in its first two months. And was approved by The Rock.
Her love of office-based meetings means that the days of discovering the melting point of Cadbury's Flakes are long gone, but when she isn't dreaming of scheduling in meetings, she likes to think about social media, and how best to avoid it whilst still retaining the title of 'digital' editor. She also likes learning about emerging technology, Influencers and how to become a Financially Responsible Adult.
Contact Holly: holly.rains@futurenet.com